The markets were again stuck in a range this week with an early crack last Monday and Tuesday on fears of lockdown and persistent selling but later the pressure eased on widespread report of corporates being better prepared and expecting Wave 2 to not have as much damage. The results so far also have been quite good though the expectations have baked in every upside potential as we sit at one of the most expensive points in the history of the Indian markets yet we listen to the RBI governor saying that things can go downhill here. In short nobody really knows what's coming but the momentum continues to hold as of now.
---

The Weekendinvesting Smallcases kept going strong this week ALSO… This is much beyond my expectation for 5 weeks !! . The smallcase products are all LONG ONLY products that invest in various subsegments of the markets but have the momentum theme underlying in all of them. The strategies will pick strong outperforming stocks and remove weak ones once a week.

These are all long term strategies that will create enormous wealth in each upswing and then maybe give some back in the downswing and repeating this process again and again achieving the compounding effect. With patience and grit to follow strategy over ups and downs over the last nearly five years it has been shown that much superior CAGR returns are possible than the benchmarks.

FY21 has been phenomenal and I will let the numbers speak for themselves. Consolidated FY21 report
We give an advance notice here on the upcoming changes in your smallcase for Monday . This advance notice can be used to ignore Monday update if there is no change. If there is a change indicated you can use the smallcase app or login to weekendinvesting.smallcase.com to see the rebalance. A back up email is sent by mid day Monday if you have not rebalanced by then and yet another one a day later.
This week was a block buster week for Mi25 as it gained 8.77% and its FY22 performance is leading the pack at +26.3% in 5 weeks !
All details on the smallcase products is available at weekendinvesting.smallcase.com

---

In the LIVE product strategies, there were good gains as well . The LIVE products are a more suitable for large portfolios and those who have broker accounts that are not synced with the smallcase platform. Also the user here churns his portfolio at Fri 3 PM along with the model and there is no slip between the model the actual experience. The back end task of manual execution and record keeping of course is an additional chore.
All details on the LIVE products is available at weekendinvesting.com
---
How to chose the right strategy(ies) for your self
The selection of the smallcase/ LIVE strategy can be done based on
a. Sub Segment of the market : Mi25 for smallcap, Mi_All_cap for all round diversification OR LTCNX 200 for large caps only
b. Activity specific smallcase like Mi ST ATH which chases all time high stocks
c. Or more passive strategies like NNF10 and NG5050 which are monthly rebalanced ones best to replace index investing with or for asset allocation.
d. More diversified smallcases like Mi30 and Mi50 that suit portfolio size of 10L-25L

We have grouped strategies to their relevant benchmarks and presented the performance below: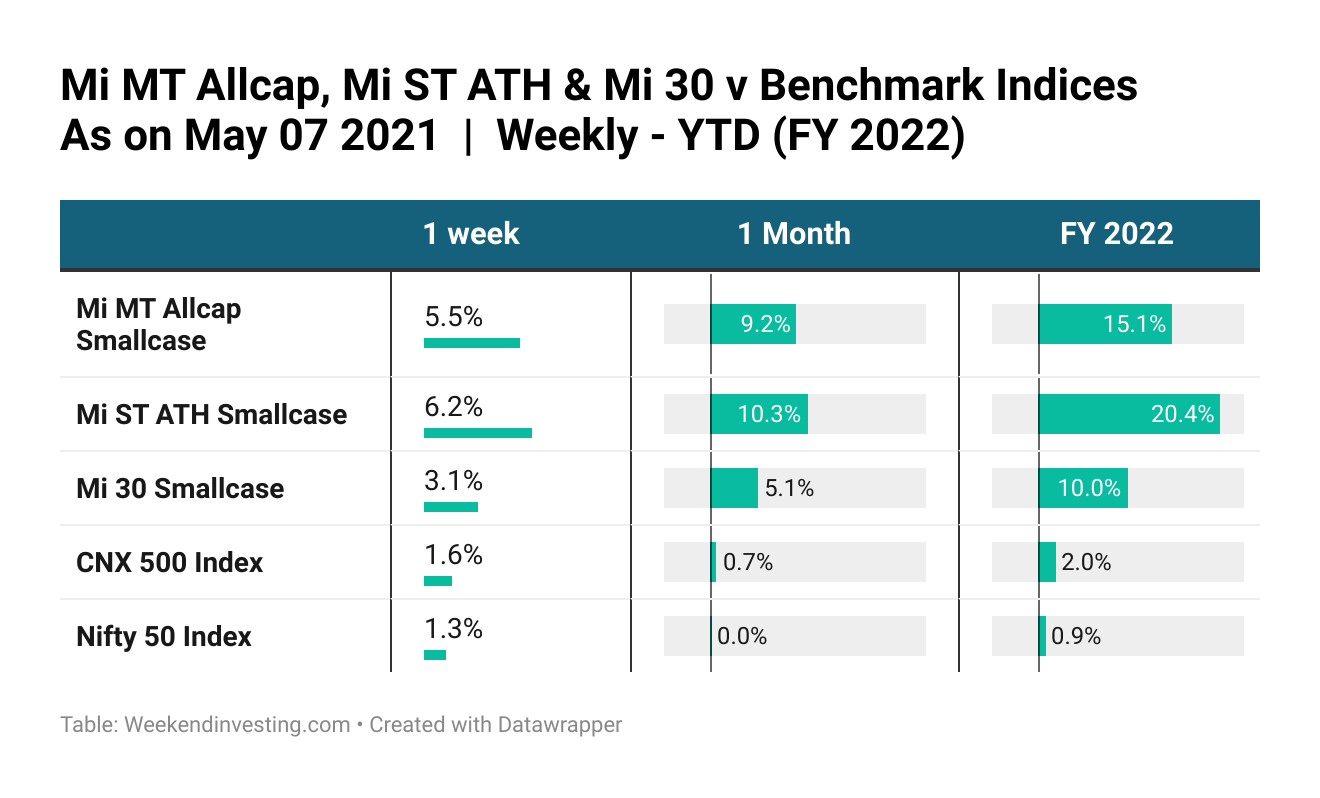 ---
A podcast with RajKumar Singhal of Mutiplie.co earlier this week was a great session….Do listen in and give me feedback.

---

We have launched a Weekendinvesting Telegram Channel this week Look forward to having you all there.! Five daily episodes of the Weekendinvesting Bytes have already been placed there and more daily content about Weekendinvesting products and Momentum Investing will keep coming to that channel .
You can go see the last daily Byte here.that focusses on Min and Max capital on Weekendinvesting Smallcases.
Other important Videos this week on the channel
What are the costs associated with Smallcase : https://youtu.be/SNXaZlPgkAQ
When to start ? When to add more capital ? https://youtu.be/OnkpFnYFosQ
How to find the right smallcase ? https://youtu.be/9_ilAiB8QM4
What is a smallcase ? https://youtu.be/9_ilAiB8QM4
_________________________________________________________________________________________

Last but not the least, we are over whelmed with the touching testimonials we receive on a almost a daily basis. Here is the Testimonial of the Week

___________________________________________________________________________________________
We have segregated the STAIRS newsletter and that is being sent out separately to its subscribers and interested users. You can subscribe to that newsletter by dropping your mail at STAIRS2profits.com at the bottom of the page. The virus is still strong out there. Do take care of yourself and your loved ones. Please abide by the administration guidelines. We are all in this together..