As you are aware Weekendinvesting runs momentum model portfolios as a Research house. We offer research for users who in turn implement the same either using the Smallcase platform that is linked to all the top brokerage houses OR users can go for Universal product and chose to use any broker to implement the Weekendinvesting strategy.
The difference between the two options is not that of strategy. The strategy remains the same whether provided through Smallcase or through Universal products. The key difference lies in the execution.
The smallcase route uses the linked brokerage account to send in the rebalance orders post Monday market open as "market" orders (not limit orders) in the markets. If you are using a size of portfolio larger than the recommended size of portfolio, there are chances of experiencing slippages that can harm the overall portfolio performance over time.
The Universal product updates are sent via Email over the weekend and the portfolio is shared over a common Google sheet. The user here has full flexibility of execution not only which broker to use but how the order will be sent into the system. A limit order or a partial order can be gradually eased into the system without disrupting price. We also provide handholding in creating your own google sheets to manage your portfolio with manuals and videos that can help you come to speed quickly.
Thus, Universal product are suitable for large ticket sized portfolios or for those situations where your broker may not be empaneled with Smallcase.
All WeekendInvesting strategies are offered in the Universal format More details can be found at the Weekendinvesting HUB below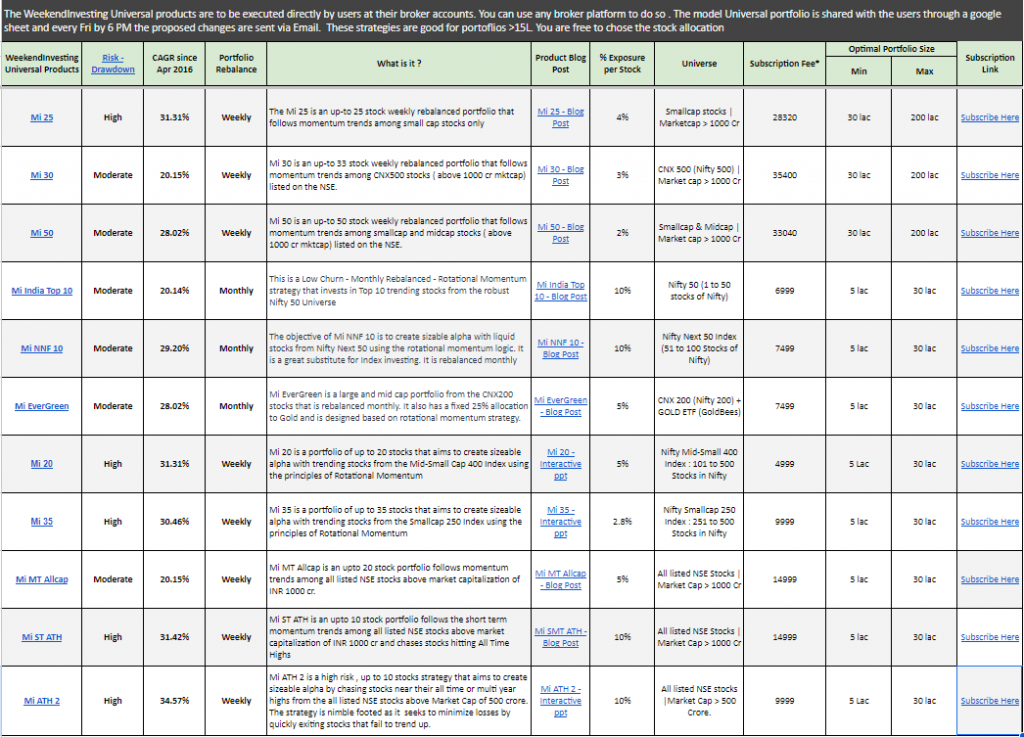 For any queries please refer to support@weekendinvesting.com and we are happy to assist.