Performance Update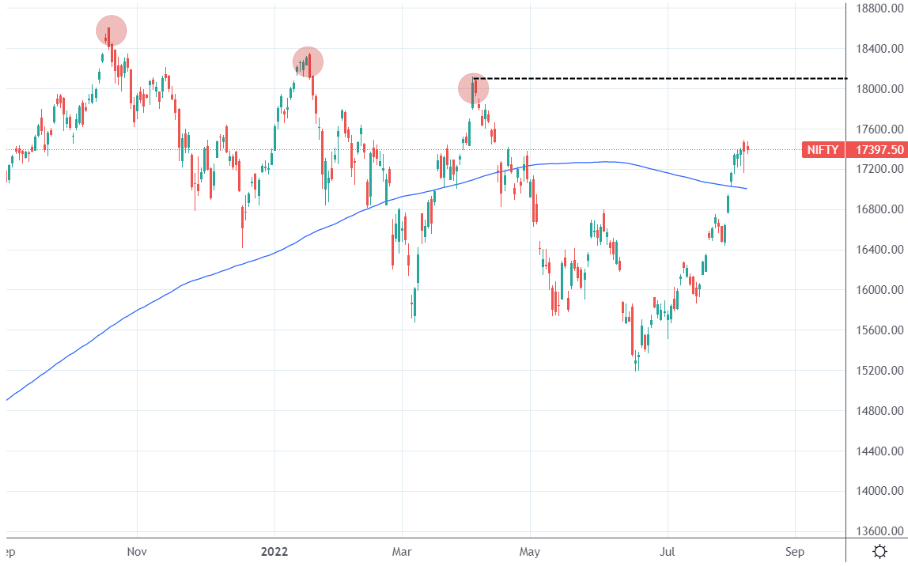 WHY WE ALWAYS SAY – REACT ! DON'T PREDICT ?
None of the major issues that were labelled as 'factors responsible for market weakness' sometime ago have really met with a proper fruitful conclusion & yet markets are up around (+10%) in the last 1 month & about (+17%) since the recent bottom in mid June. Russia-Ukraine situation , China Taiwan tension, successive interest rate hikes from central banks, inflation woes are some of the issues that are still very much in the news today but markets have their own ways as we have always seen forever. We're not sure many would've called out for a straight up (+17%) rally around Mid June. Now what to do with this rally ? Should we jump all in ? Will markets make a fresh all time high as we are only about 6% away from getting there. Well that's the hope but can anyone really say with certainty ? We don't think so.
So what to do ? The answer is simple – REACT. DON'T PREDICT. That has very much been the main philosophy here at WeekendInvesting where we only try to react to what is happening and do not try to sit and ponder over any sort of economic or political tension that may be brewing or taking center stage.
Nifty and other benchmarks were up between (+1.3%) & (+2%). Amongst the sectors – almost all were up between (+1) & (+3%) barring REALTY which stayed negative. METALS have seen an extraordinary rally in the last one month clocking (+20%).
The last one month has been superb for WeekendInvesting strategies which have been cruising ahead – thanks to the uptrend.
Mi 20 (+10.89%), Mi NNF 10 (+14.75%), Mi ATH 2 (+12.52%) & Mi EverGreen (+11.13%) have been the top performers in the last 30 days.
Click on the link below to read the full report