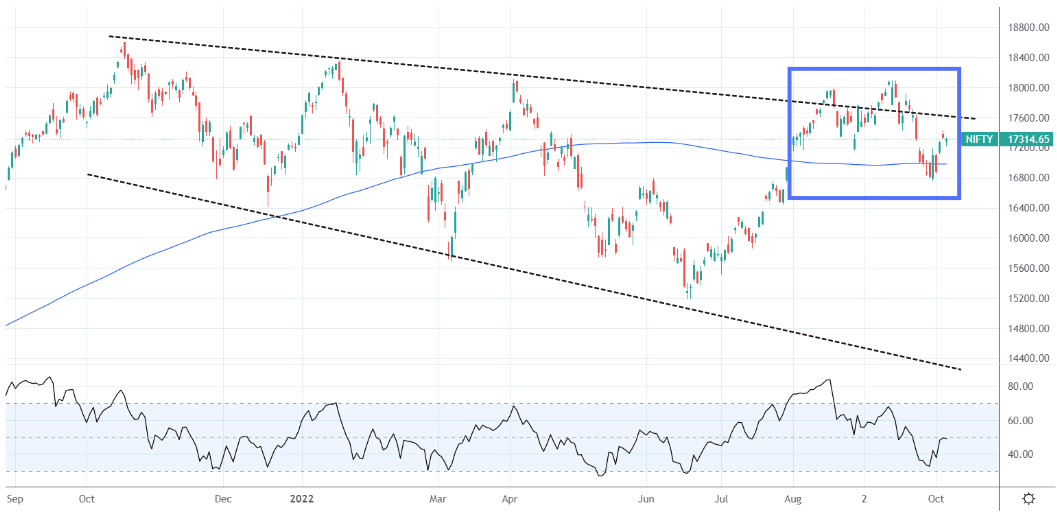 Nifty took support around it's 200 DMA last week and has bounced back to close this week at (+1.75%). We have been seeing a very strong resistance around the upper trendline with Nifty making a couple of attempts to break out but failing to do so in both occasions. We seem to be marching towards the same area once again, comfortably crossing which we may witness a strong up trend.
The newsmakers this week were however the Smallcap stocks sdisplaying tremendous strength with Smallcap 250 index clocking (+4.63%) followed by Mid-Small 400 index which returned (+4.09%). Smallcap 250 & Mid Small 400 indices maintain their lead in monthly & quarterly charts as well.
PHARMA seems to be on a solid trend being the best performing sector across last week and month while REALTY witnessed a decent bounce amidst the recent downtrend that began around mid September returning almost (+7%) from it's latest low. AUTO (+20.9%) & FMCG (+20.7%) continue to lead the FY 2023 charts while IT continues to be extremely weak at (-26.4%).
Mid & Smallcap based WeekendInvesting strategies had a phenomenal outing this week thanks to the strong trends in the respective benchmark indices. Mi 35 led the chart with a whopping (+8.6%) while Mi 20 at (+7.4%) , Mi 50 at (+6.9%) & Mi 25 at (+6.5%) all did PHENOMENALLY well this week. In fact almost all strategies barring a couple managed to comfortably beat their respective benchmarks. Mi ATH 2 continues to lead the 3 month table with (+27%) gains continuing on it's strong trend. Overall , it has been a superb period so far and we hope to see what's in store for the times to come.
Click on the link below to read the full report