Performance Update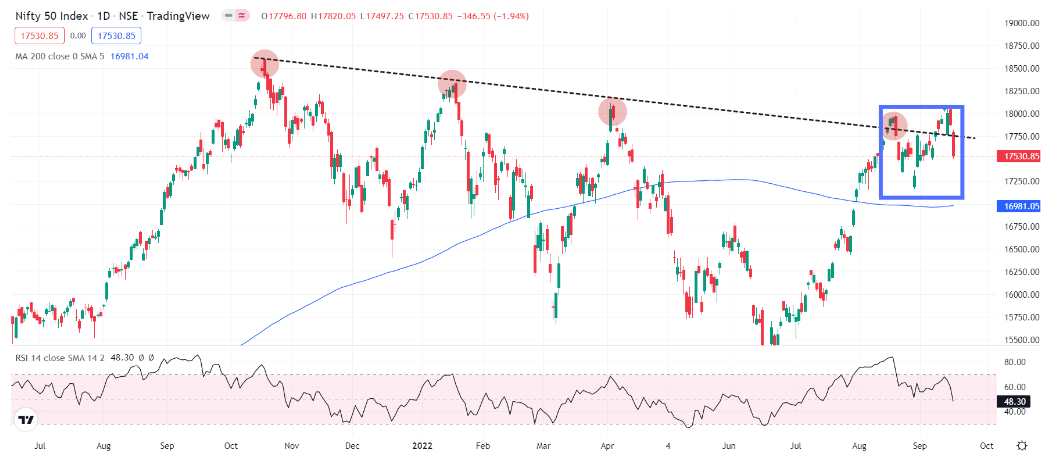 Consolidation continues : Nifty attempted to sustain above the trend line but has been hit by strong resistance around that zone. This is an extremely crucial juncture that could decide the course of action for markets in the days ahead. If Nifty surpasses the above the trend line, we could see what is the beginning of another upward rally that may pave way for a fresh all time high. If not, we may see some more consolidation / correction. We are still comfortably above the 200 DMA but the Relative Strength Index has dropped below 50 for the first time in last 3 months.
Nifty 50 was the weakest among all benchmark indices returning (-1.7%) this week while Nifty Next 50 was the strongest (relatively) staying flat. The latter has also been the strongest in the last quarter and also in FY 23 clocking (+21.5%) & (+7.2%) respectively.
IT seems to be continuing on a drastic correction mode losing a massive 7% this week. In fact it is the only sector in the negative territory in the last quarter & has lost about 27% in the current FY. Talk about having a proper exit plan for your stocks ! Both PSU & PVT BANKS have been very solid clocking (+10%) & (+4.5%) respectively in the last 30 days & (+32%) & (+27%) respectively in the last quarter. AUTO sector continues to lead the current FY charts with gains of (+22%).
Mi NNF 10 continued it's phenomenal journey clocking (+2.14%) this week compared to a flat performance from it's benchmark index, the Nifty Next 50. This strategy is also currently our best performer across several time frames – 1 week (+2.14%) , 1 month (+8.63%) , 3 months (+33.8%) , FY 23 (+15.5%). It has been a mind blowing journey so far benefitting thousands of investors. Mi ATH 2 has also been on a great trajectory of recovery clocking (+28%) in the last quarter. We hope to do well in the times to come.
Please click on the below link to read the full report