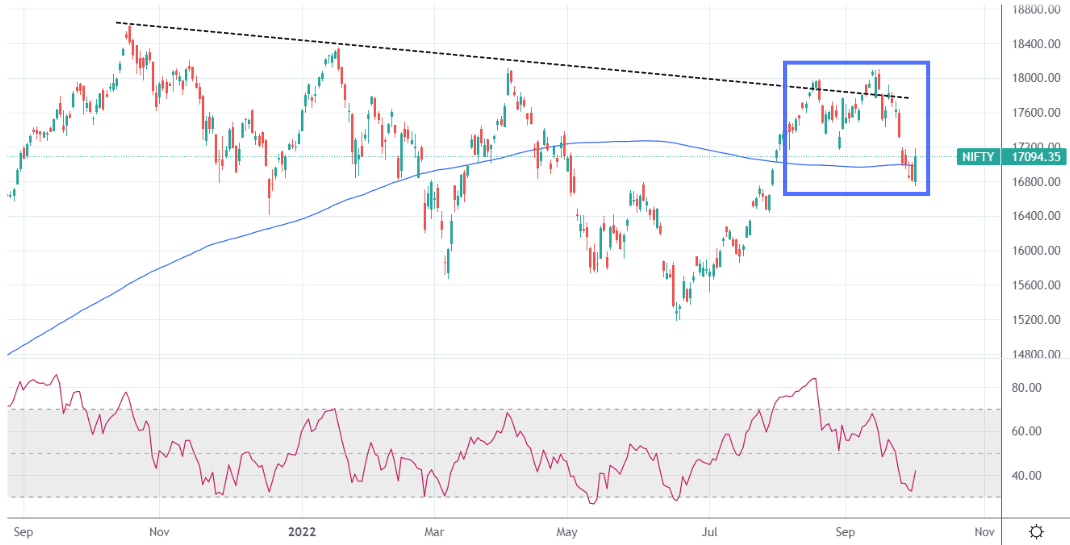 Another tough week for the Markets as consolidation continues . . Nifty broke below the important 200 DMA and fortunately got a strong candle on 30th Sep to close just above 200 DMA. Nifty faces resistance around the receding trendline of lower highs & crossing the same will be very important to set the tone for journey towards a fresh all time high.
Nifty Next 50 was hit the hardest losing 2.3% while rest of the benchmarks dropped by around 1% to 1.5%. In the last month, Smallcaps have been relatively stronger having dropped (-0.94%) while the larger caps have lost about (-3%) to (-3.75%). In Q2 FY 2023, Nifty Jnr topped the charts clocking (+16.1%) while Nifty 50 was the weakest at (+8.3%). A solid solid quarter for sure .
IT was a surprise clocking (+1.4%) especially considering the sector's recent trend and also the overall market weakness last week. Apart from IT and PHARMA (+2.86%) most other sectors closed the week in negative territory. In Q2 FY 23, METALS (+23.76%) & PSU BANKS (+23%) topped the charts while IT was the only sector to close out in negative zone (amongst the sectors we track)
WeekendInvesting strategies had to bare the brunt of the sharp fall this with many strategies giving up some good gains achieved in the recent rally. Despite that, we still are happy as we close out this quarter with some very good results. Mi ATH 2 – after a poor start last year, seems to have picked up some momentum while topping our quarterly charts with a superb (+25.6%) gain. Overall it has been a very good quarter and we hope to see another bout of trends in the next two.
Click on the link below to read the full report