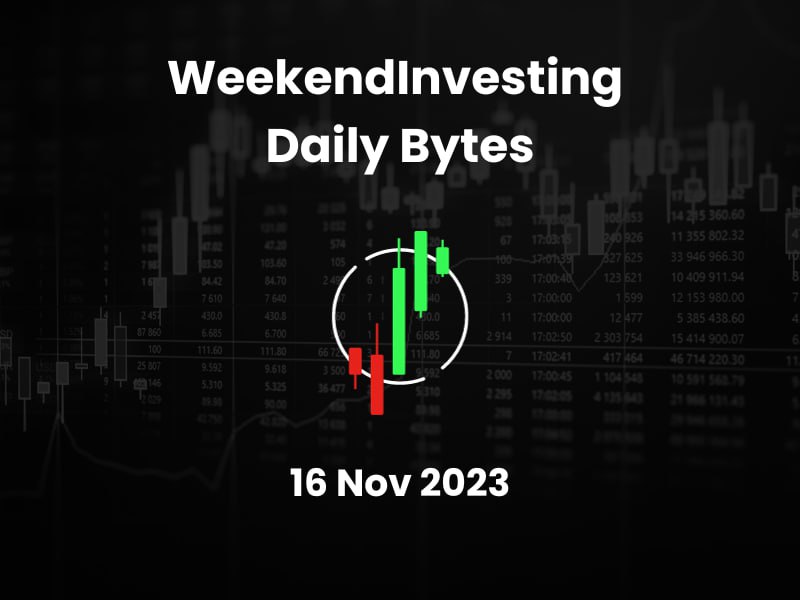 How are the Markets Looking ?
Today, We witnessed an interesting day in the market with several ups and downs. Let's dive into the details.
The market started the day flat, with a slight dip in the first few minutes. However, it quickly rebounded and surpassed yesterday's high, continuing to climb until it reached the resistance level of the top of October. In the last hour of trading, there was a sharp drop of almost 100 points, making it a challenging day for intraday traders – a sharp up and a sharp down. It seems that the larger players may have planned the expiry move, catching some smaller players off-guard.
Regardless of the intraday volatility, longer-term investors like us always welcome any upward movement that comes with volatility. It helps shake out weaker hands and creates opportunities for those with a long-term perspective.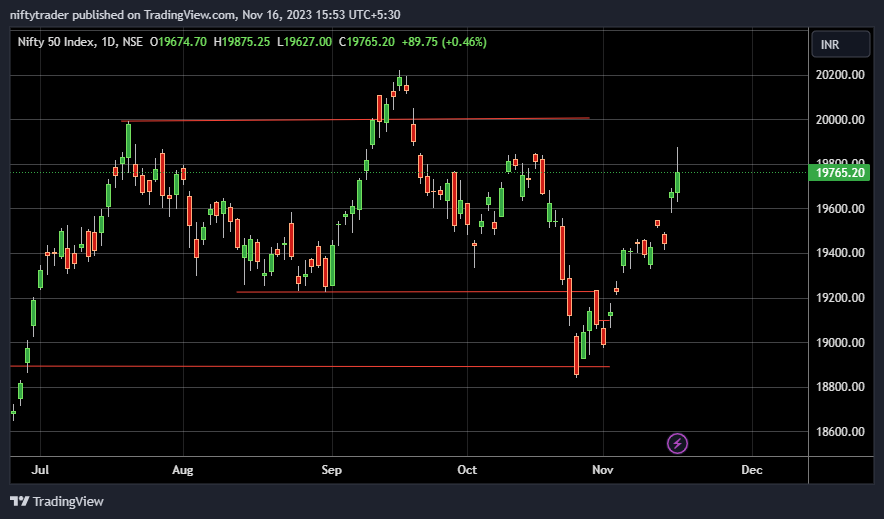 Nifty Heatmap
Taking a look at the Nifty heat map, it was predominantly positive for IT stocks. Companies like TCS, HCL Tech, Infosys, and Wipro, Tech Mahindra performed exceptionally well. Mahindra and Mahindra witnessed a 1.6% increase, NTPC saw a 2% rise, and minor gains were observed in Bajaj Finance and Bajaj Finserve. On the other hand, Coal India, ITC, Power Grid, Adani Enterprise, ICICI Bank, and Axis Bank were the only losers. Some companies, such as Hindustan Unilever, Maruti, remained relatively flat, while Titan rose 1.2%.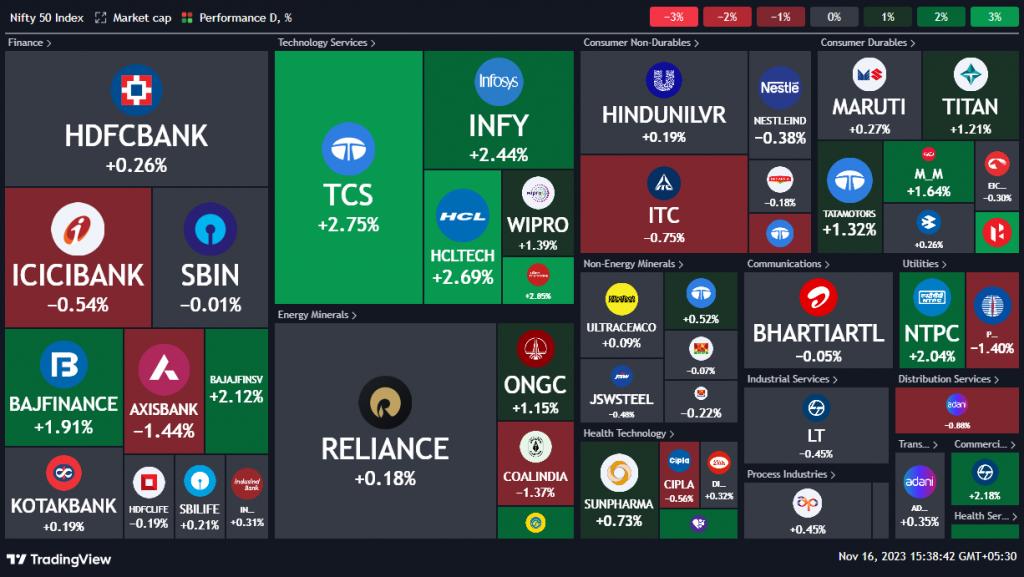 Sectoral Overview
Looking at the Sectoral Overview, the only sector that mattered was IT stocks on the back of Nasdaq doing really well – they have come off the bottom extremely strongly in the last month and a half. Our educational strategy, US TOP 10, is doing extremely well. However, they still have a lot of ground to cover as for the last 3 months, they are up 3.5%. The real estate and pharma sectors experienced a moderate increase of 0.9%. The auto sector also showed growth with a rise of 0.8%. However, PSU banks, FMCG stocks, and private banks experienced marginal declines.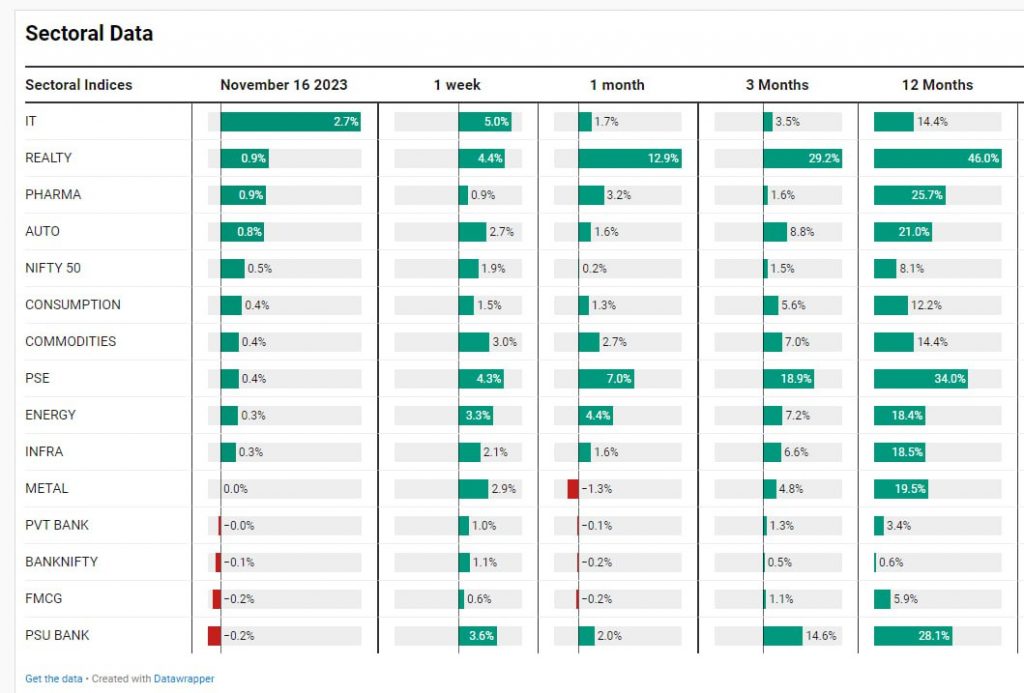 Mid & Small Cap Performance
Despite the recent sharp correction of almost 10% in the market, the mid-cap segment reached a new all-time high today, closing at 41,726. This is an extremely positive sign as it took less than two weeks for the market to recover from the significant drop. In hindsight, it is clear that when the market is falling sharply, it may seem hopeless for an upside. However, when the market is rising, caution is often disregarded. This kind of thinking is typical of the human mind, and it is crucial to adopt rule-based strategies to overcome these emotional biases.
The small-cap segment continued its astonishing run, rising from 11,500 to nearly 13,000.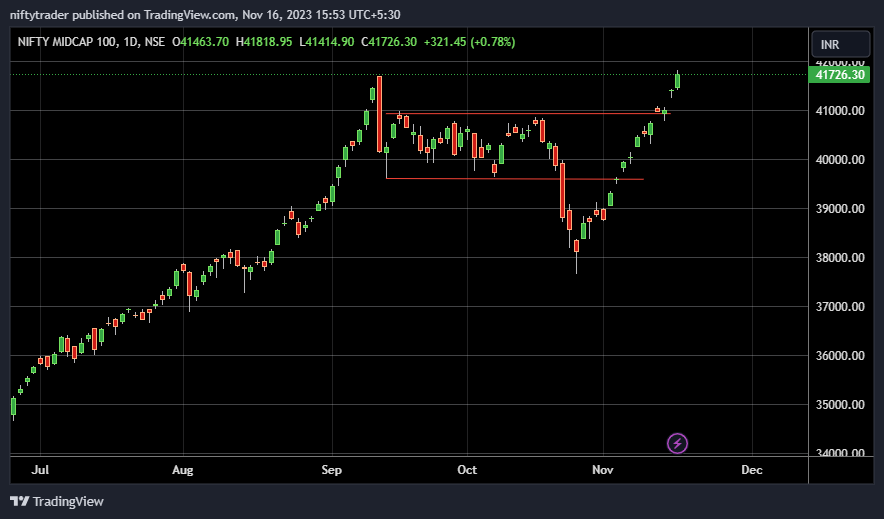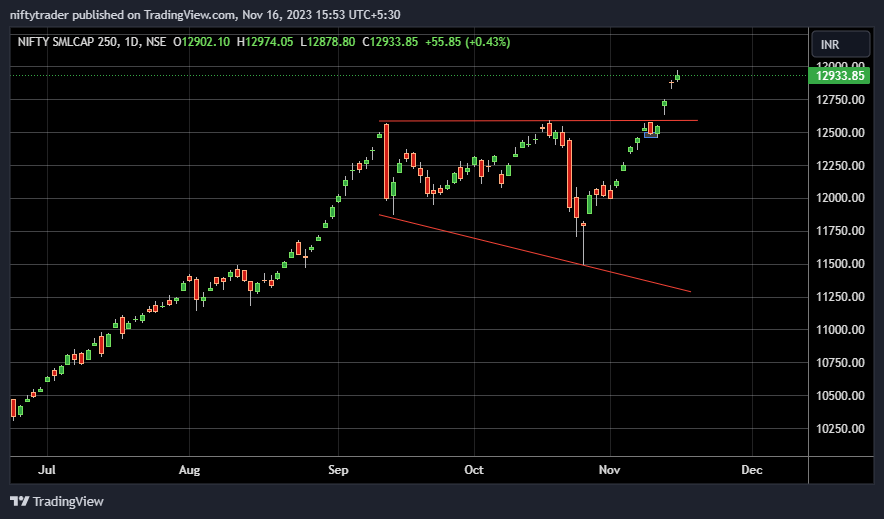 Bank Nifty Overview
On the contrary, the Nifty Bank remained the weak link in the market. It failed to surpass yesterday's high and closed slightly below it. The performance of the Nifty Bank is of concern as it has the potential to either uplift or drag down the overall market.
From a long-term perspective, I believe that without the Nifty Bank's participation, the market cannot witness a strong rally. Therefore, it is important to closely monitor its performance.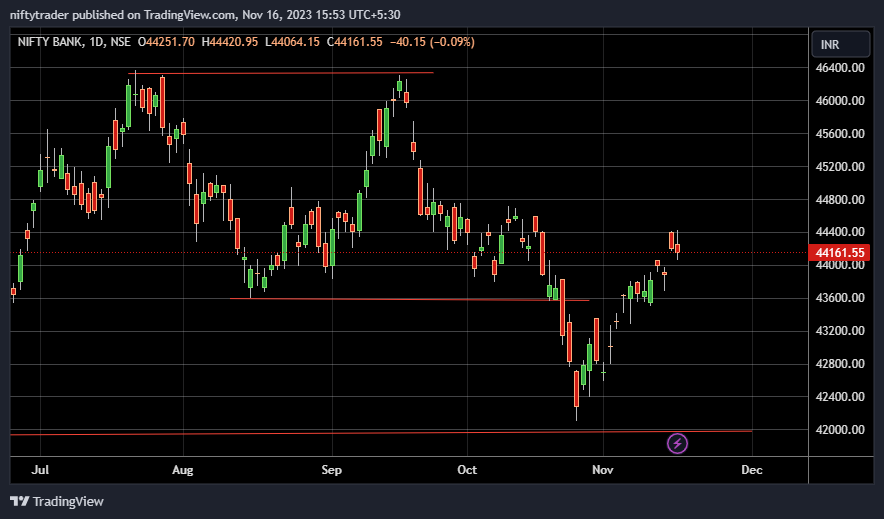 Stock in Focus – Tata Motors
One stock that stood out today was Tata Motors. It hit a new high, breaking through the previous resistance level. After consolidating since August and failing to break out in October, it is now showing signs of a potential breakout. Tata Motors appears promising and worthy of further observation.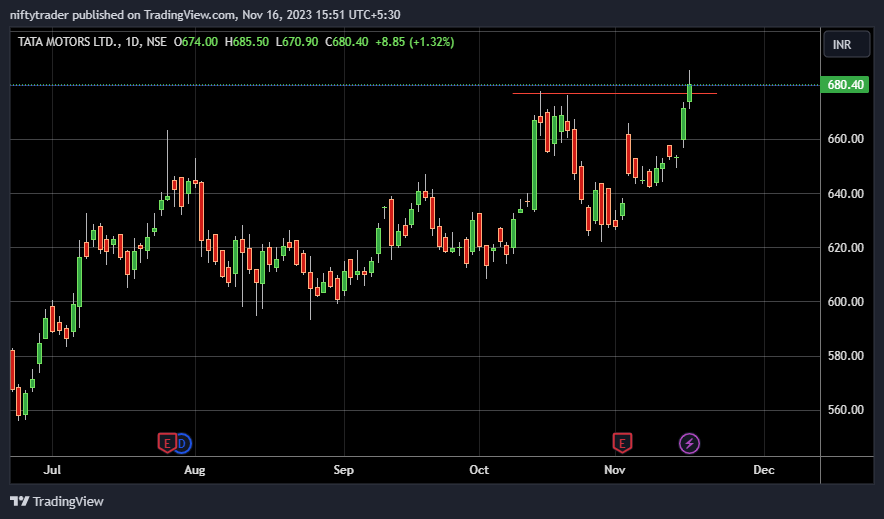 Highlight – Nifty IT
The Nifty IT index has also displayed positive movement by breaking the pattern of lower lows and lower highs. With a significant breakout yesterday, it is now just a few percentages away from reaching an all-time high. This swift recovery has been observed across various sectors that were previously viewed as unattractive. Sector rotation is happening rapidly, emphasising the need for a system that can adapt to these quick changes.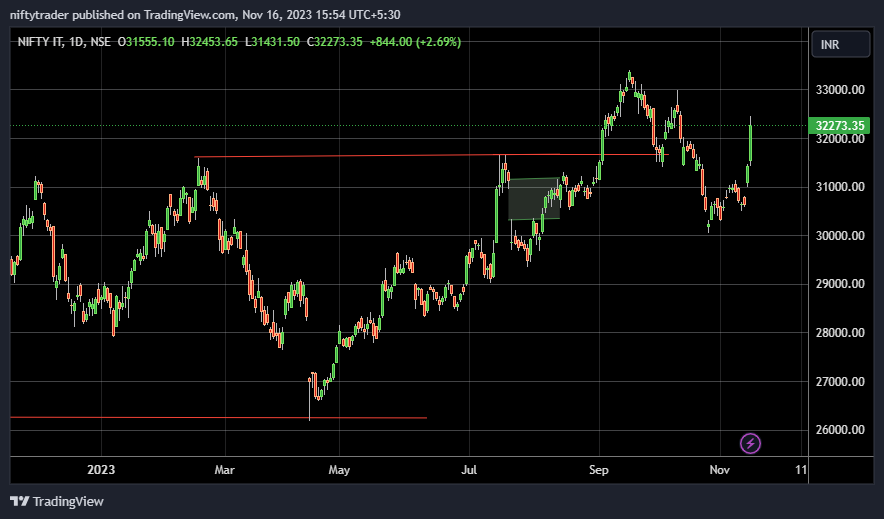 Highlight – US Top 100 Index
Meanwhile, the US 100 index has approached its yearly high at 1500, not too far from its all-time high. This demonstrates a remarkable flag and breakout on the index, indicating promising prospects.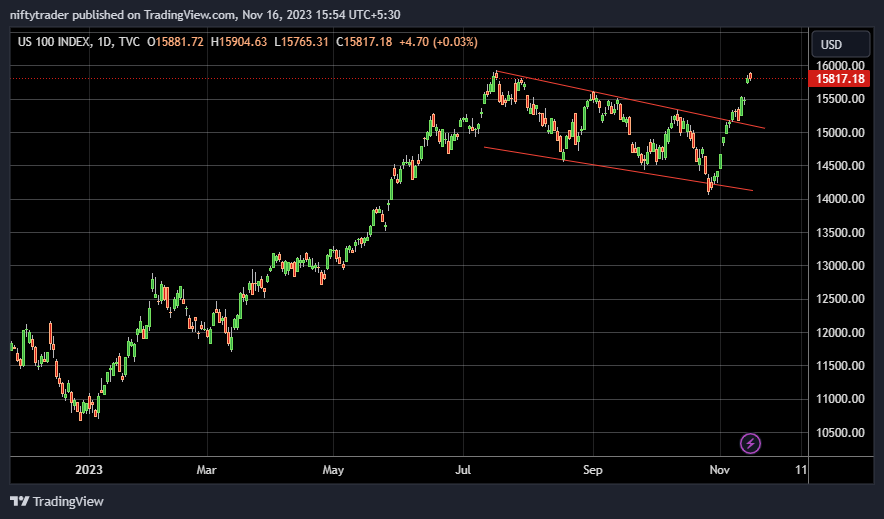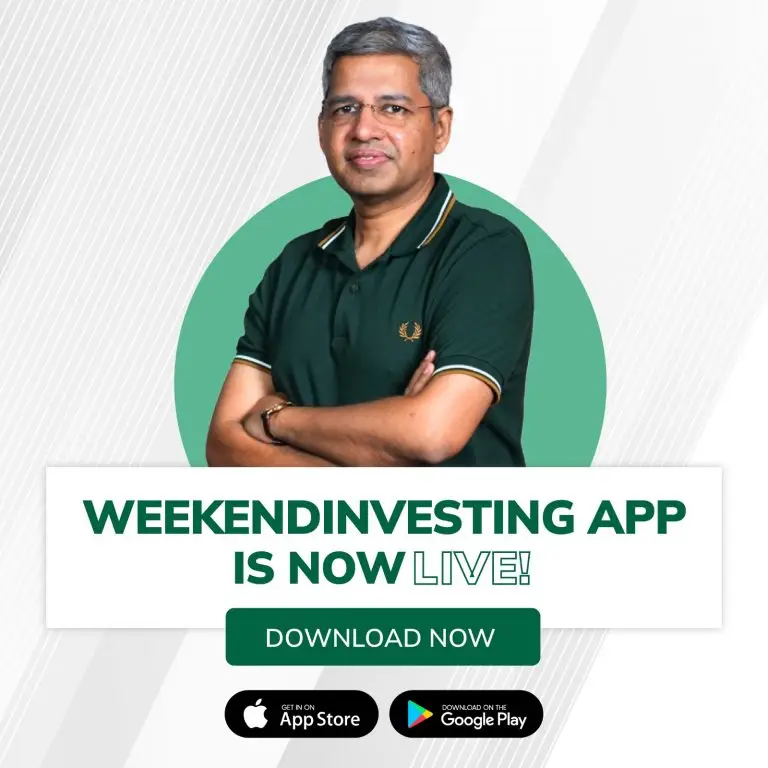 If you have any questions, please write to support@weekendinvesting.com