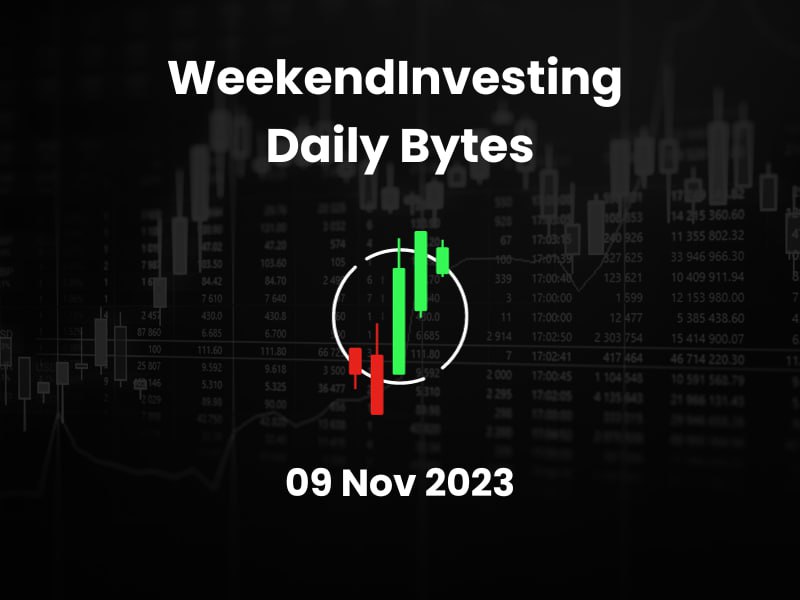 How are the Markets Looking ?
The stock market had a relatively dull day, with the Nifty index testing the previous day's trading range on both the upside and downside. The market seems to be in a consolidation phase, waiting for a potential breakout in the near future. The upcoming session, called Muhurat session, is expected to be significant. Traditionally, Muhurat sessions start on a high note and end on a low note, opening with a gap up and closing the gap is usually a trend on Diwali.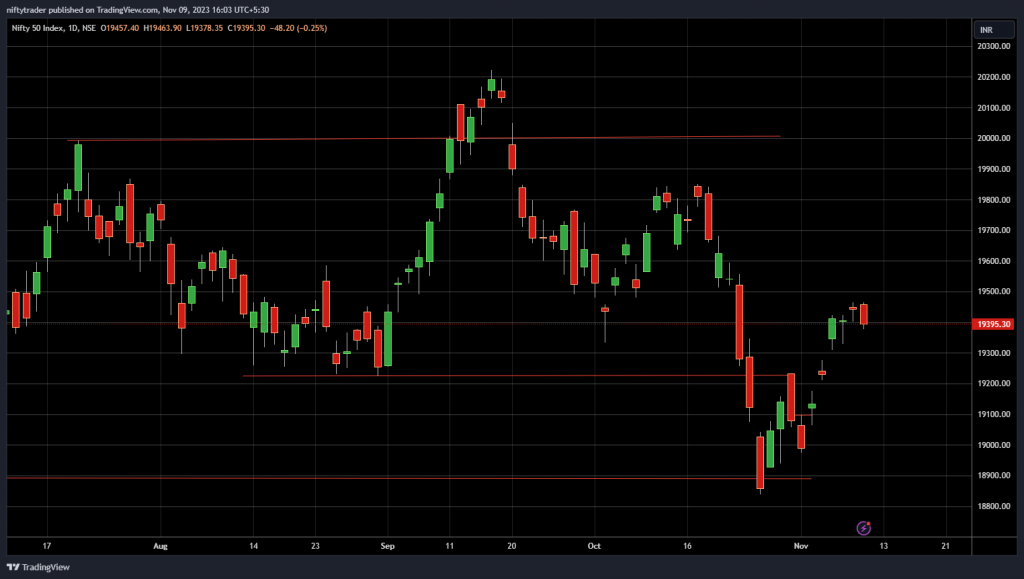 Nifty Heatmap
Companies like Reliance, Hindustan Levers, ITC, Adani Enterprise, Adani Ports, Titan, Infosys, and TCS were dragging down in the market today, including Bajaj Finance, Hindalco, and Ultracemco. However, there were a few bright spots, such as Coal India and Mahindra, which showed positive movement. Mahindra and Mahindra, in particular, witnessed a remarkable run, marking a 4.3% increase.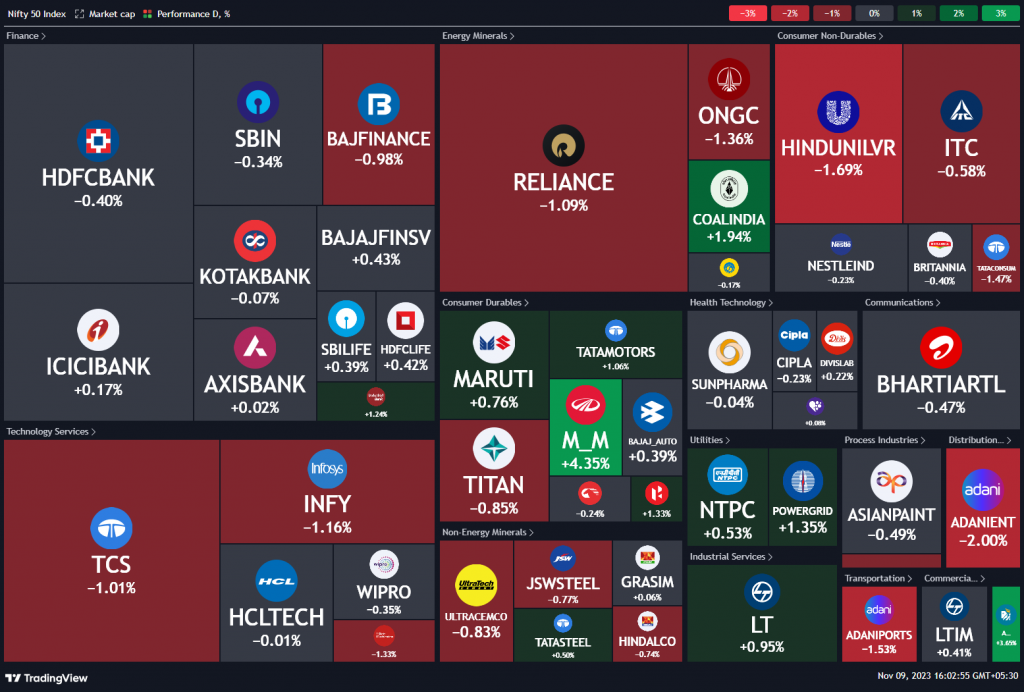 Sectoral Overview
Power stocks, represented by Power Grid, NTPC, and Coal India, also showed positive movement, with a 1.9% increase. The real estate sector continued its upward trend, with a 1.2% increase during the day, adding to the impressive 5.2% increase for the week, 13% for the month, and an exceptional 47% increase over the past twelve months. This is a remarkable trend that we have seen this year.
However, the FMCG sector experienced a surprising decline of 0.6%, despite recent reports suggesting a recovery in rural India. The metals sector also declined by 0.4%. Overall, it was a down day for the market, except for real estate, autos, and public sector enterprise stocks. The pharmaceutical sector remained relatively flat.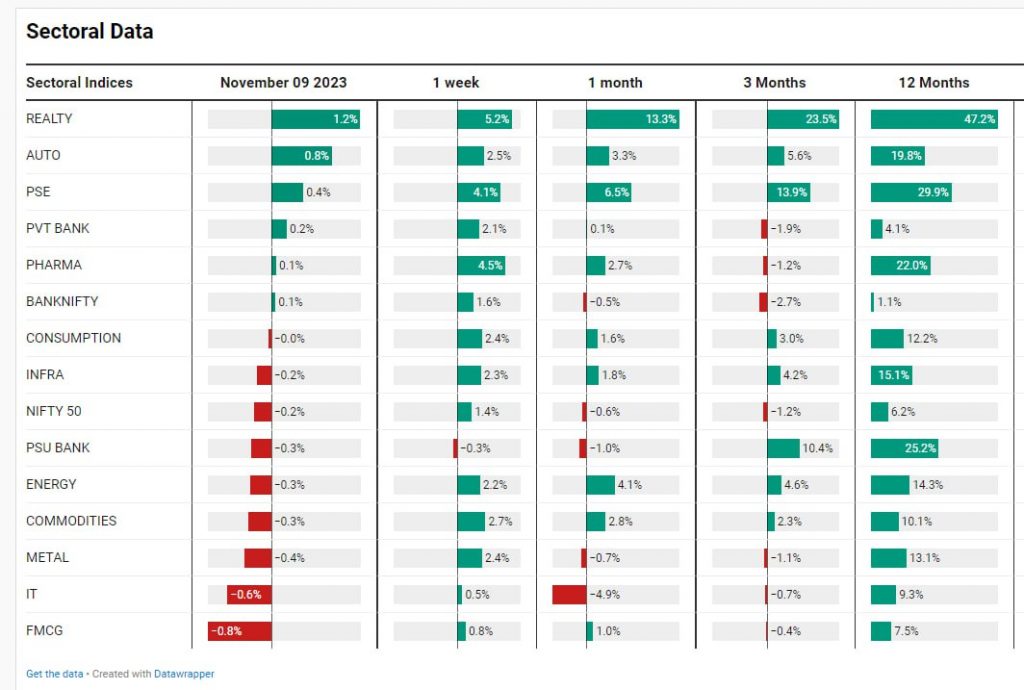 Mid & Small Cap Performance
In the mid-cap segment, the stocks started on a high note but closed near their opening levels but the rally is certainly on. On the other hand, small-cap stocks saw some bearish activity, creating a sort of bearish engulfing candle and indicating a potential downward trend. However, the overall trading range remains small, and there is still hope for a breakout.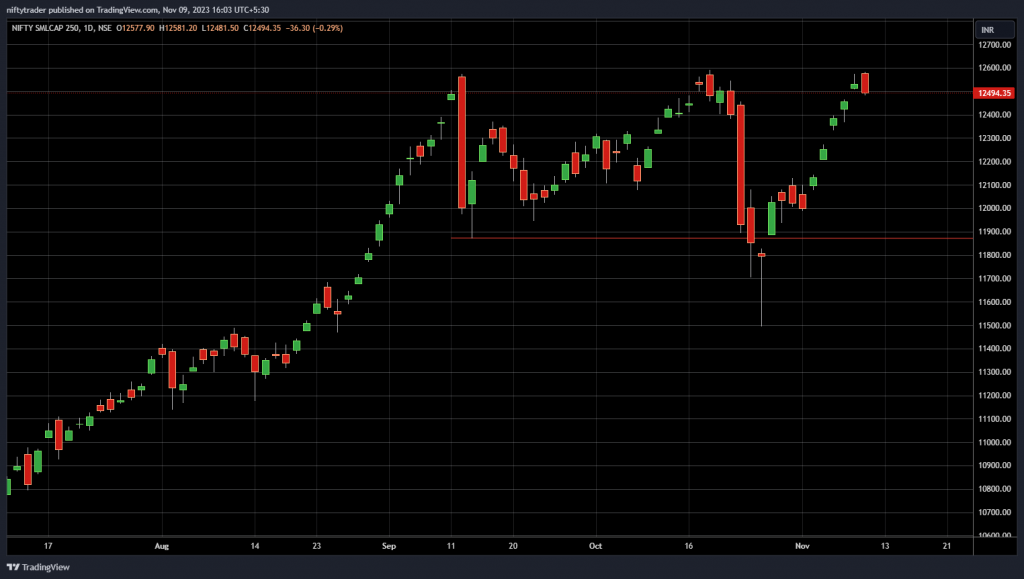 Bank Nifty Overview
The Nifty Bank index remained unchanged over the last four sessions, hovering around the 4003,600 level. The fact that it has not come off significantly is seen as a positive sign. In terms of new stock listings, Mama Earth, a consumer brand, had a good listing above the IPO price but experienced a decline on the second day, reaching a new all-time low below Rs300.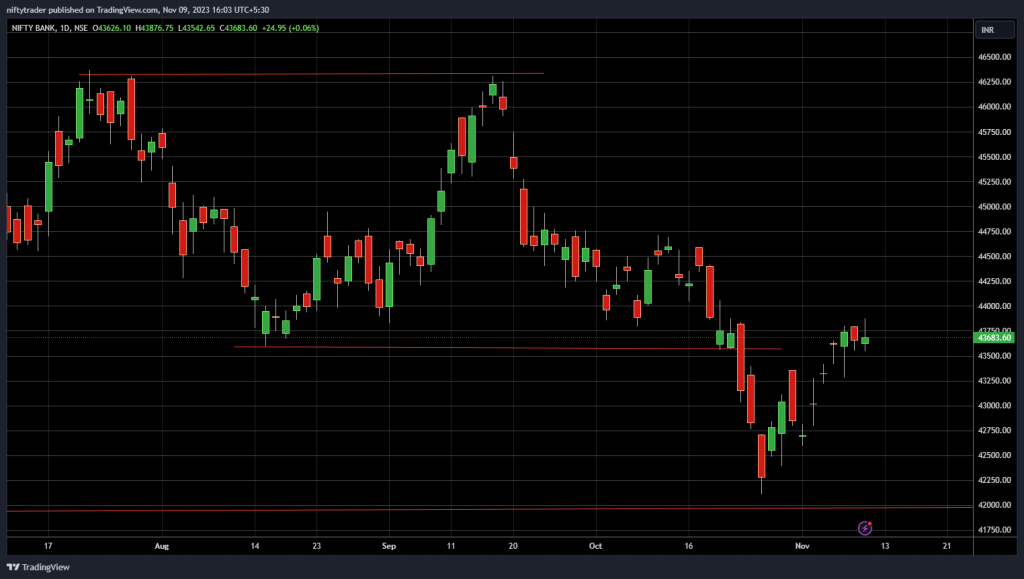 Highlights – Honassa Consumer
When it comes to IPOs, it is important to note that many of the sellers are experienced investors, such as promoters, venture capitalists, and angel investors. Retail investors, who are mostly buyers, often face a higher degree of risk. IPOs can be volatile, with recent trends showing that IPOs tend to hurt buyers. Flipping IPOs, or quickly selling shares after listing, is a common strategy for institutions. Retail investors are advised to let the stock stabilise and consider price consolidation before making any move.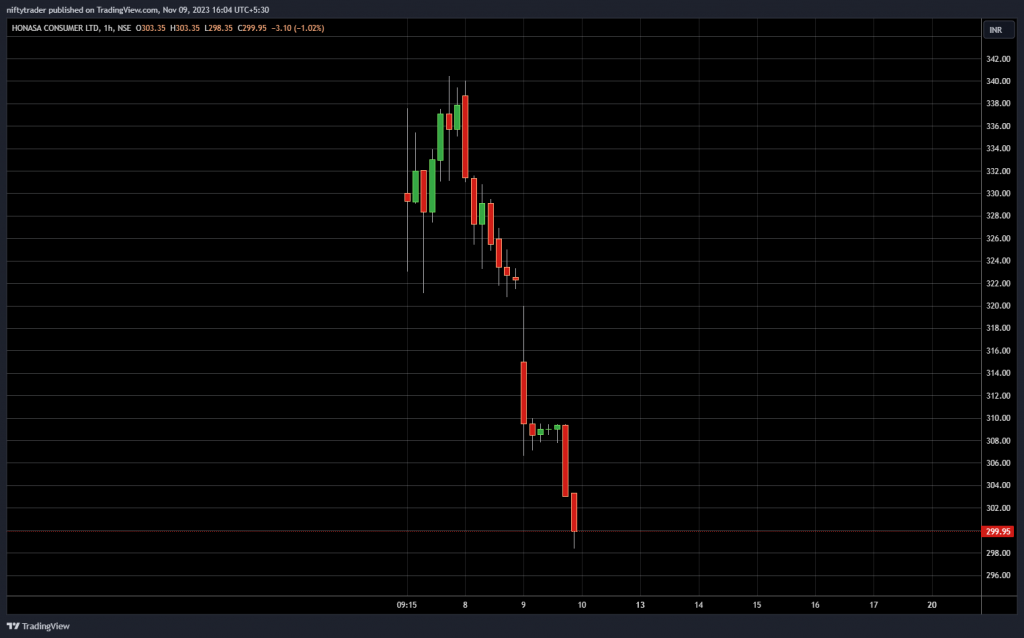 Highlights – Nifty REALTY
Moving away from the specific daily market trends, let's focus on the remarkable performance of the real estate sector. The real estate index has been steadily increasing, indicating a powerful bull market. The hope is that this trend will continue, which should have positive implications for the real estate market as a whole.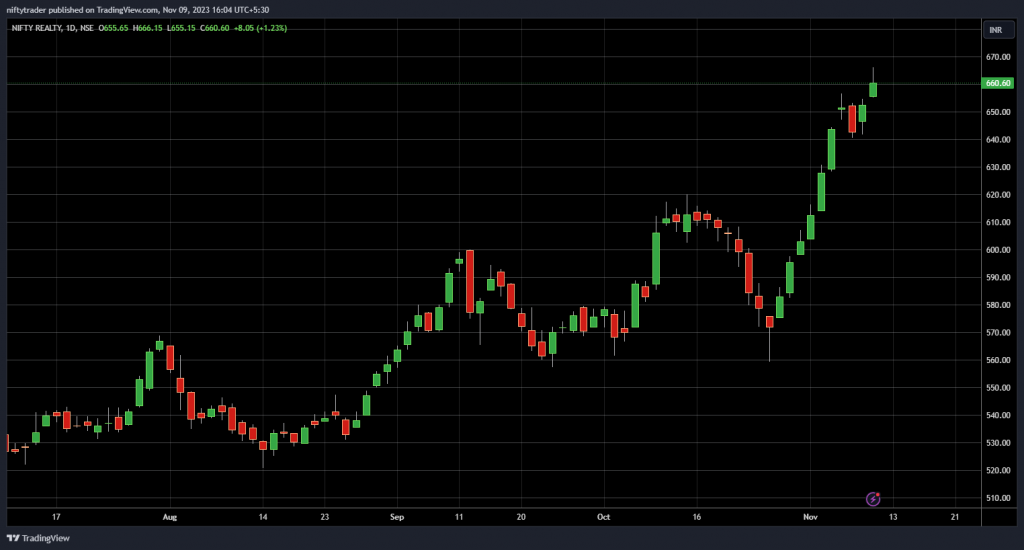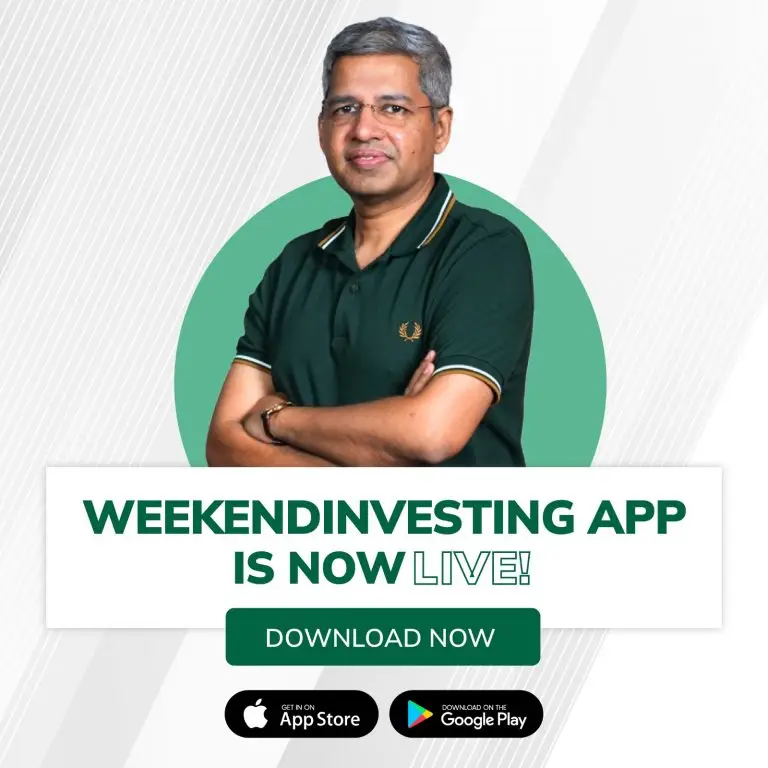 If you have any questions, please write to support@weekendinvesting.com