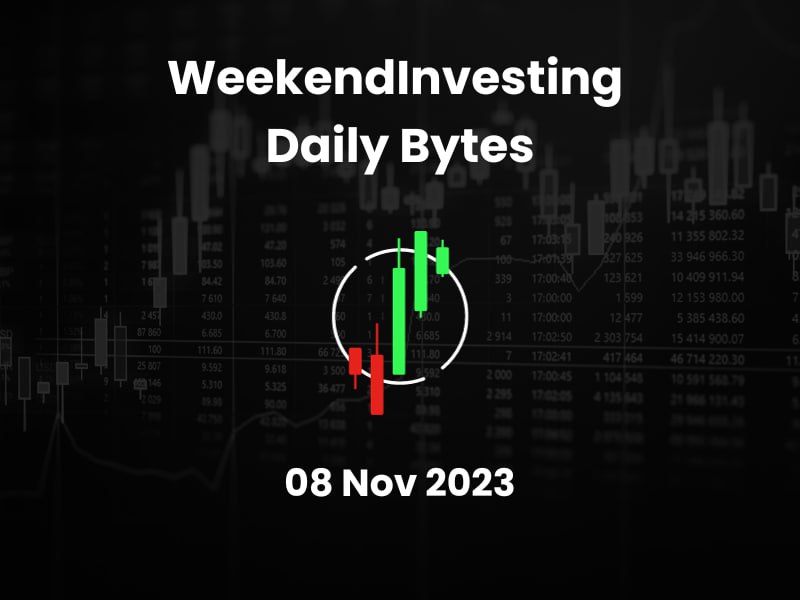 How are the Markets Looking ?
As we enter the festive season in India, the stock market seems to be in a dull mood as everyone seems to be in the celebratory mood
The Nifty has been steadily climbing over the past few weeks, with today marking the sixth session in which it attempted to go up from its recent bottom. With an increase of nearly 600 points, the market seems to be on an upward trajectory, hinting at the possibility of a new high in the near future.
The positive sentiment in the Indian stock market is not limited to domestic factors. Overseas markets also indicate that the worst may be over, at least for now. However, it is important to keep an eye on new data points, such as inflation and interest rates, which may have an impact on the market.
One of the factors contributing to the stability of the Indian stock market is the healthy balance between local and overseas liquidity. Local liquidity is flowing in decently, while foreign liquidity is not actively moving out of the market. This equilibrium is a favourable situation for investors, as it provides a solid foundation for market growth. The broader part of the market as shown in the Smallcap chart below is very well placed.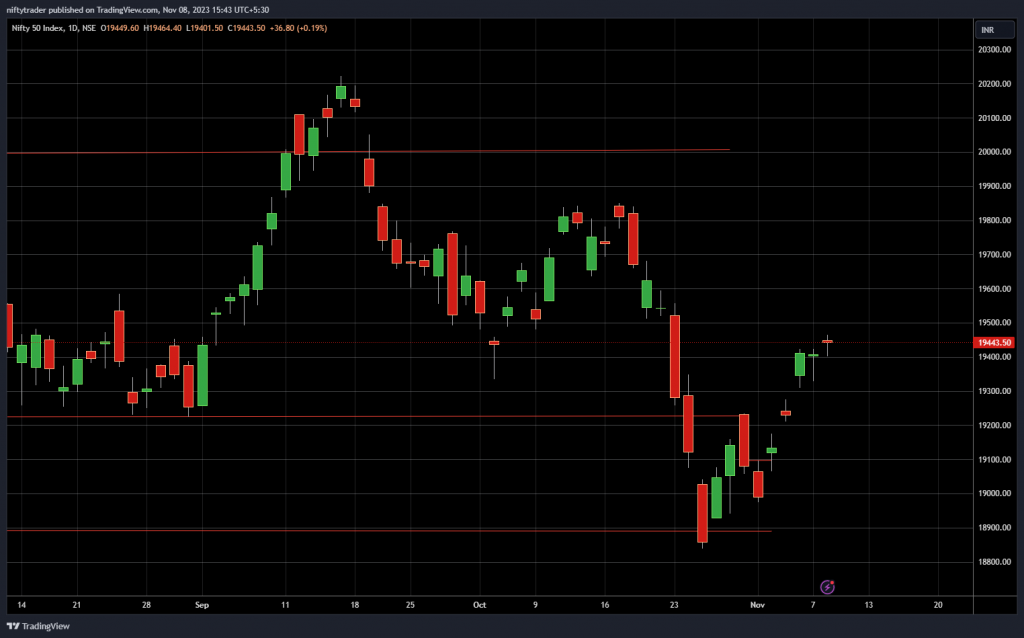 Nifty Heatmap
A closer look at the Nifty Heat Map reveals a mixed bag of performance among different sectors. While some sectors experienced losses, such as ICICI Bank, Infosys, HDFC Life, NTPC, Tata Steel and Tech Mahindra, others showed minor gains such as ITC, Unilever, Titan, L&T, Asian Paints, Adani Ports, Cipla. Notably, the pharmaceutical sector performed well, along with stocks in the oil, energy, and consumption sectors such as Coal India, ONGC etc. BPCL is up 3%, Reliance up 0.5%, Consumption stocks like TItan up 2.7%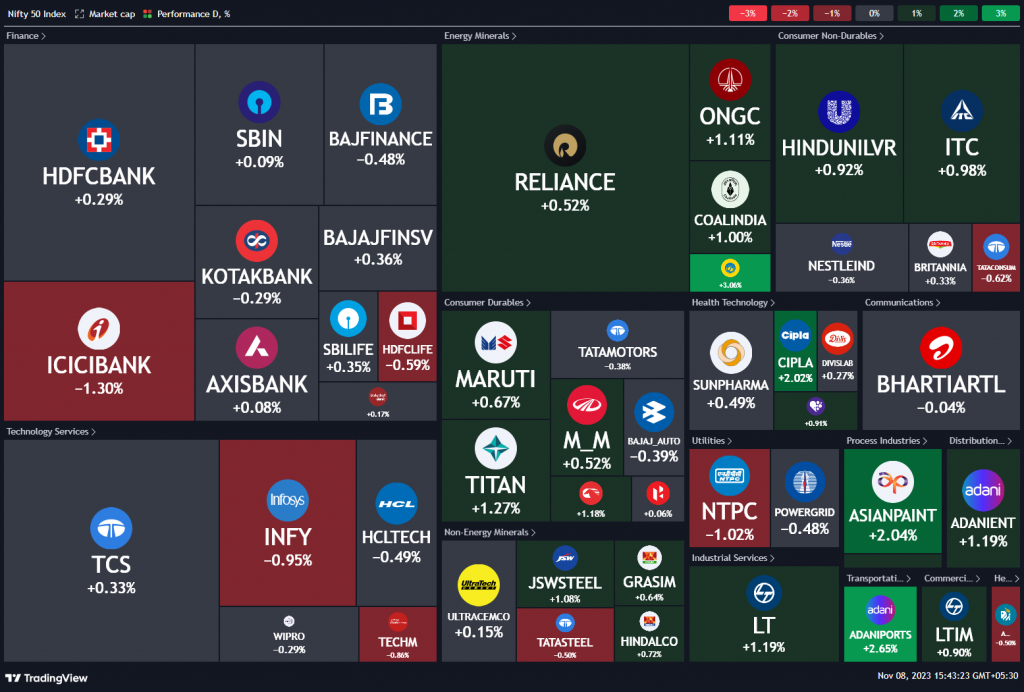 Sectoral Overview
The real estate sector has staged an impressive comeback, with a gain of 6.6% for the week and 11% for the month. This performance is particularly noteworthy, as it marks a new high for the sector. Investors should consider keeping an eye on real estate stocks, as opportunities for investment may arise during market dips.
Pharmaceutical stocks have been making a strong comeback in recent days. With a week-on-week gain of 5.2%, the sector seems to be regaining its momentum. Investors should keep an eye on both large-cap and mid-cap pharma stocks, as they show potential for further growth. Additionally, the Nifty Pharma index is approaching its all-time high, which could result in a significant breakout if liquidity continues to flow into the sector.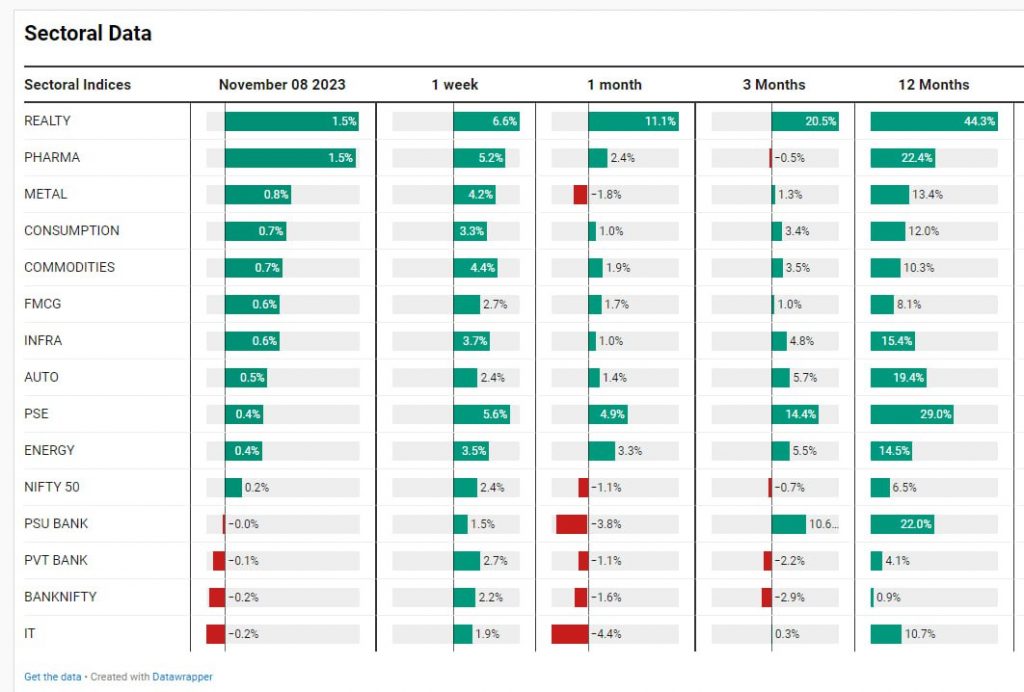 Mid & Small Cap Performance
The mid-cap and small-cap segments of the market have been showing resilience in recent weeks. Mid-cap stocks have seen a remarkable gain of almost 8%, while small-cap stocks are already at an all-time high. This strength indicates that the market may continue to rally beyond the festive season.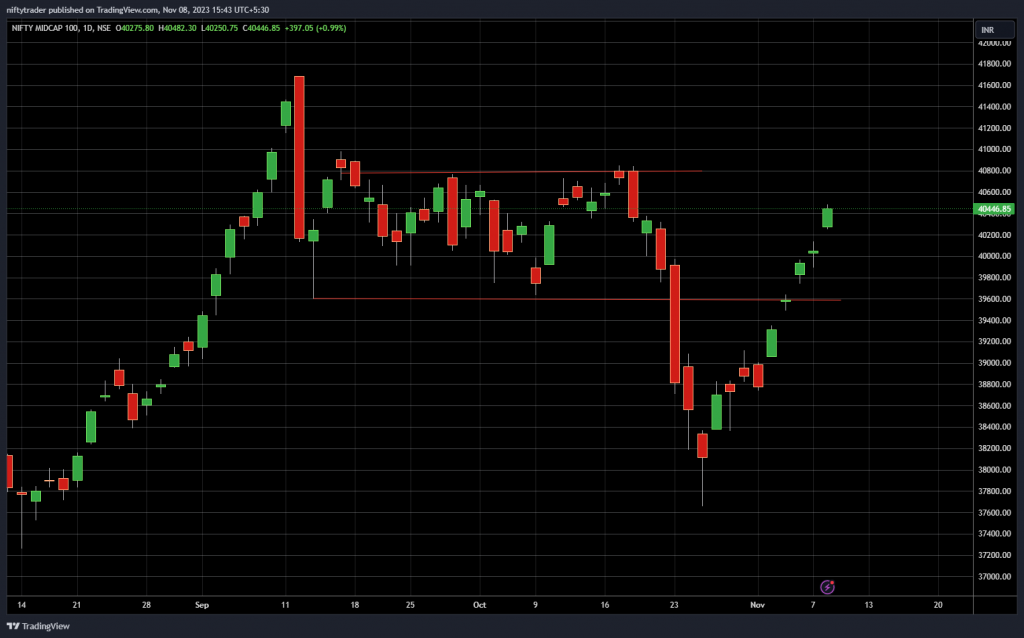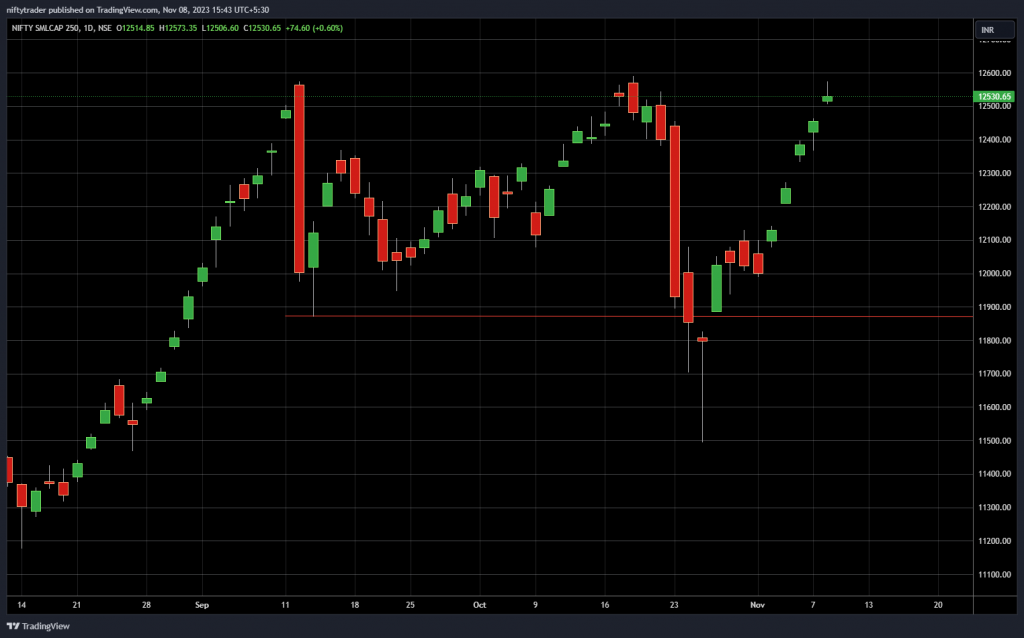 Bank Nifty Overview
While private banks and PSU banks showed minor losses today, the overall performance of the banking sector remains balanced. Nifty Bank, the index tracking banking stocks, is consolidating at a resistance level without significant falls. This stability suggests that the sector may experience positive movements in the coming days.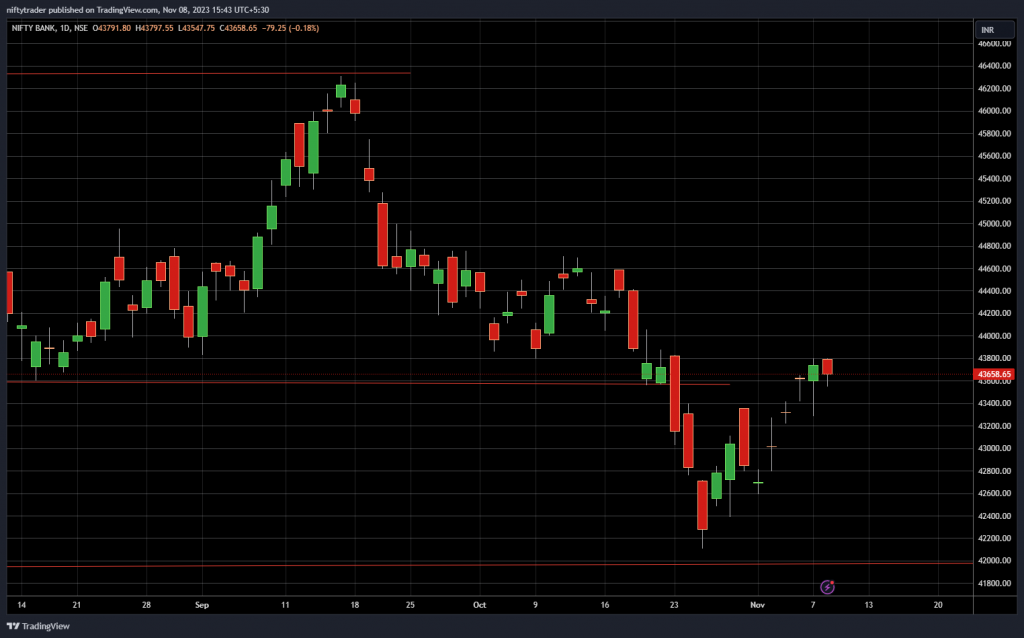 Highlights – Nifty Pharma Index
Nifty Pharma is the highlight index today, it has made a flag and pole pattern. It can blast off in a big way if some moves come around and some liquidity goes into Pharma stocks. We are very close to the all time high, this can really break out and go very far ahead. Watch out for Pharma stocks. Some mid cap pharma stocks are breaking out, some large caps are also doing well.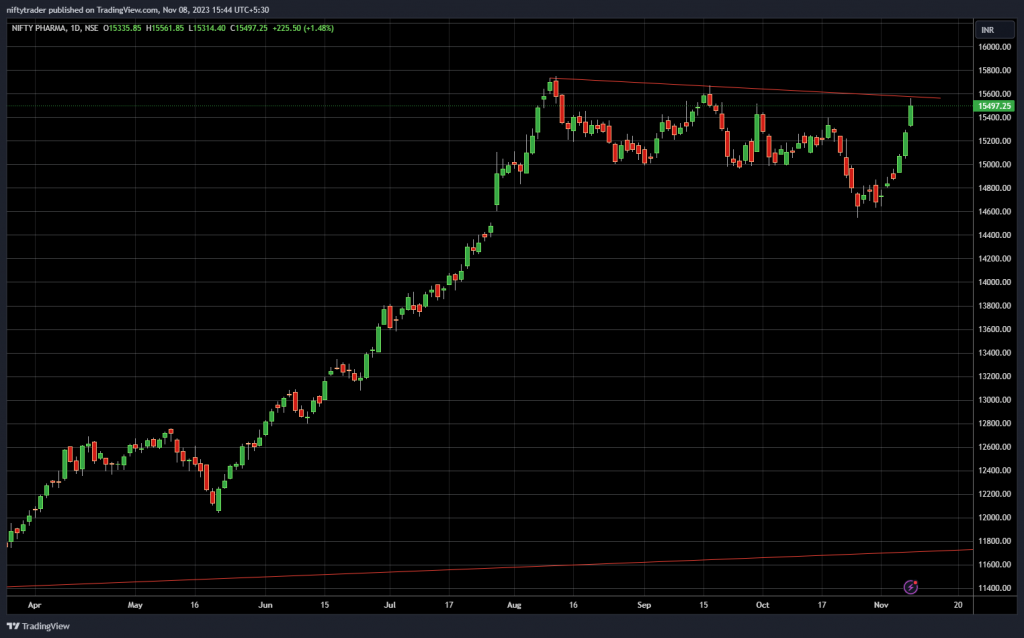 Highlights – Nifty REALTY
Real Estate has made a comeback even after the sharp fall yesterday – a new high has been claimed. In less than 2 weeks time, we are 15-16% up already.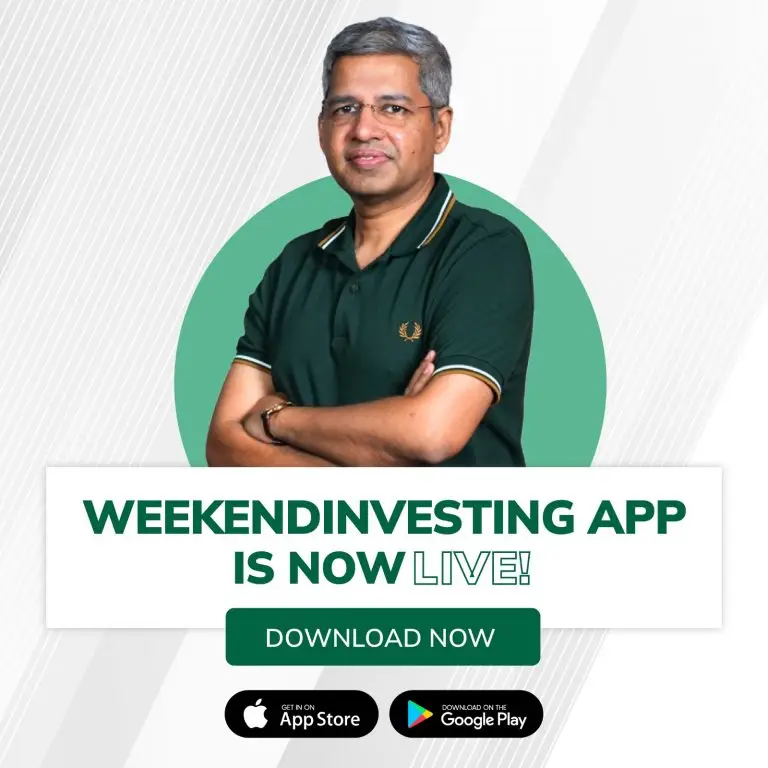 If you have any questions, please write to support@weekendinvesting.com