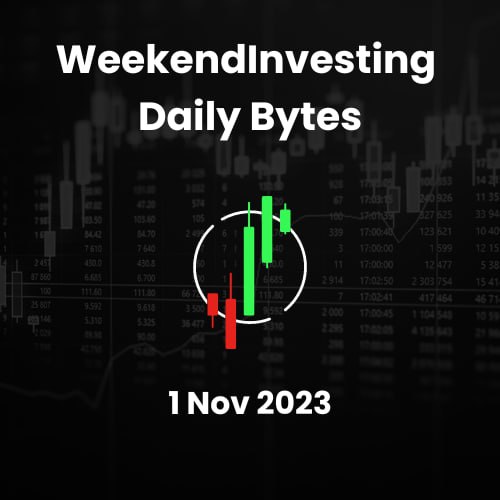 How are the Markets Looking ?
It's the start of a new month, and we witnessed a small slide down in the stock market. The Nifty opened near the previous day's close but could not sustain it, especially in the last hour. Additionally, the US futures market also experienced a slight downturn. This can be attributed to the market's nervousness surrounding the upcoming FOMC (Federal Open Market Committee) meeting.
Investors are eagerly awaiting the commentary that will come out of the FOMC meeting. If there is any indication that interest rates will not be hiked or that the top of the interest rate cycle has been reached, then we can expect a pickup in the market. However, if there is a hawkish statement suggesting a possibility of interest rate hikes, it is likely to cause another downward movement.
Currently, we are trading at precarious levels, very near the recent lows, just around 100 points higher. If there is any hawkish statement during the FOMC meeting tonight, we may see a retest of these lows. Therefore, it was an overall rough day for the market.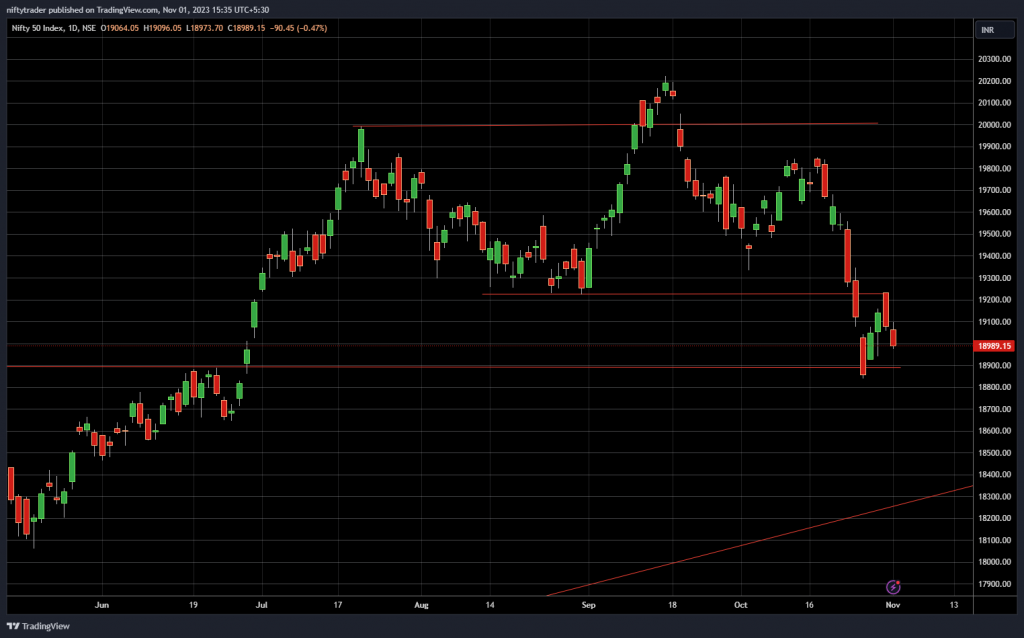 Nifty Heatmap
While a few select stocks, such as Sun Pharma, BPCL, Reliance, ITC, State Bank of India, and ICICI Bank, performed relatively well, most sectors and stocks remained in the red. Some notable decliners included Maruti (down 1.5%), Coal India (down 2.5%), Adani Group (down 3.3%), and Asian Paints (down 2%).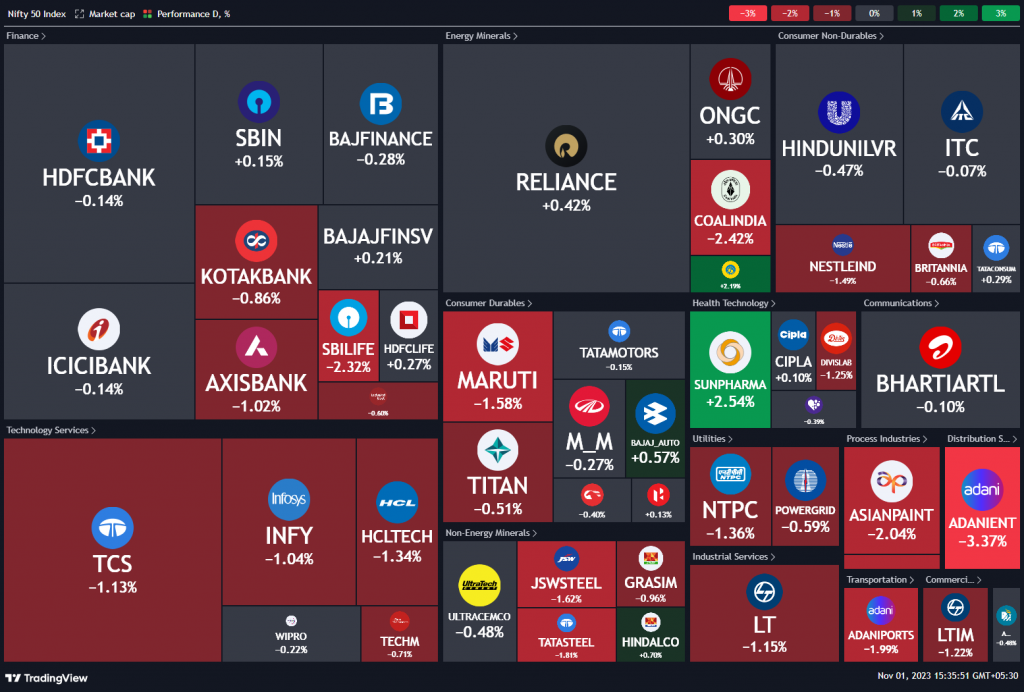 Sectoral Overview
The real estate sector, however, saw a positive trend, with a 1.6% increase largely driven by the biggest constituent, DLF Limited. DLF has reported spectacular numbers and a promising outlook for FY 23-24, contributing to the positive performance of the sector as a whole.
On the flip side, metals (-1.4%), commodities (-0.8%), public-sector enterprises (-0.8%), and autos, along with private banks (both down 0.5%), lost ground.
Taking a broader look at the market performance over the past week, it has been relatively stagnant, with minor gains in most sectors, except for PSU banks and real estate. However, when considering the past three months, the picture is not as promising, except for public-sector enterprises, real estate, and PSU banks.
It's important to remember that a few months of dull performance can set up a good opportunity for a strong month or two in the market. Oversold conditions can eventually lead to a strong recovery, making cautious investors optimistic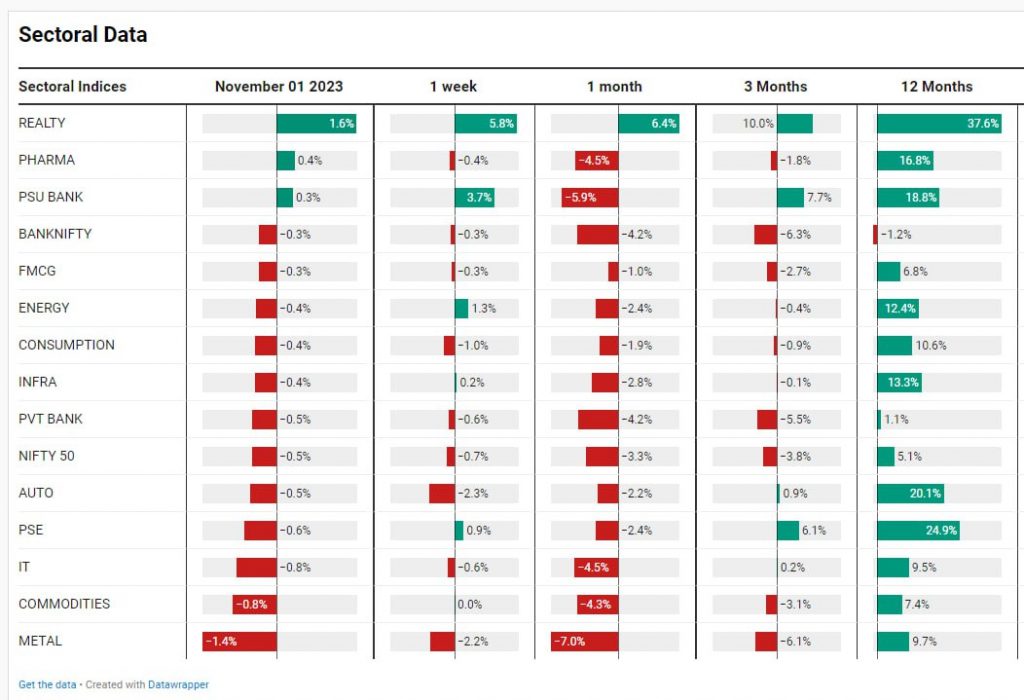 Mid & Small Cap Performance
Looking at small caps and mid caps, although they experienced a slight downturn today, minimal damage has been done so far. Small caps are still holding their ground in the red, and any further decline could be seen as a positive sign in the current market environment.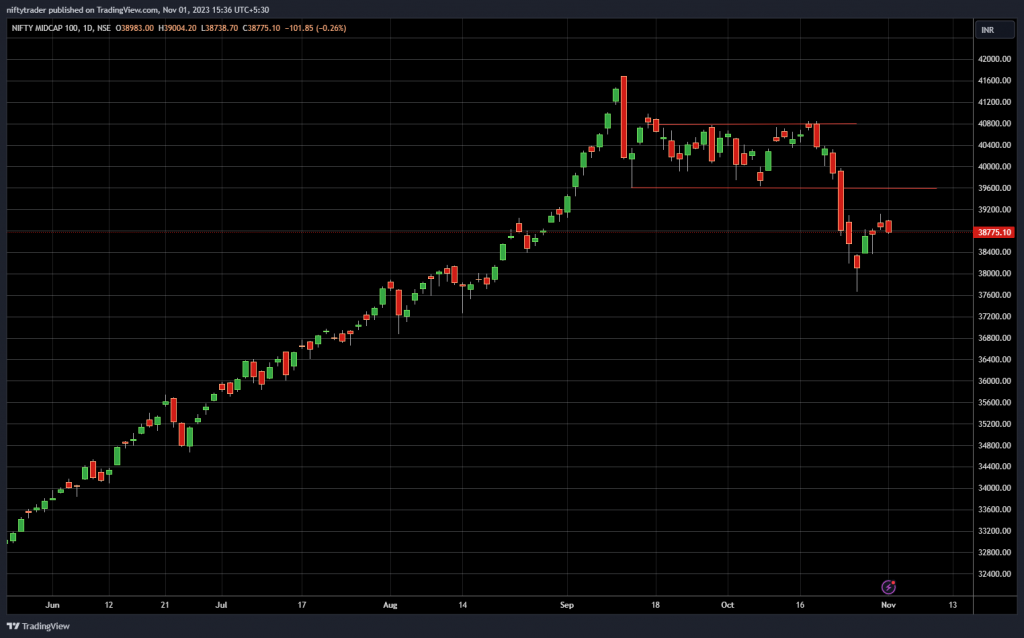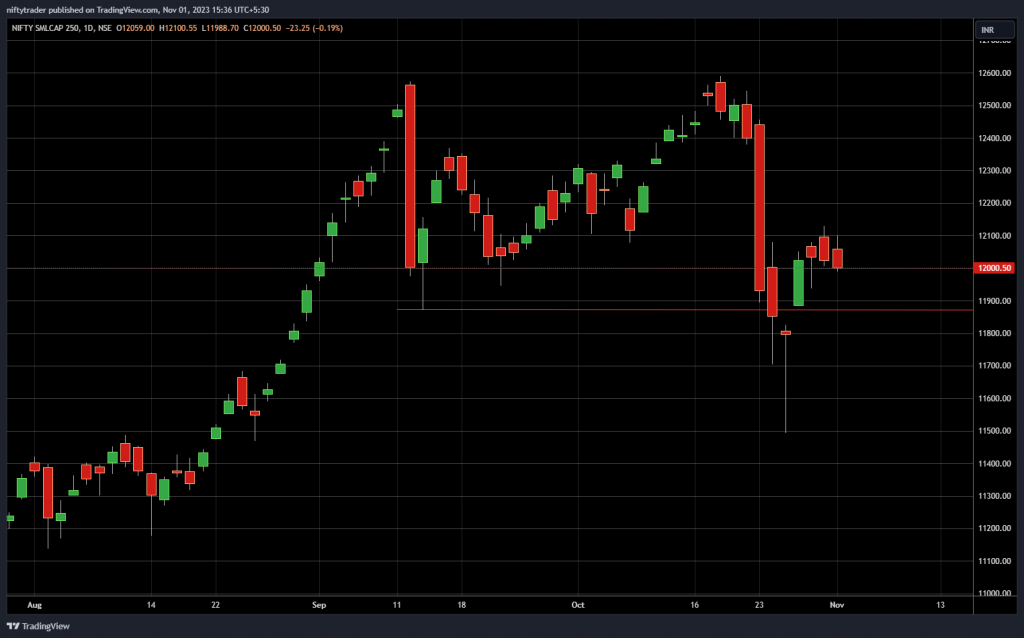 Bank Nifty Overview
Examining the performance of Nifty Bank, we observe a Doji candle, indicating that it opened at the same level it closed. This is not necessarily a negative development given the current market conditions. Any downward movement that can be avoided is considered a positive outcome at this point.
Stock in Focus – IDEA
Moving on, I want to highlight the stock of Vodafone Idea. It started its upward trajectory from 7.5 rupees and has now climbed to 13.5 rupees before closing at 12.8. Many investors avoid buying penny stocks like Vodafone Idea due to the belief that they cannot perform well. However, unexpected events can occur in the market, leading to surprising outcomes. In the case of Vodafone Idea, the stock has formed a flag and pole pattern, and today it experienced a breakout. This pattern suggests a potential buying opportunity if the stock cools off to 12.5 rupees, with stops around 11.5 rupees.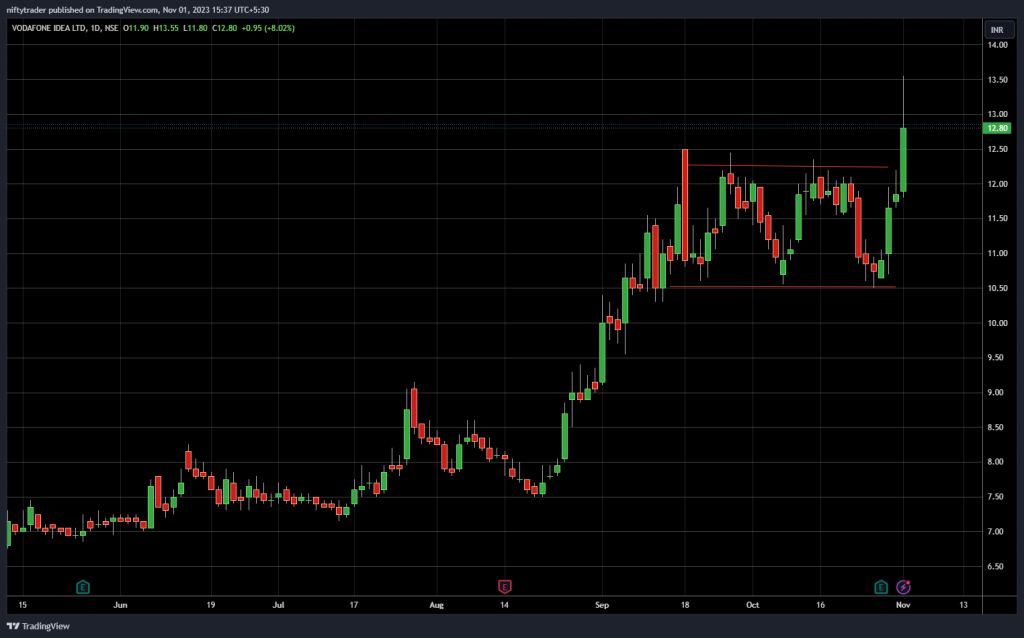 Highlights – Real Estate Index
One sector that stands out amidst the market fluctuations is real estate. The real estate index has been performing exceptionally well, reaching all-time highs or at least recent highs. This is a positive sign for the industry, indicating strong growth potential.