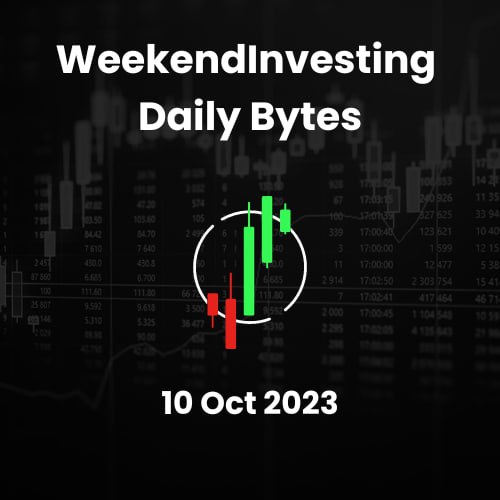 How are the Markets Looking ?
After a challenging period, the Nifty index has managed to bounce back strongly. In fact, it has surpassed both yesterday's and Friday's highs. This breakthrough is significant as it signals the creation of an inverse head and shoulders pattern on the hourly, indicating a potential upward movement towards new highs.
To solidify this bullish sentiment, the market needs to sustain levels above 19,730. This breakthrough would pave the way for a notable surge in the market. On the downside, it is crucial for the market to hold above yesterday's bottom, which has become a crucial support level.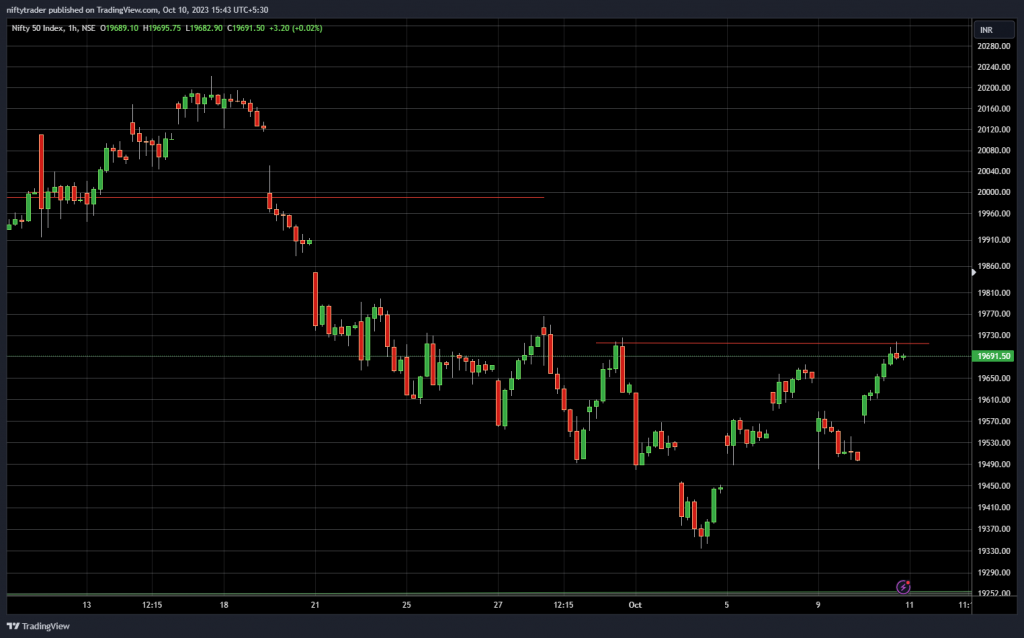 Nifty Heatmap
The energy and power stocks segment has had a productive day, as have certain public sector enterprise and real estate stocks. Overall, however, the banking sector has remained relatively muted, while IT and auto stocks have performed decently. Steel and cement stocks also experienced a slight bounce. FMCG was quiet.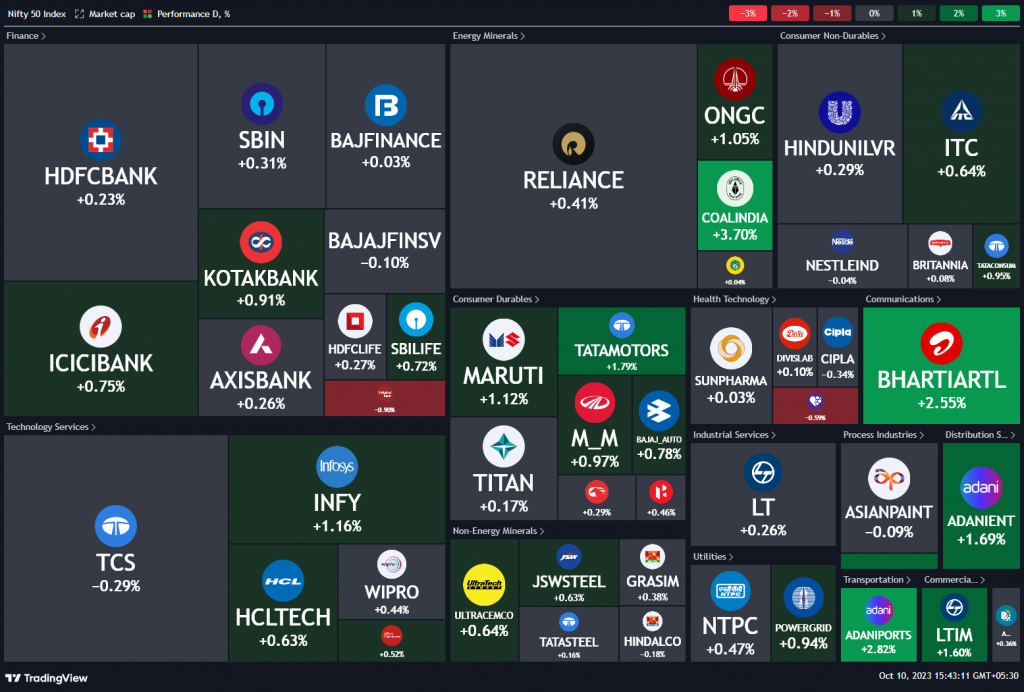 Sectoral Overview
One sector that stood out significantly was real estate, with a remarkable 4% single-day surge. This week alone, the real estate index has gained an impressive 4.8%. Over the past twelve months, the real estate index has surged by a staggering 44%, reflecting the sector's exceptional performance.
Similarly, PSU banks have contributed to the market's positive momentum with a gain of 2%. Although they have experienced a 4% decline for the week, they have recorded a substantial 9.7% gain over the past month and an impressive 39% gain over the last twelve months. Both the real estate and PSU banking sectors have consistently ranked high in terms of momentum, fueling their impressive growth.
Other sectors that witnessed gains of over 1% include metals, public sector enterprises, commodities, autos, private banking, and energy. The pharma sector, however, remained flat for the week, while PSU banks saw a slight decline.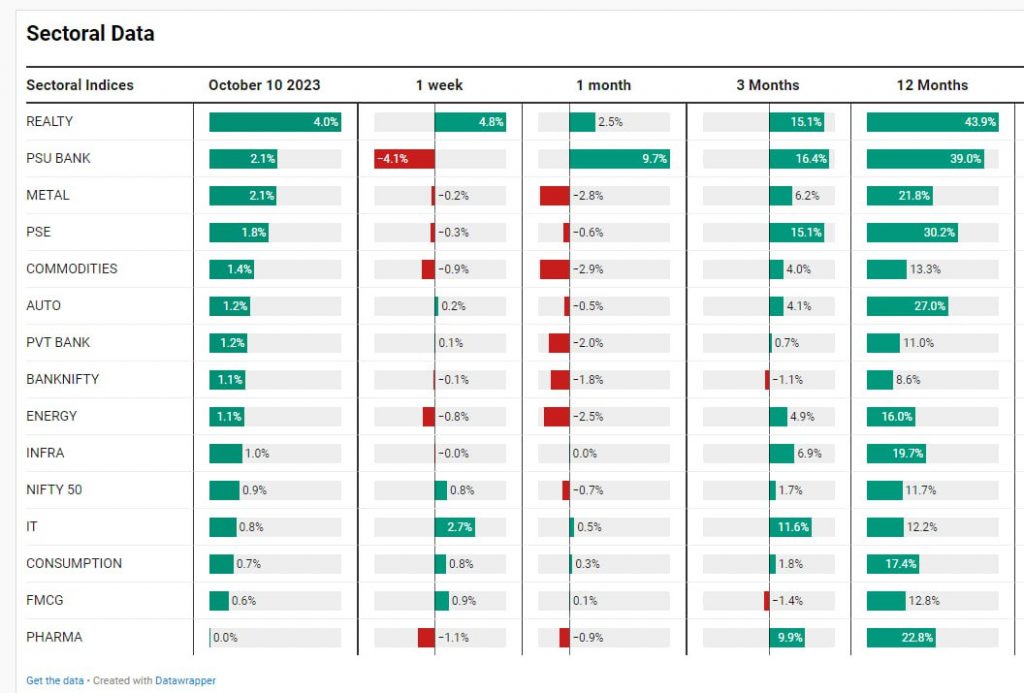 Mid & Small Cap Performance Overview
In the mid-cap 100 segment, there was a strong bounce back from the support level at 3,096. If this support level had been breached, it could have led to further pain for the segment. However, the market managed to avoid that scenario, and a robust recovery ensued.
Similarly, small-cap stocks found support from a trend line and exhibited upward movement. These stocks have marginally covered the gap and are poised to challenge previous highs in the coming sessions.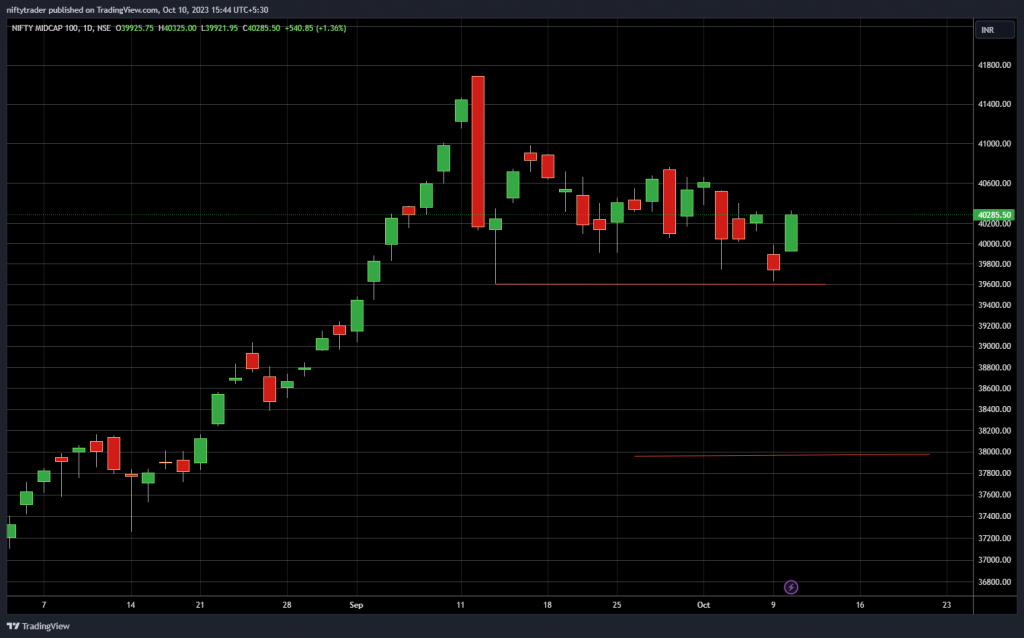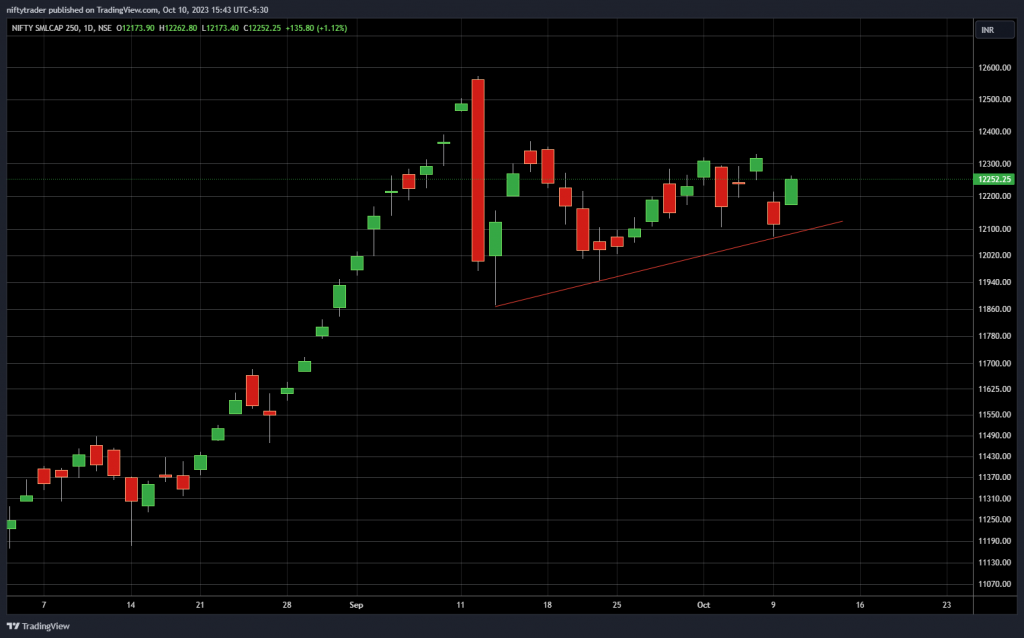 Bank Nifty Overview
However, it is noteworthy that the index managed to fill the previous day's gap, indicating a decent recovery. A significant level to watch out for is 44,530, as a breakthrough could have bullish implications for the index.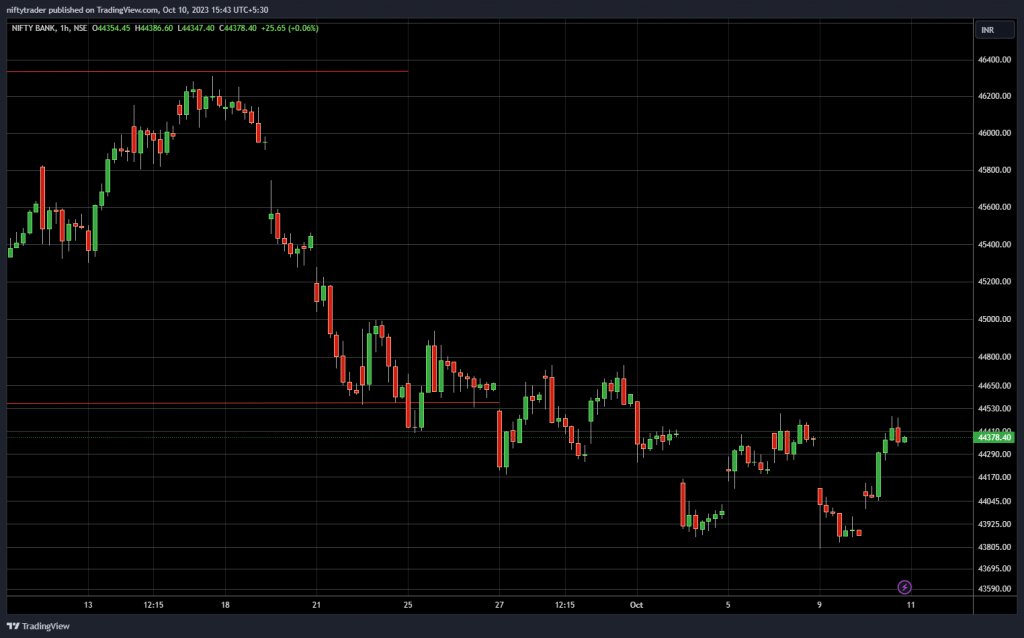 Stock in Focus – Coal India
One stock that has exhibited remarkable performance in recent weeks is Coal India. Over the span of just five weeks, the stock has surged from 230 to a closing price of 303, representing a remarkable 40% increase. Despite market weaknesses, Coal India's momentum has allowed investors to ride the upward wave. Without a plan, one would have gotten out much earlier.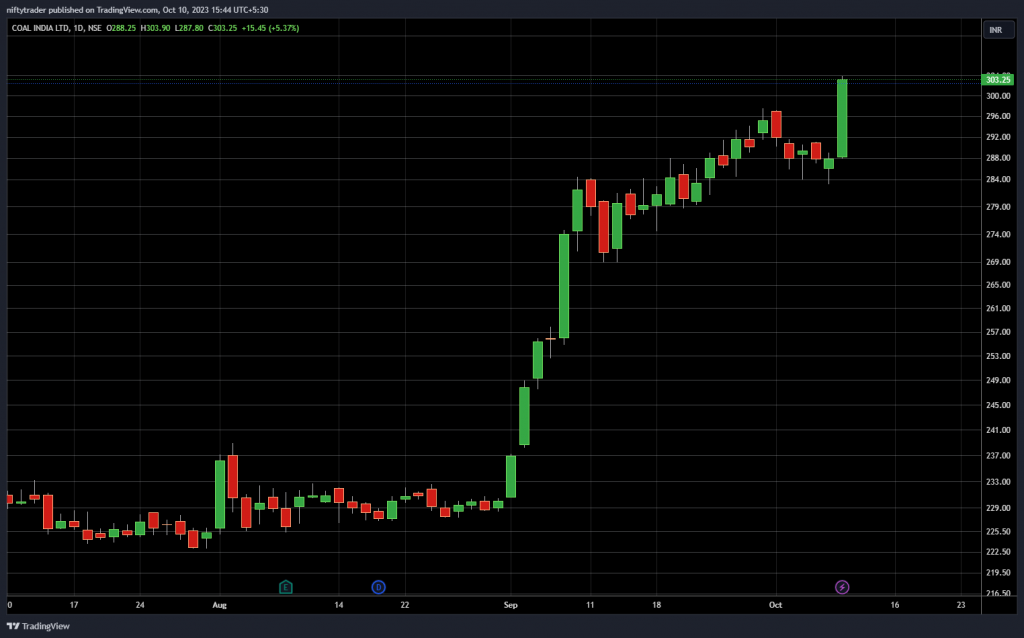 Global Markets
In closing, we turn our attention to the US dollar index. Although it is still early to conclude, there are signs of a breakdown in the trend line. However, confirmation can only be established when the index makes a lower low, followed by a lower high, and subsequently breaks down again. Monitoring these developments will provide greater clarity regarding the future direction of the US dollar index.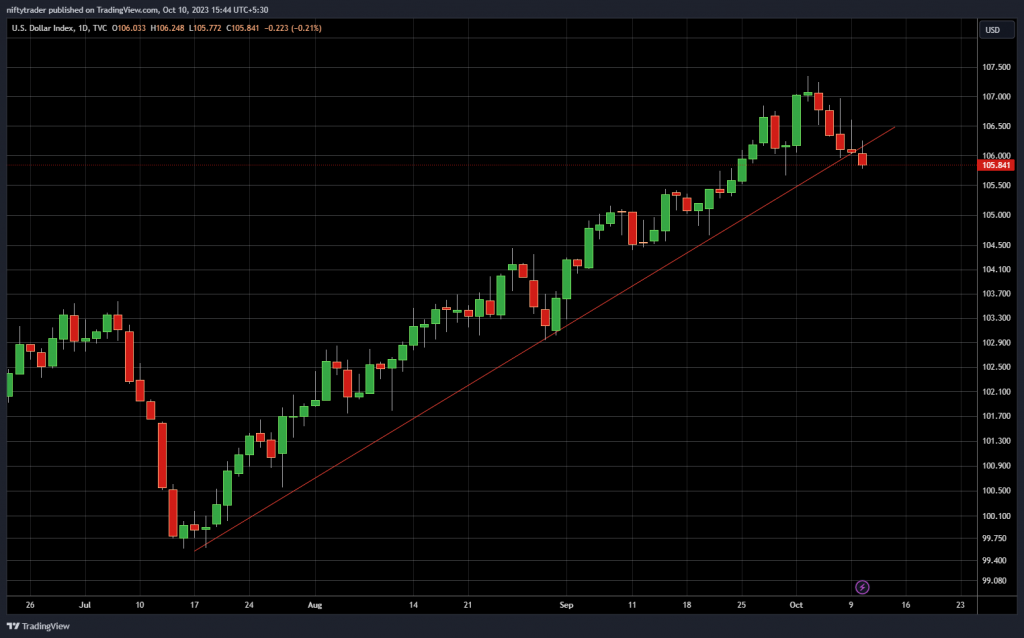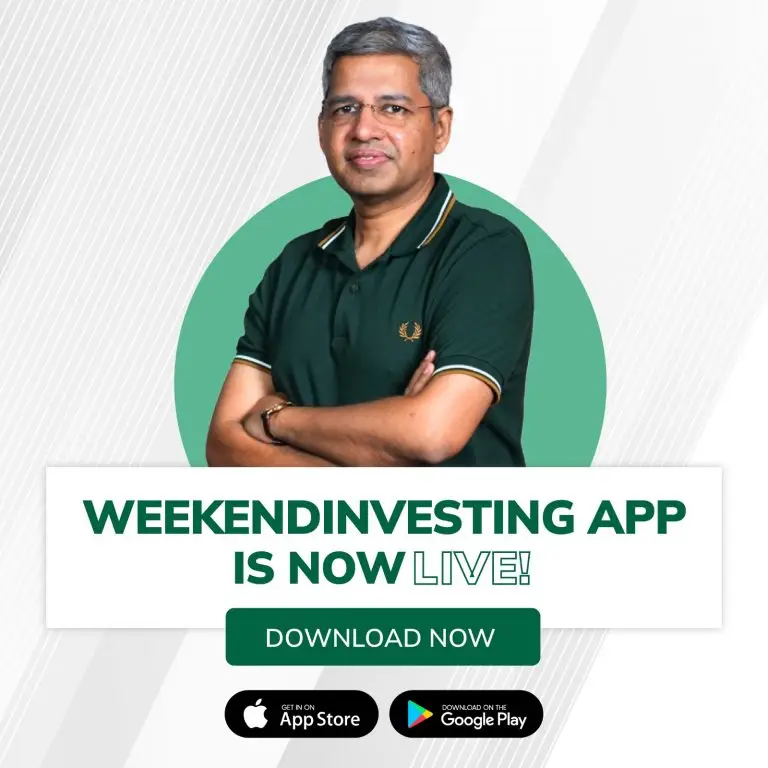 If you have any questions, please write to support@weekendinvesting.com