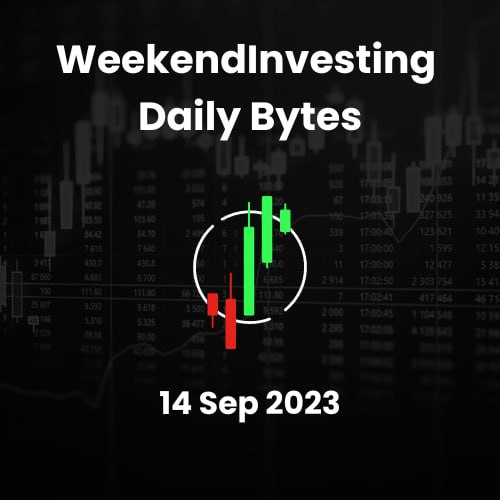 As of today, which is the 14th of September 2023, Nifty has witnessed a continuous upward trend, spending most of its time above the previous day's closing.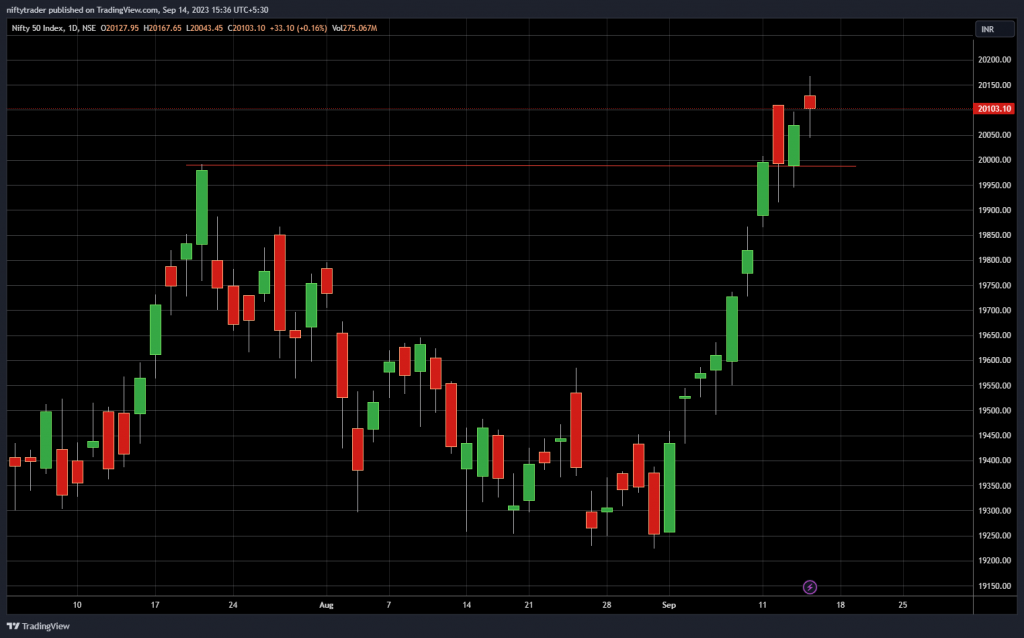 Today, Nifty traded within a range of 20050 and 20150, ultimately closing at a new high. This rally has also witnessed a comeback in mid and small-cap stocks, which had faced significant volatility in previous sessions.
Nifty Heatmap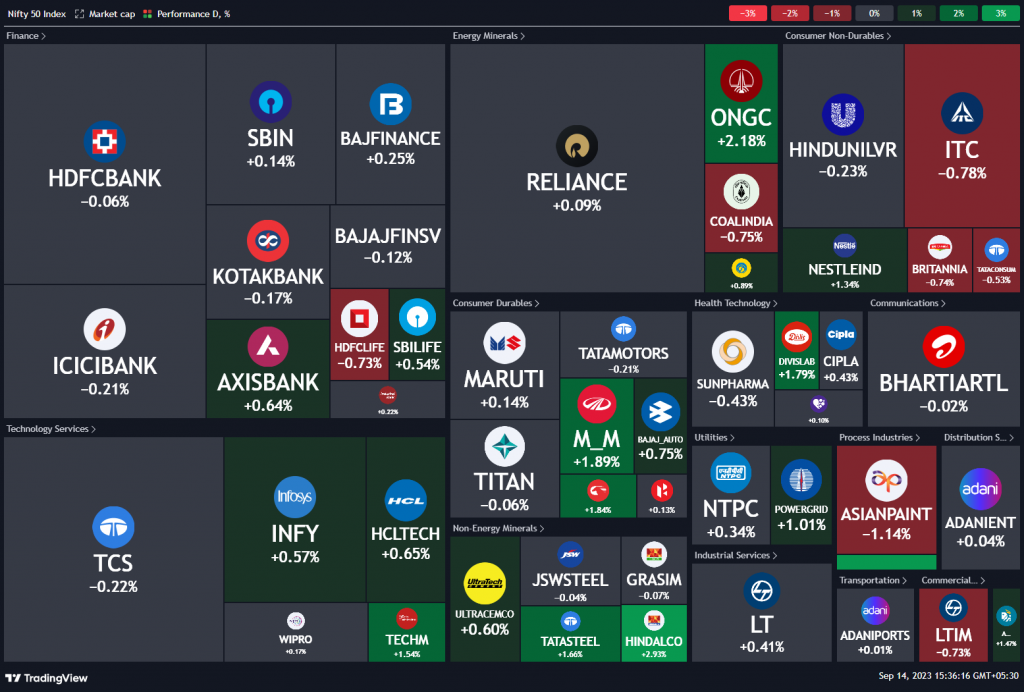 Auto stocks like Mahindra and Mahindra, as well as Maruti, experienced slight gains. Steel stocks showed significant growth, and some IT stocks like Infosys and HCL Tech also gained ground. While PSU banks performed well, private banks seemed relatively muted. A few energy stocks like NTPC, Power Grid, ONGC were up while the likes of ITC, Coal India, Britannia, Tata Consumer, etc. experienced a slight decline.
Sectoral Overview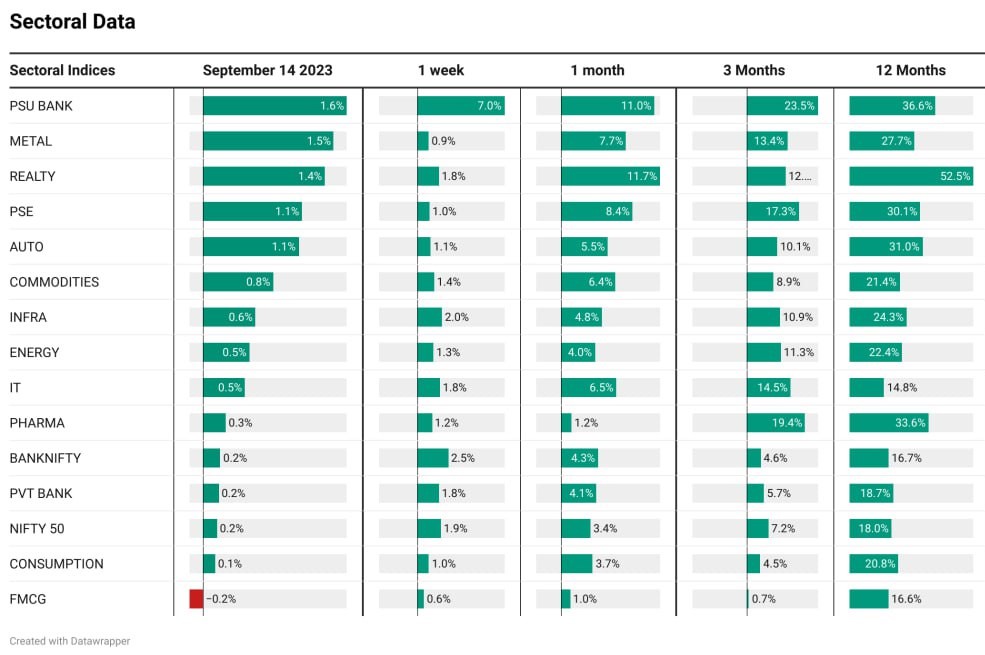 Among the sectoral charts, PSU banks stood out with an impressive 1.6% gain. This rally over the past two sessions has pushed PSU banks up by nearly 7% for the week, which is a remarkable achievement. Metals and real estate sectors also performed well, with gains of 1.5% and 1.4% respectively. Public sector enterprises and autos recorded an increase of 1.1%. Other sectors, including commodities, infra, and energy, witnessed gains between 0% and 0.5%. However, FMCG lost some ground during the week.
In the month gone by, PSU banks and real estate have been the standout performers compared to other sectors. This indicates that investors have shown increased interest in these sectors, driving their growth.
Mid Caps & Small Caps Performance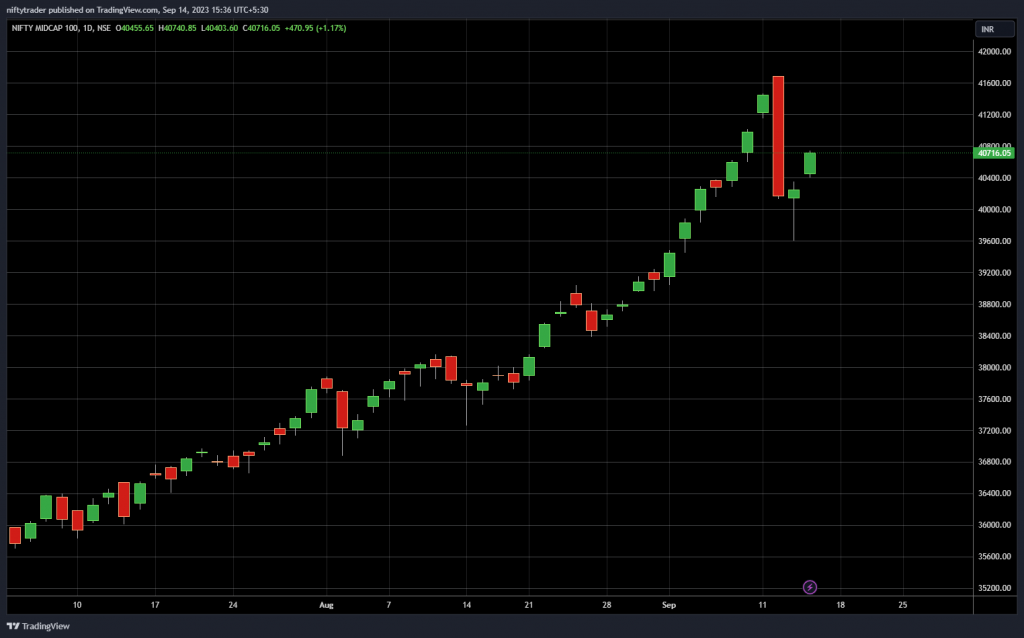 The recent market movements have shown some positive signs. Mid-caps, represented by a long-legged pin-like candlestick, have made a significant upward move. In fact, the opening gap for today's trading session was above the previous day's range, and Nifty closed much higher, covering almost 50% of the earlier downward move. This indicates a healthy sign for recovery. Small-caps have also witnessed a recovery of around 60-65% of their upward move. However, it is essential to closely monitor their momentum in the upcoming sessions to understand whether this is sustainable or just a temporary bounce before another drop.
Banknifty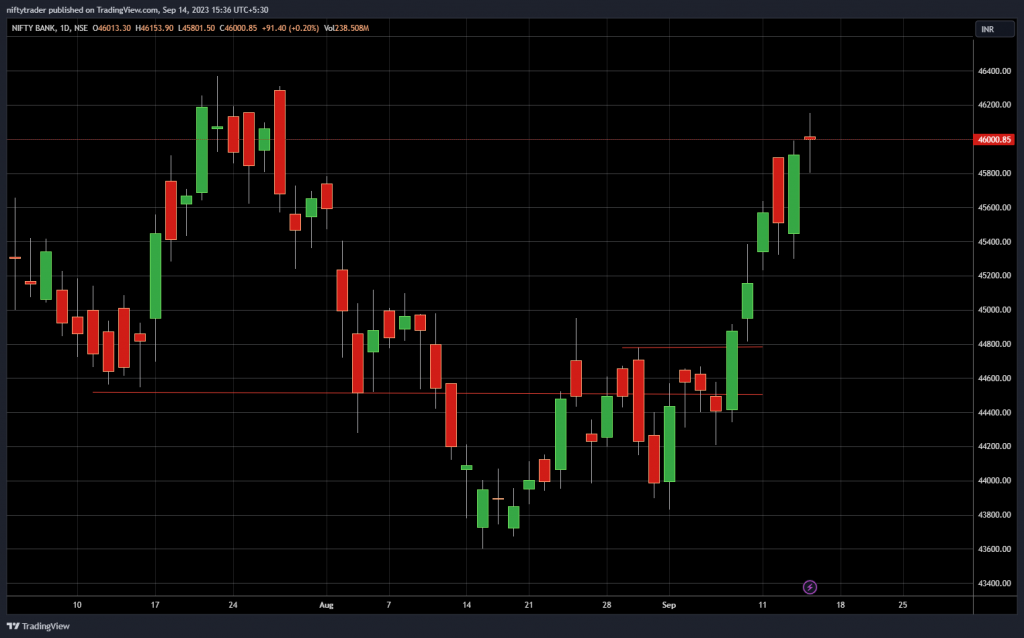 Speaking of Nifty Bank, it showed some volatility throughout the day, but ultimately closed at a level similar to the opening price. However, in the previous sessions, it had gained significantly from the 44,400 levels, leading to a positive closing. Currently, Nifty Bank is just a few hundred points away from reaching an all-time high closing mark.
Oil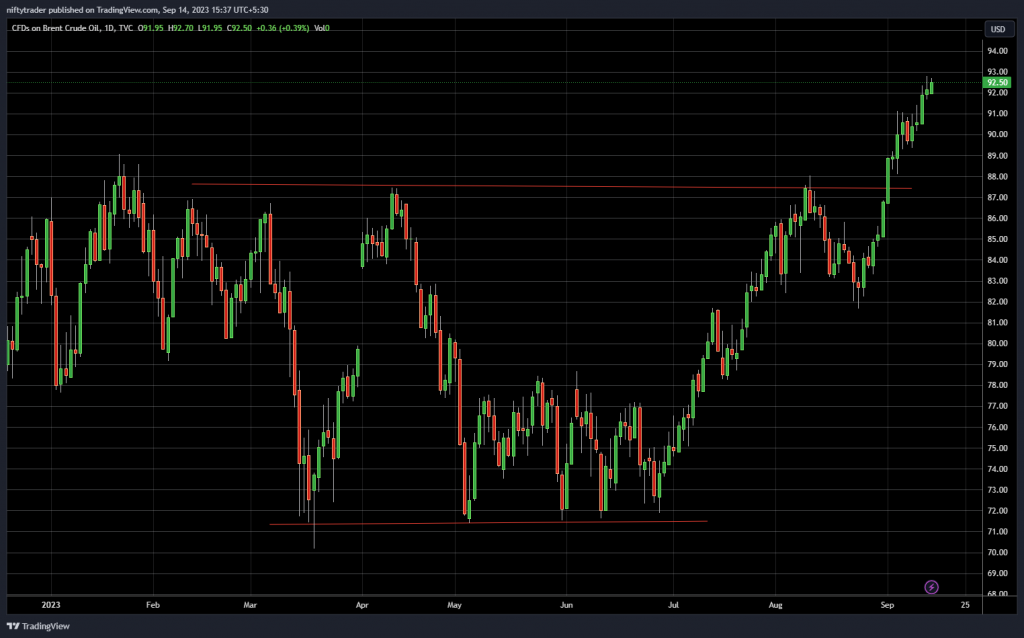 Brent Oil's current price at $92.5 poses a clear and present danger to the market. If we refer to the classic Harrison Ford movie, "Clear and Present Danger," we can relate to a situation where we fail to recognize the impending danger until it is right in front of us. In the case of the Indian market, if the price crosses $98-99, some alarm bells will start to ring. A significant increase in oil prices beyond this point may negatively impact the market, hindering any major market moves.
The case of BOMBAY DYEING !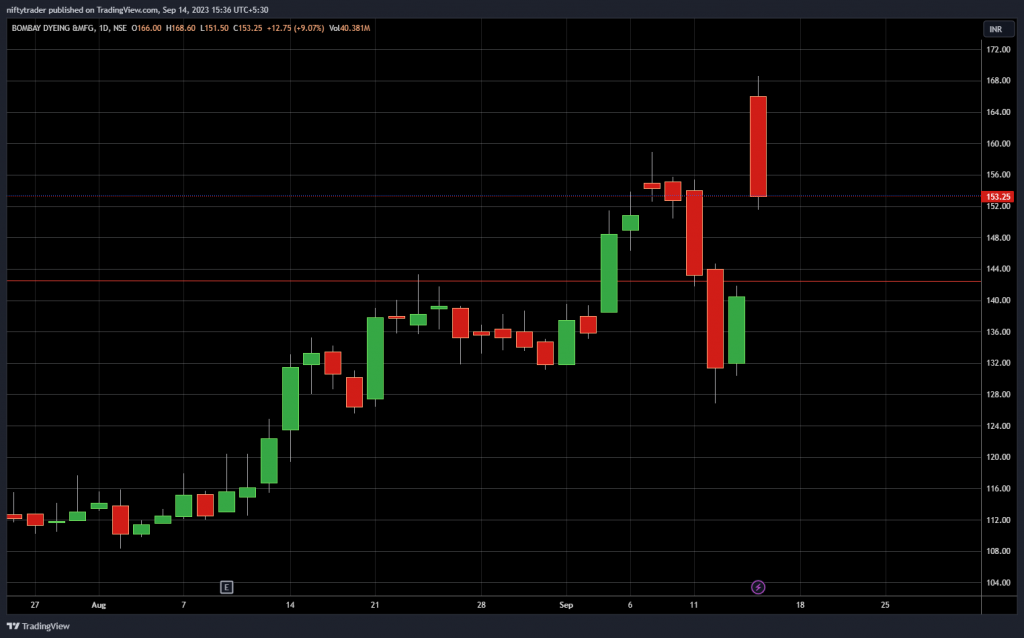 Today, Bombay Dyeing announced the sale of their Burly land for 5200 crores, attracting a lot of attention from investors. Many people purchased the stock in the morning, leading to an opening price of Rs165, higher than the previous day's closing price of Rs140. However, the stock couldn't sustain the upward momentum and closed at Rs153 by the end of the day.
It is important to understand why the stock opened at Rs165 but didn't reach Rs175. Looking at the longer-term charts, Bombay Dyeing has been on an upward trajectory since Rs50. This means that a significant portion of the positive news regarding the land sale has already been priced into the stock. In 2018, when similar news emerged, the stock had reached levels above Rs300. However, it subsequently collapsed to Rs50. Even five days ago, the stock was trading at Rs153, similar to its closing price today.
Therefore, the price action indicates that those who were privy to this information may have sold their holdings or booked profits. The high reached today, around 168-169 levels, will now serve as an essential level to watch. If this level is breached, it will signal further growth in the stock. Until then, it is advisable to remain cautious and not get carried away by discussions regarding the allocation of the 5200 crores, as the market has already given its verdict.
To conclude, the recent market movements have shown positive signs for Nifty and mid-caps, leading to a recovery from previous lows. PSU banks and real estate sectors have outperformed other sectors, attracting investors' attention. However, external factors like Brent Oil prices and the movement of USDINR can pose challenges in the upcoming days.
Thank you for watching this analysis. Stay tuned for more updates, and I'll see you in the next one!
Download the WeekendInvesting App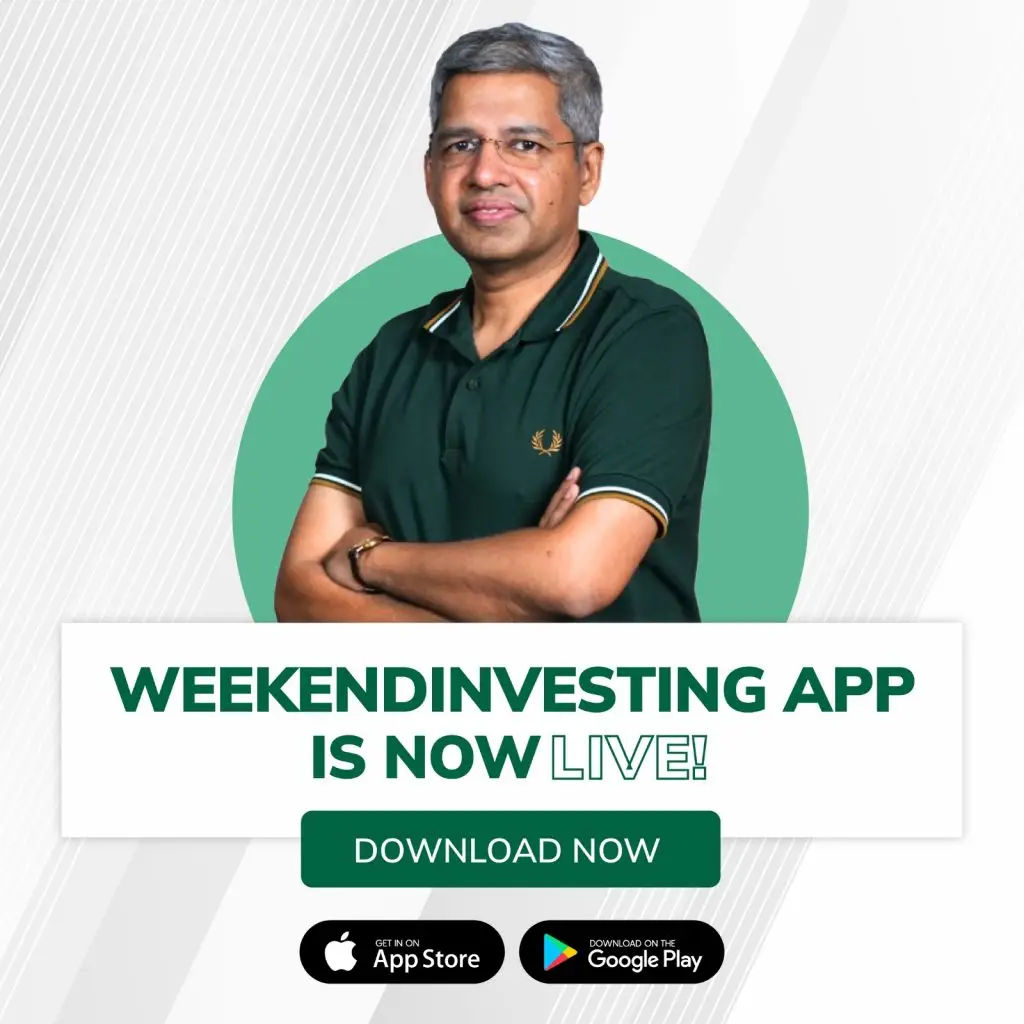 If you have any questions for us. please write to us on support@weekendinvesting.com. You can also get on a 1-1 meeting with us should you need more clarity about the strategies or process.