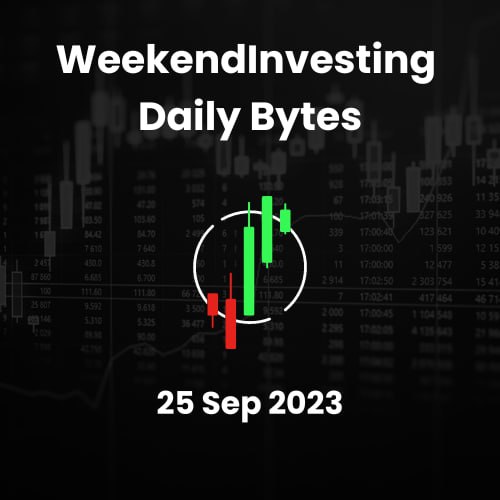 Nifty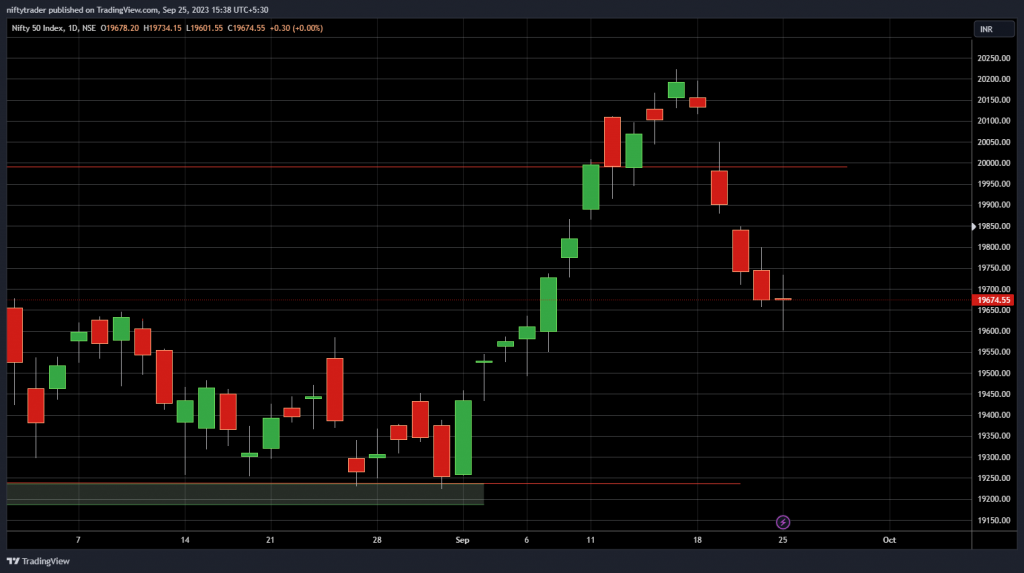 The falling of the market has been arrested. It was a Doji Day. A Doji day is characterised by a Doji candle, where the open and close prices are at the same level. Although the candle may have long shadows indicating high and low levels, the fact that the open and close prices are the same signifies a sense of indecisiveness in the market. It suggests that buyers and sellers have an equal impact, resulting in a state of equilibrium.
Now, it's important to note that a Doji day does not guarantee a sudden upward movement in the market. However, it does indicate that a downtrend might be nearing its conclusion. This inference is derived from the observation that after a trend, a Doji candle often signifies a potential reversal or consolidation. It's crucial to consider other factors and indicators before making any investment decisions based on this pattern.
Nifty Heatmap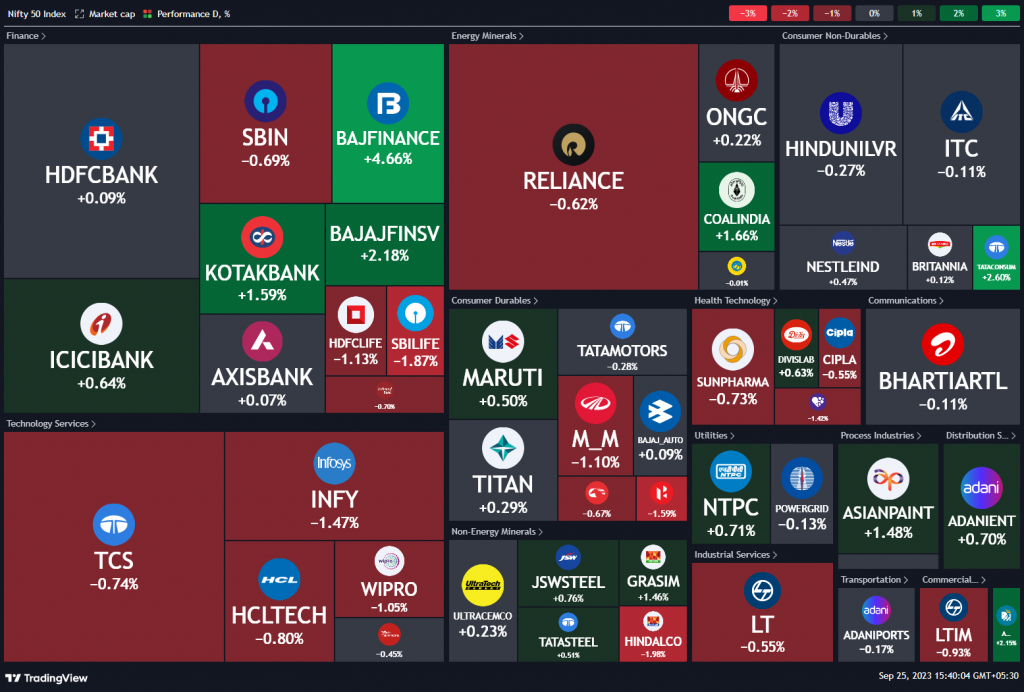 The Nifty heat map reflects a mixed bag of performances for various stocks. Bajaj Finance and Bajaj Finserv showed positive growth, while Kotak Bank was up 1.6%, Coal India was up 1.6%, Tata Consumer was up 2.6%, and NTPC also experienced gains, Asian Paints, Adani Enterprise were both up. However, Power Grid, Maruti, and Mahindra Mahindra faced a downside. Meanwhile, IT stocks like Infosys, TCS, Wipro, HCL Tech, and L&T struggled, and the pharmaceutical sector experienced a mixed performance, with Cipla and Sun Pharma down, while DV's lab showed positive growth.
Sectoral Overview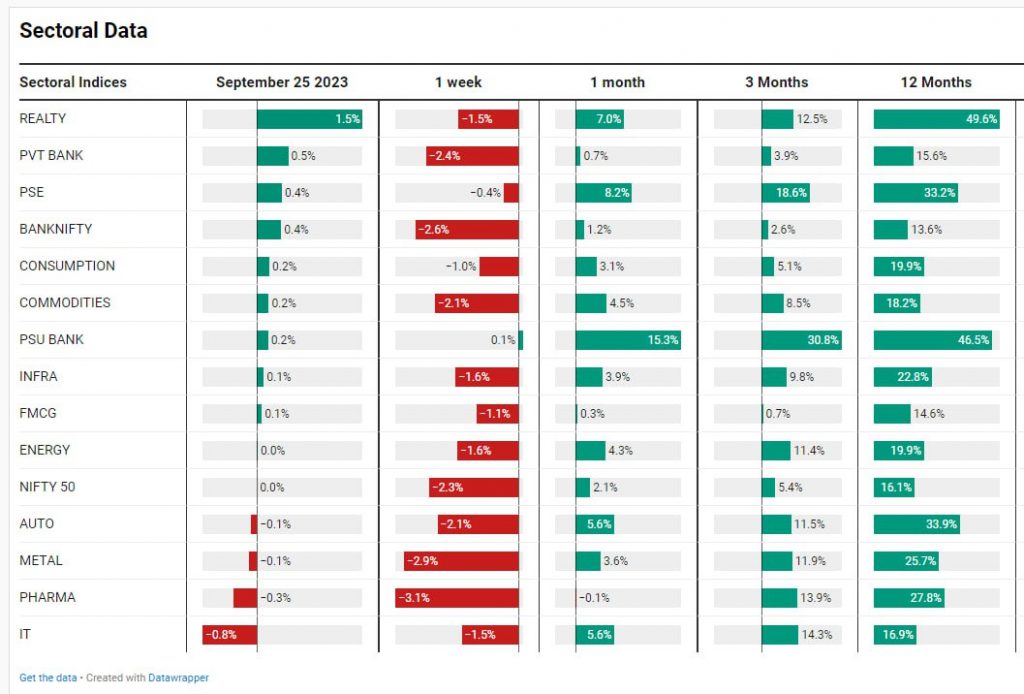 In terms of the real estate industry, the Real Estate index witnessed a notable gain of 1.5%. This surge was attributed to the government's proposal for a subsidy on interest rates for affordable housing, which is expected to amount to approximately $7 billion. It's worth mentioning that this proposal primarily focuses on affordable housing, benefiting players with segments in this market. However, other real estate players also saw positive growth. Pharma , IT sectors were down.
Mid Caps & Small Caps Performance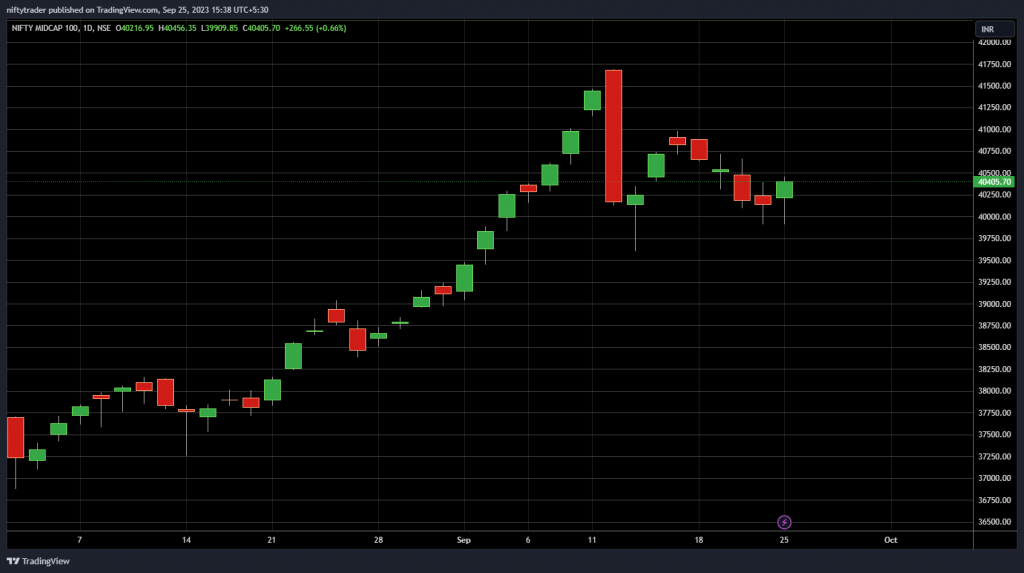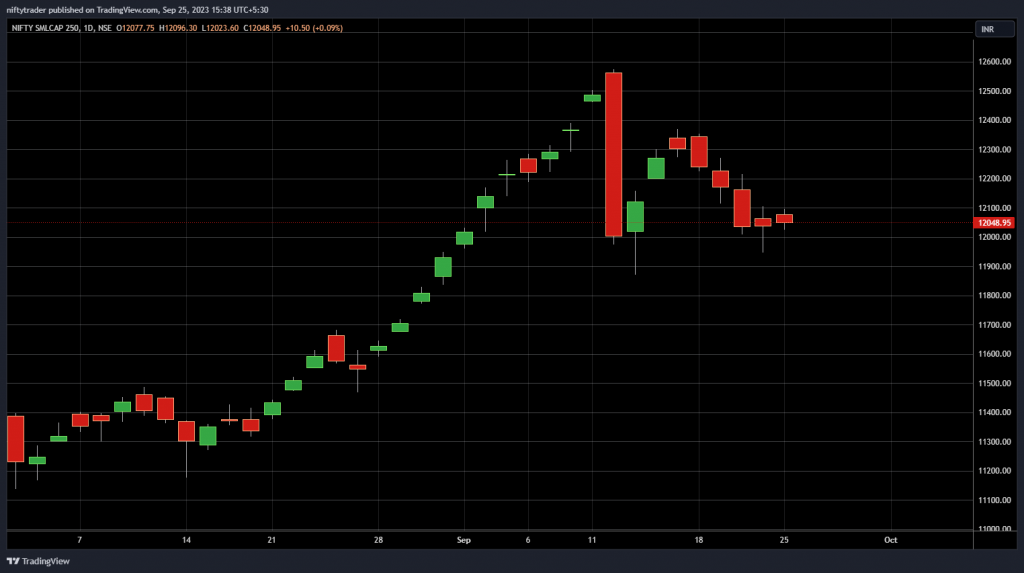 While the last week exhibited a predominantly red market, with PSU banks being the only exception, mid-cap stocks had a good day, indicating a potential stabilisation of the market. If the market continues to rise from this point, it could be a positive sign for mid-cap stocks. Small-cap stocks also held their ground, with limited activity but maintained stability.
Bank Nifty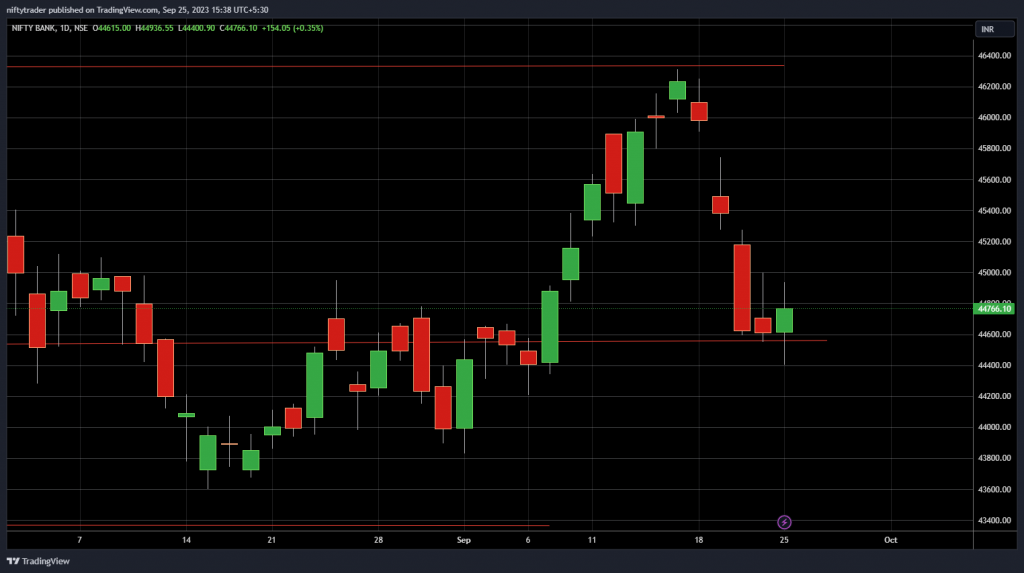 Nifty Bank found support at the 44,600 level, but it's too early to determine whether it will rebound, consolidate, or experience further decline. Overall, it was a positive day for the bulls,
Stocks in Focus – HDFC BANK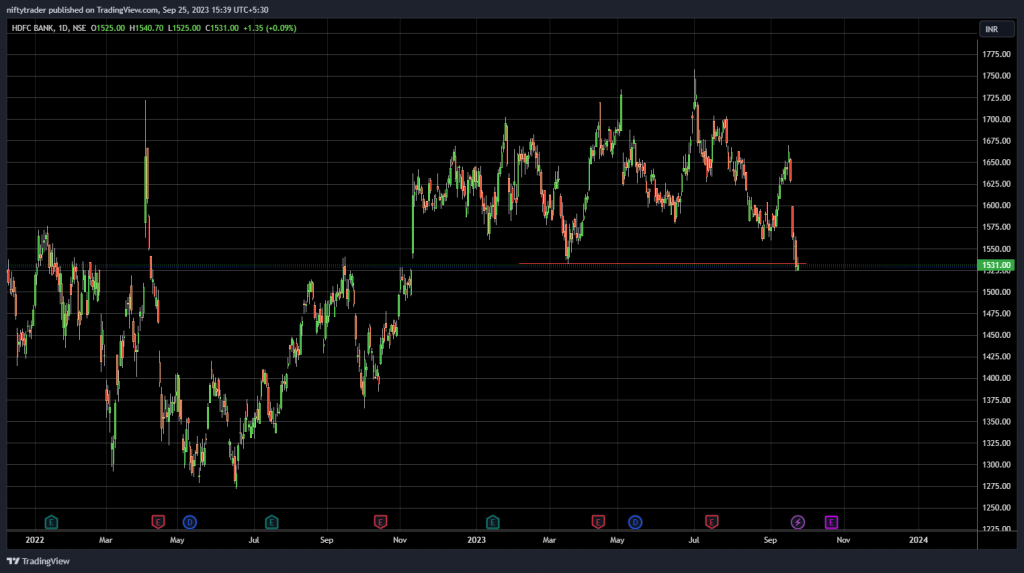 HDFC Bank faced struggles in the past 4-5 sessions. After hitting nearly 1675, the stock is now at 1530 and facing resistance. There was no dead cat bounce seen even after 4-5 days of a down move. This decline is concerning, as HDFC Bank is one of the heaviest-weighted stocks in the Nifty and Bank Nifty indexes. Thus, its performance plays a crucial role in market sentiment.
The recent decline in HDFC Bank's stock has raised concerns among market participants. Speculations about the merger with HDFC leading to the concealment of NPAs (non-performing assets) in their wholesale book have emerged. If this support level doesn't hold, additional support levels may be sought. Many traders and analysts have been questioning the reasons behind foreign institutional investors' continued selling in HDFC Bank since the announcement of the merger. Despite these concerns, HDFC Bank remains a robust banking name, consistently delivering impressive growth.
Nifty REALTY
Moving on to other stocks, the real estate sector experienced both highs and lows, with the Nifty real estate index making a new low but ultimately recovering and showing positive signs.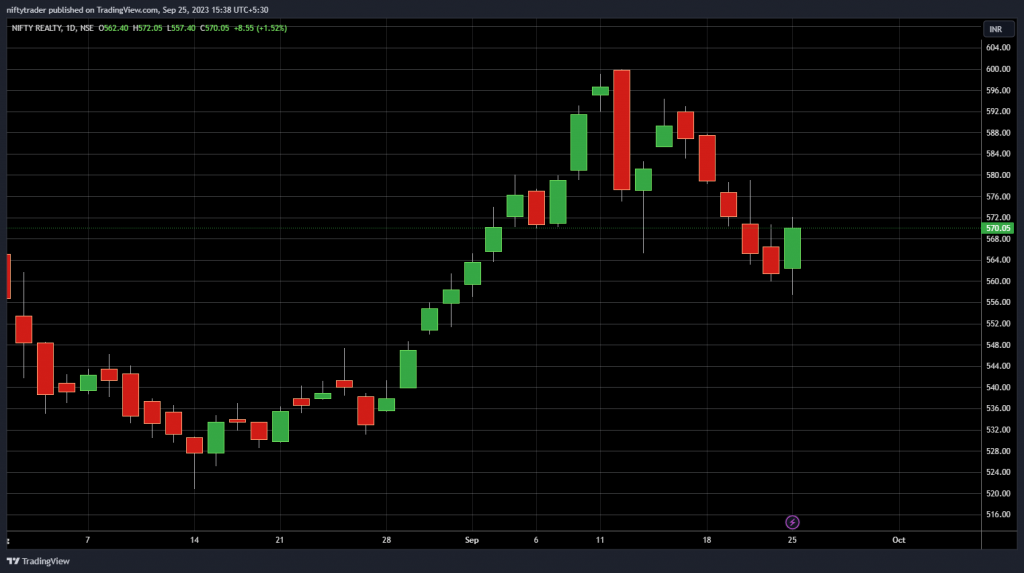 Stocks in Focus – Delta Corp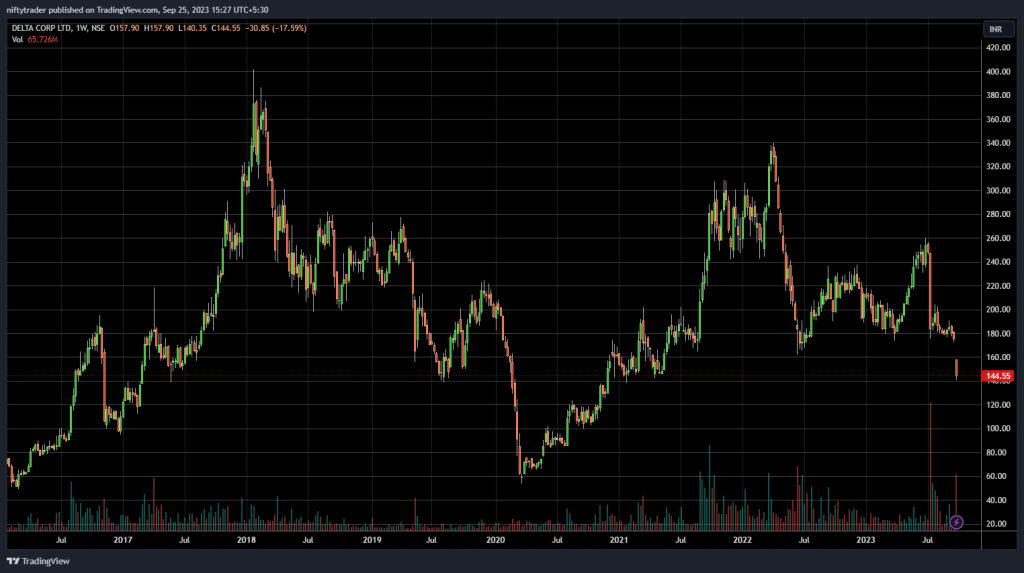 On the other hand, Delta Corp faced a significant liability of 17,000 crores levied by the GST department. The outcome of this liability and the company's ability to contest it remain uncertain. However, the company's market cap experienced a substantial decrease, dropping from 4700 crores to an estimated 4000 crores.

It was surprising that this was contained at -17%.

Stocks in Focus – Religare Enterprise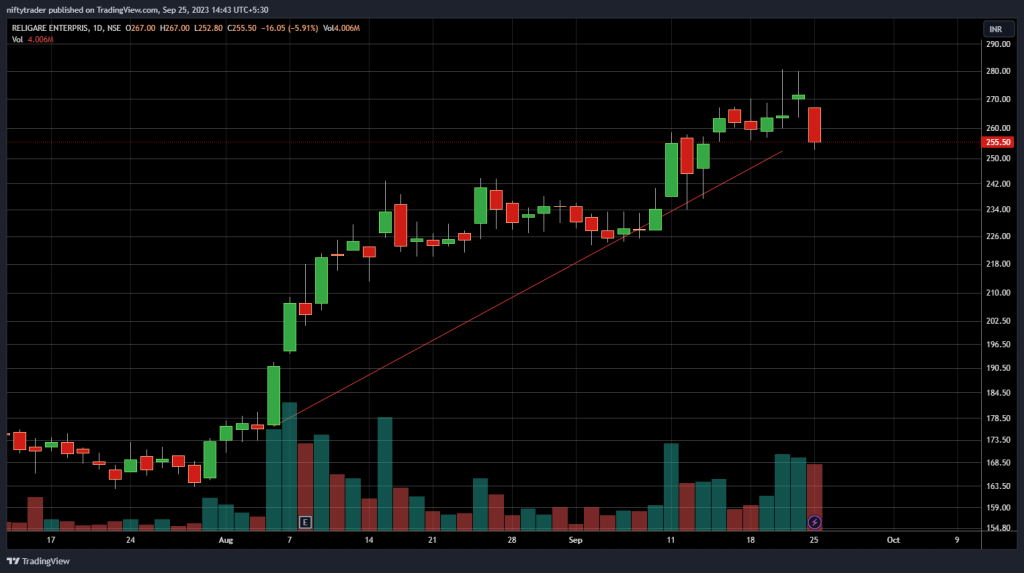 Lastly, Religare Enterprise had an eventful day as insider trading activities emerged. The stock witnessed a substantial price increase from 163 levels to 280, more than 50% jump in just a small window of time. This price jump was a result of insiders being aware of an upcoming open offer from Dabur at 235, causing the stock to consolidate around this level. However, once the news was made public, the stock faced sell-offs. The future outlook for Religare Enterprise will depend on the management control shift due to the takeover by Dabur. However, this 2 month rally clearly shows that there was insider trading and this is why we say – Bhav Bhagwan Che, the BBC principle that we follow – price tells you the entire story.
Download the WeekendInvesting App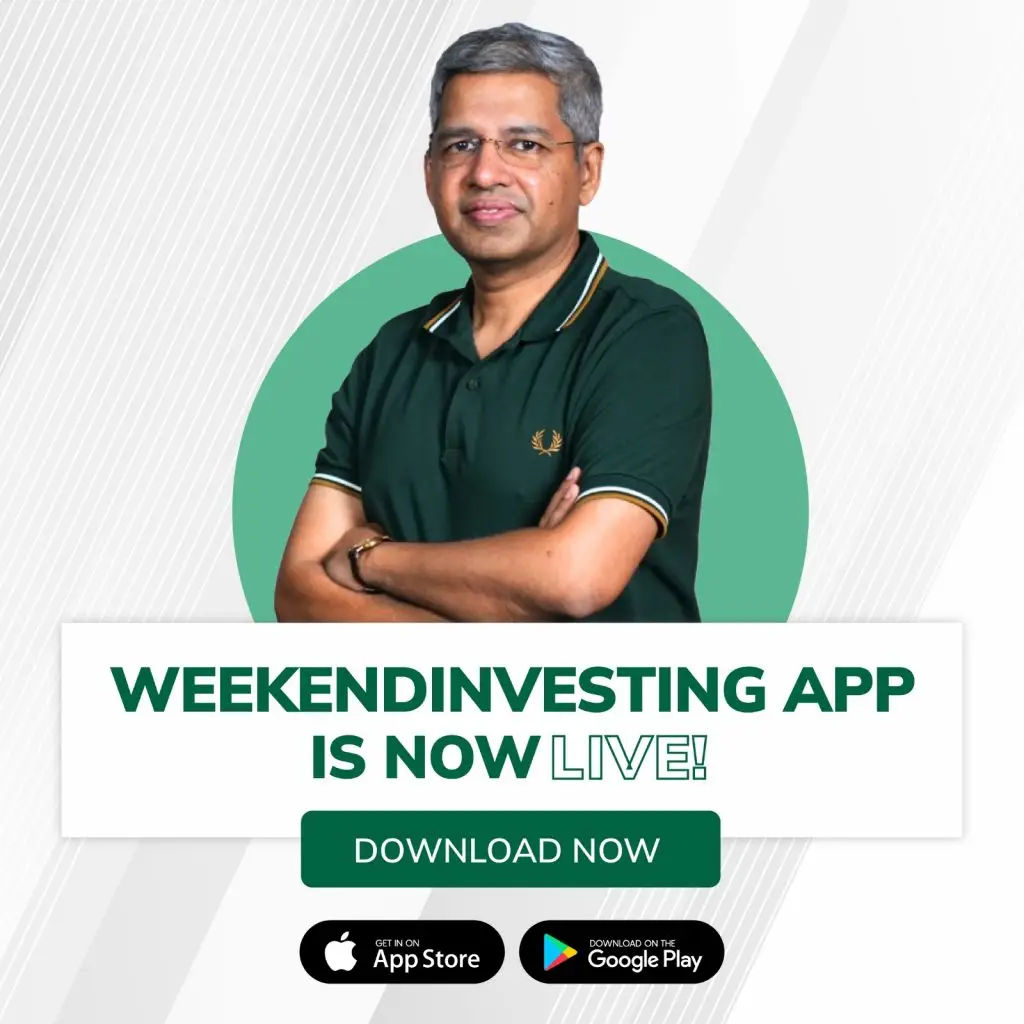 If you have any questions for us. please write to us on support@weekendinvesting.com. You can also get on a 1-1 meeting with us should you need more clarity about the strategies or process.