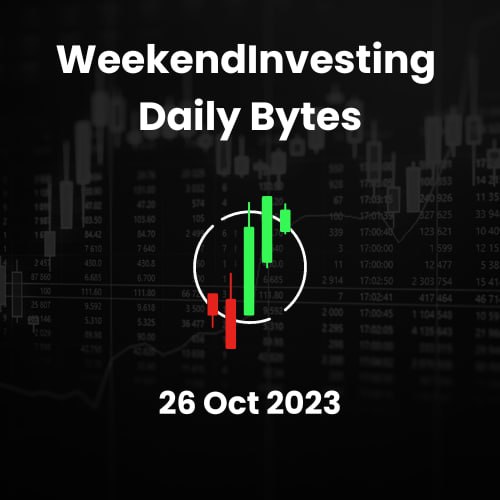 How are the Markets Looking ?
The market experienced a tough day with the Nifty tanking further. The video begins by highlighting the downward trend of the market, stating that it opened above 19,000 but kept going down. By the end of the day, it had dropped to nearly 18,800 near the 200-day moving average. What's concerning is that there was no bounce at the end of the day, and in the past 6-7 sessions, the market has lost more than 1,000 points.
The market is undoubtedly oversold at this point, with sharp reactions seen whenever an intermediate bottom is forming. However, there is still no sign of a bottom forming. This creates a sense of fear and uncertainty among investors for those without a strategy.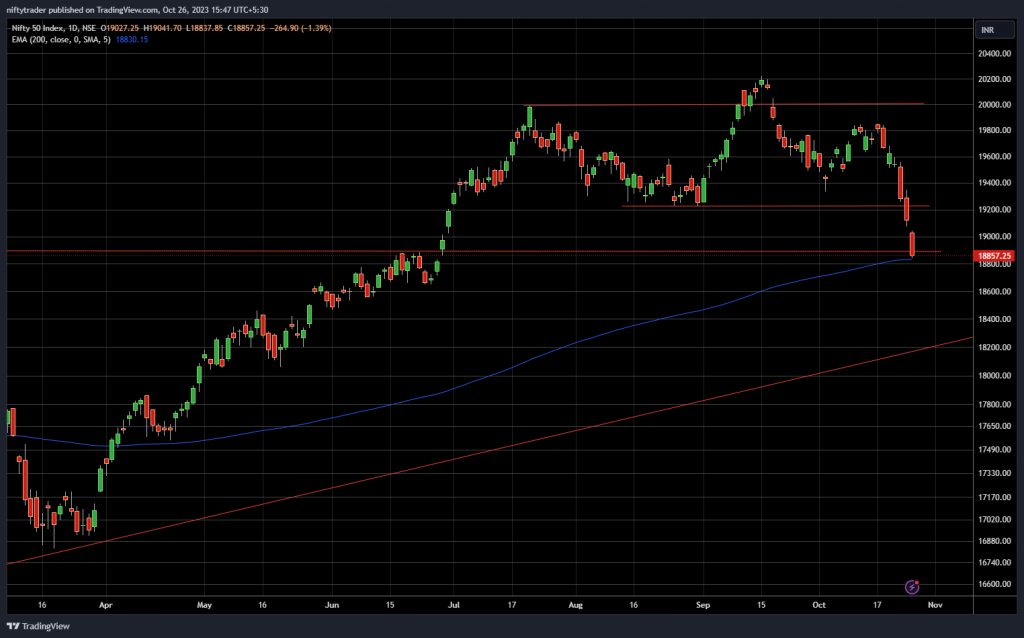 Nifty Heatmap
The whole story is reflected in the heat map. There was no pocket that was left unscathed by the market downturn.Several sectors were hit hard during this downfall. Even HDFC Bank, one of the leading banks, saw a drop of 2.21%, adding to the misery of the Nifty. Reliance, another major player in the market, experienced a decline of 1.39%. However, there were a few bright spots, such as ITC, Axis Bank, and HCL Tech, which managed to hold their ground. On the other hand, Nestle was down 3%, Coal India, ONGC down 2%, Mahindra down 4%, Tata Motors, Maruti down 1.5%, and Titan down 3%, all others also experienced significant declines.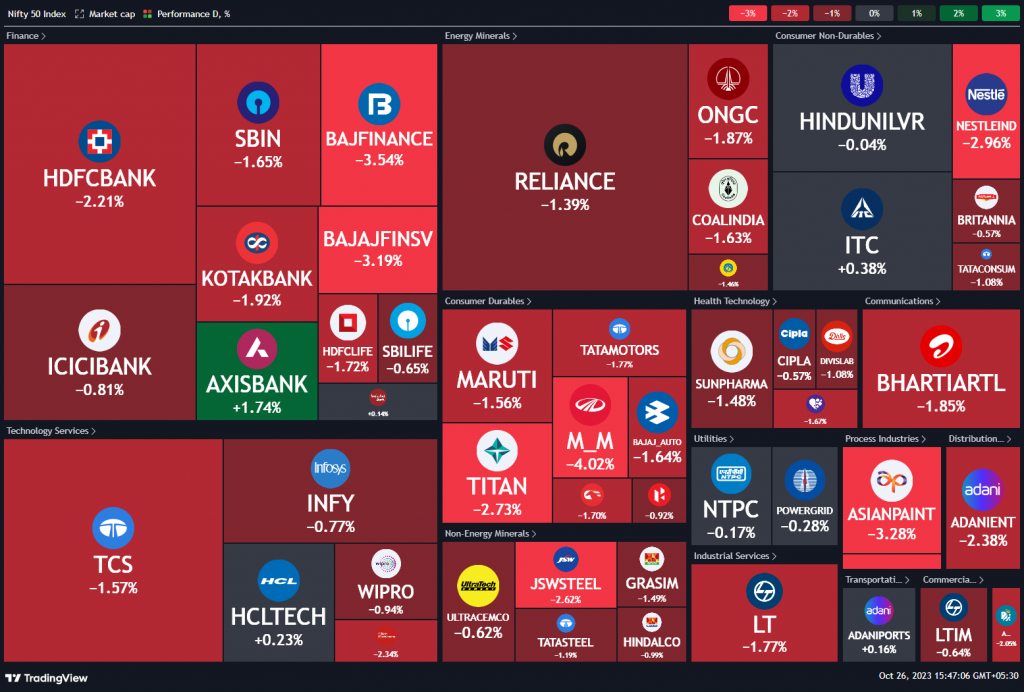 Sectoral Overview
All sectors experienced a decline between 1-1.5%, with FMCG being the least hit at -0.5%. However, for the week and month gone by, there isn't a single sector left in the green. Only a couple of sectors managed to stay in the green for the past three months. This indicates that significant damage has been done and that the charts have been affected.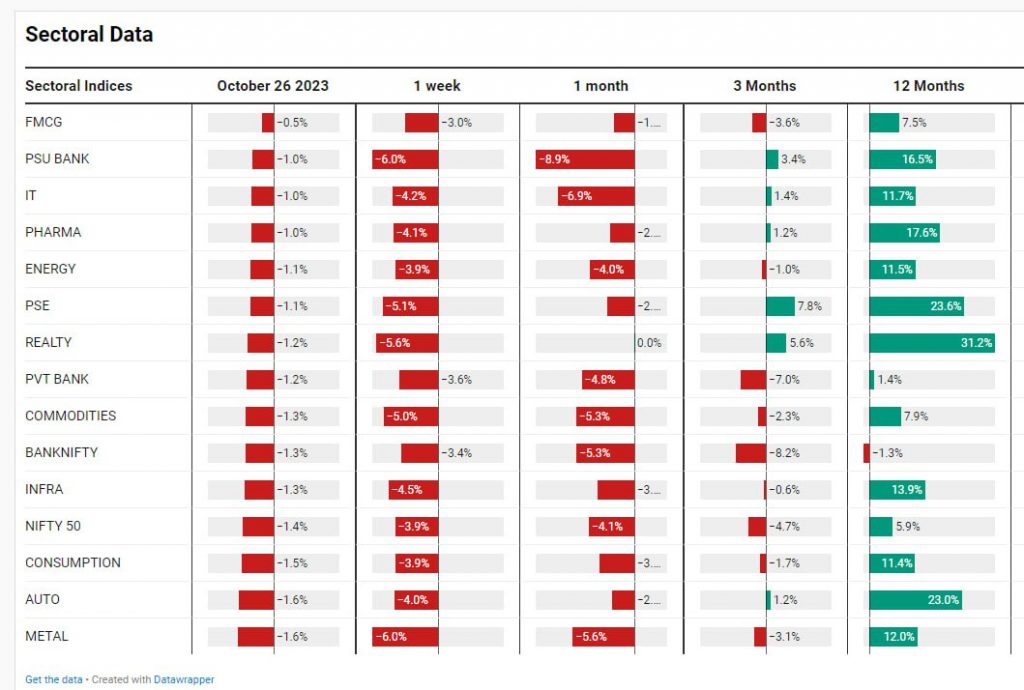 Mid & Small Performance Overview
The mid-cap index 38,116 crashed further to 37,655, experiencing extreme oversold levels not seen in a year or so. On the other hand, small caps showed some signs of a recovery, bouncing back from the bottom. It went to a low of 11,493 and closed at 11,800. 300 points recovered. This indicates that small caps remain the strongest relative to all other indices, although they are also oversold to some extent.
Looking ahead, market experts are anticipating a bounce for a day or two. However, the lead will have to come from the US market, as the yields and the dollar index are front-running factors. Additionally, the tech sector has been breaking down, with Google Alphabet experiencing a 9% drop, followed by Meta falling in pre-market trading. Negative news from global tech giants is affecting the Indian market as well.
Confidence in the market evaporates as soon as some fall occurs. There were rumours of foreign institutional investors (FIIs) dumping their India portfolio, which should have been a one-day event. However, if it continues for several days, it becomes an excuse that investors use to justify their actions.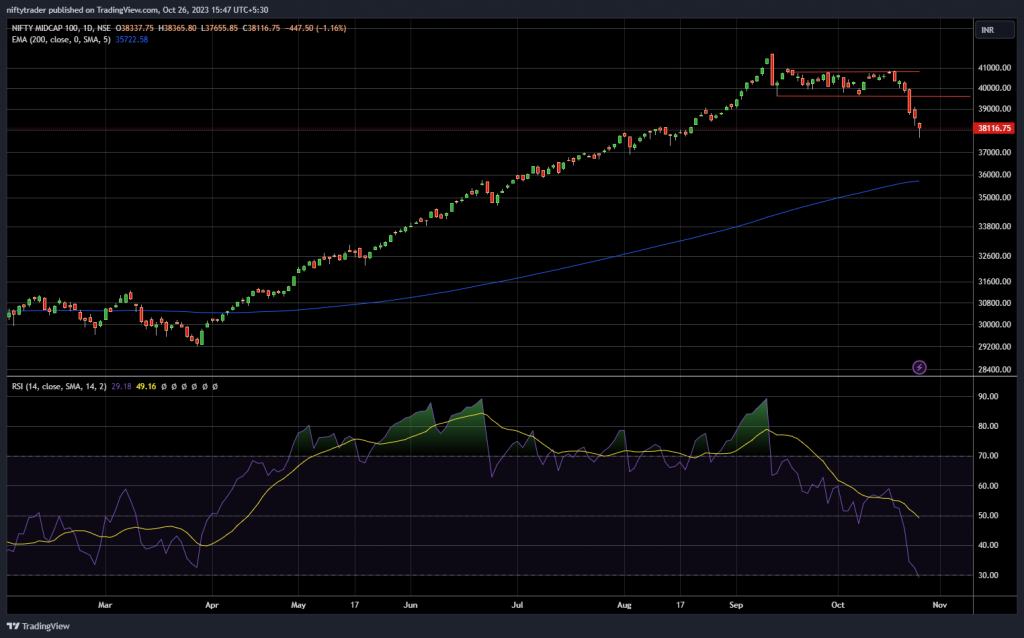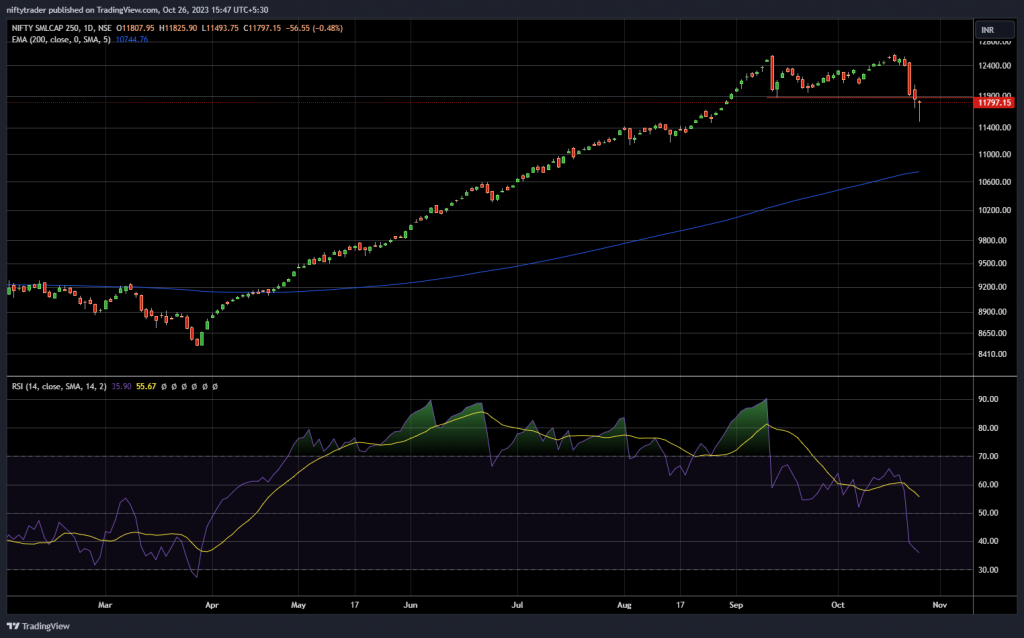 Bank Nifty Performance
Bank Nifty has also reached an extremely oversold situation. Historically, whenever it has been oversold in the past, there has been a significant bounce. However, due to Nifty Bank breaking well below the 200-day exponential moving average, it is considered weak. We are back to where we were in October 2021.