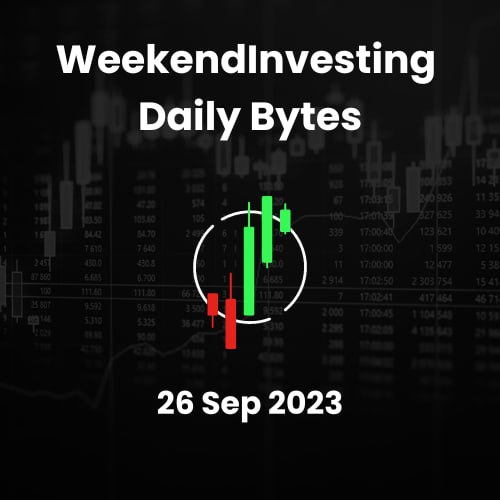 Lacklustre Day in the Stock Market: Nifty Consolidates in Small Range.
Nifty
The Nifty index showed no clear direction, with a small range of movement and consolidating near its current levels. The Nifty index, which represents the top 50 companies listed on the National Stock Exchange of India, continued its trend of coming off the recent highs of 2200 points. This marks the sixth consecutive session of retracement. The market is currently in search of a trigger that could determine its next move until then it should consolidate over here only. It is not overbought, it is somewhat oversold and is directionless currently.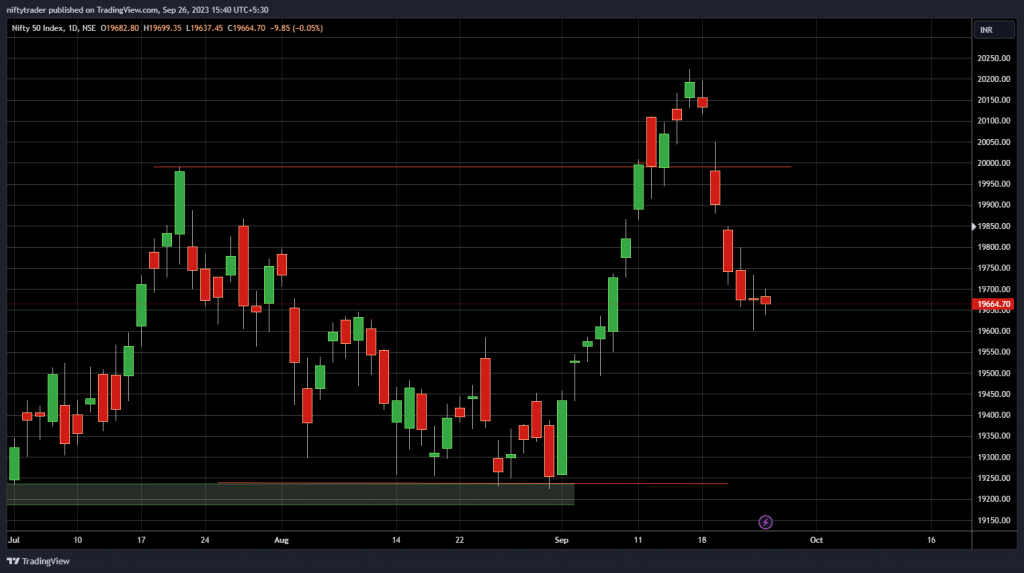 Nifty Heatmap
In terms of technical analysis, the Nifty heat map reflects a similar makeup. Some major banks, such as ICICI Bank and Kotak Bank, along with companies like Infosys, Asian Paints, Cipla, and Titan, saw a decline in their share prices. On the other hand, stocks like Eicher Motors, Hero Motors, Nestle, and Bajaj Finance experienced some upward movement. However, overall, there was a lack of major trends in the market.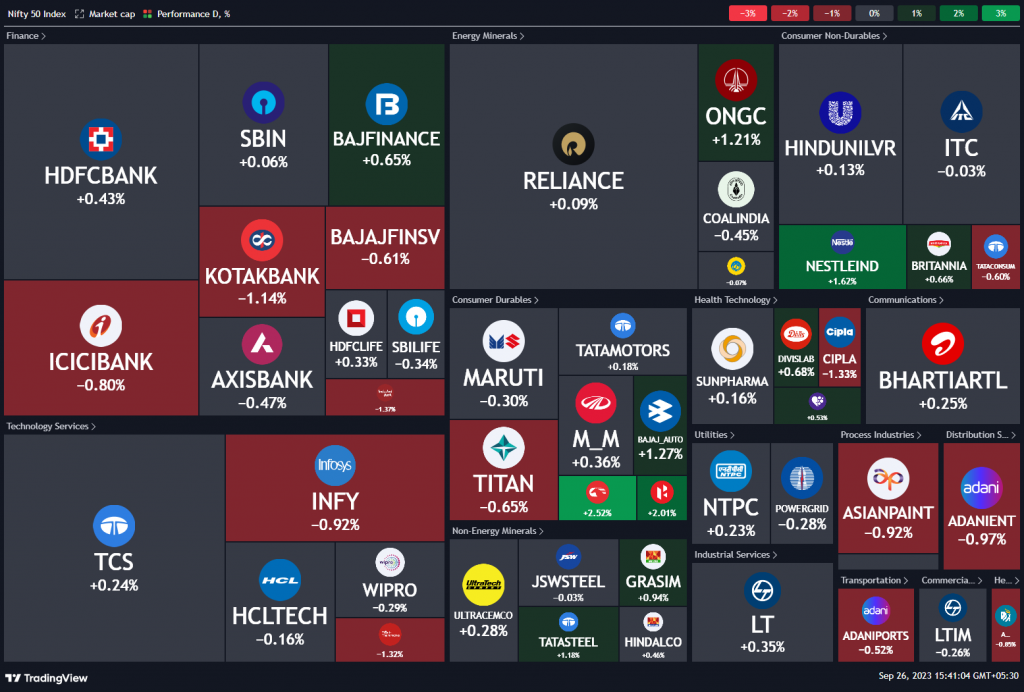 Sectoral Overview
Several sectors showed mixed performance today, no real moves. The FMCG sector performed the best, with a modest increase of 0.5%. On the other hand, PSU banks performed the worst, with a slight decline of only 0.6%.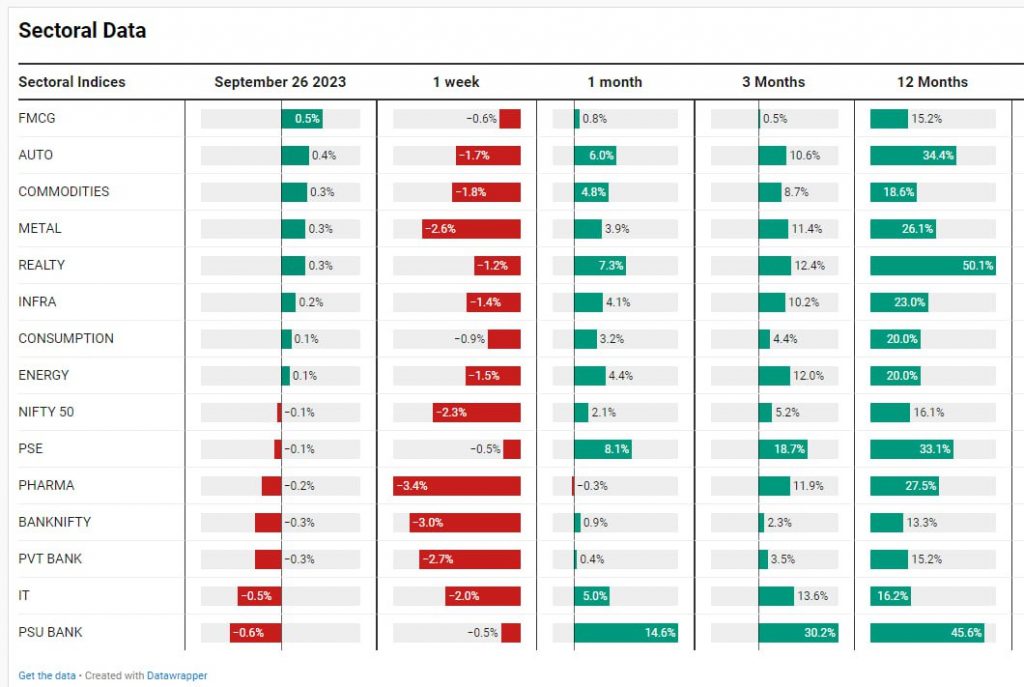 Mid Caps & Small Caps Performance
Mid-cap stocks were slightly down compared to the previous day, while small-cap stocks showed a slight increase.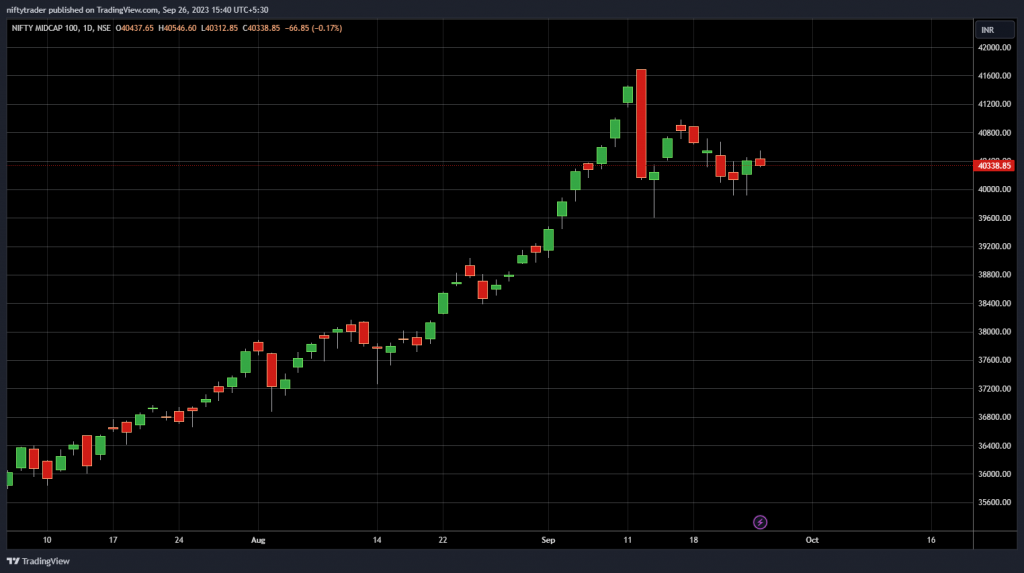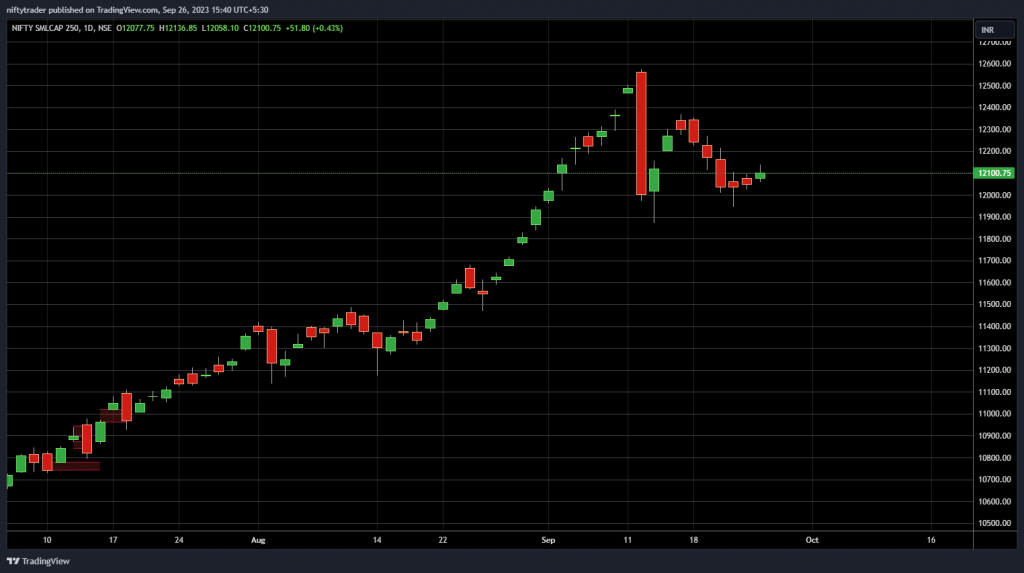 Bank Nifty
The Nifty Bank, which represents the banking sector, remained relatively stagnant and consolidated around the 4450-4600 level.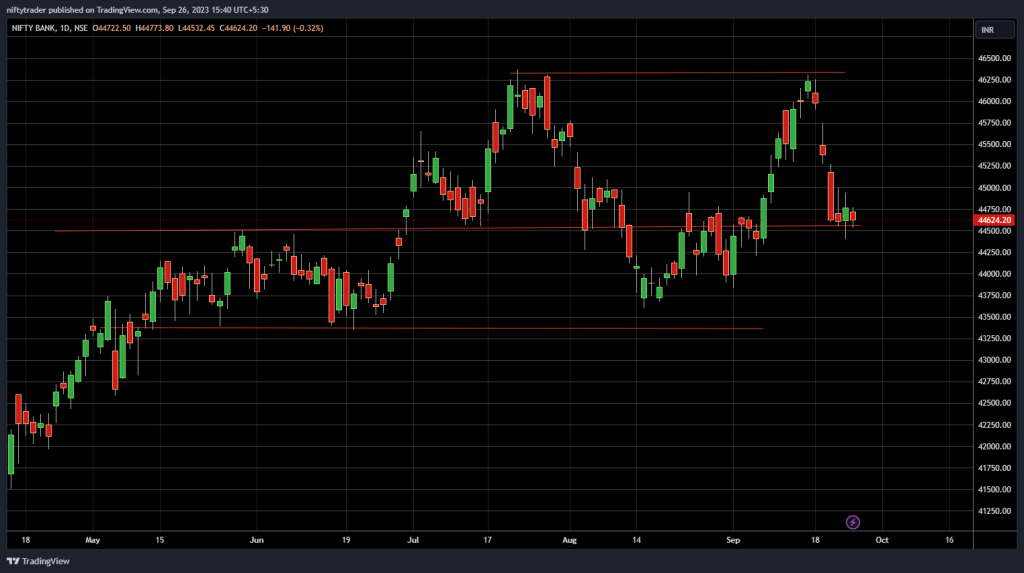 Stocks in Focus – VODAFONE IDEA
One notable stock that stood out was Vodafone Idea. Despite the company's denial of any acquisition or merger plans on the table, the stock continued to rise for the fifth consecutive session. This sustained upward movement may indicate that there is more to the story than what meets the eye. It seems that the price is telling you something ahead of the event. The earlier move from Rs.7.5 to Rs. 11 -12, was s strong move and we are at a 1.5 year high. Investors should pay attention to any upcoming events or developments related to the company.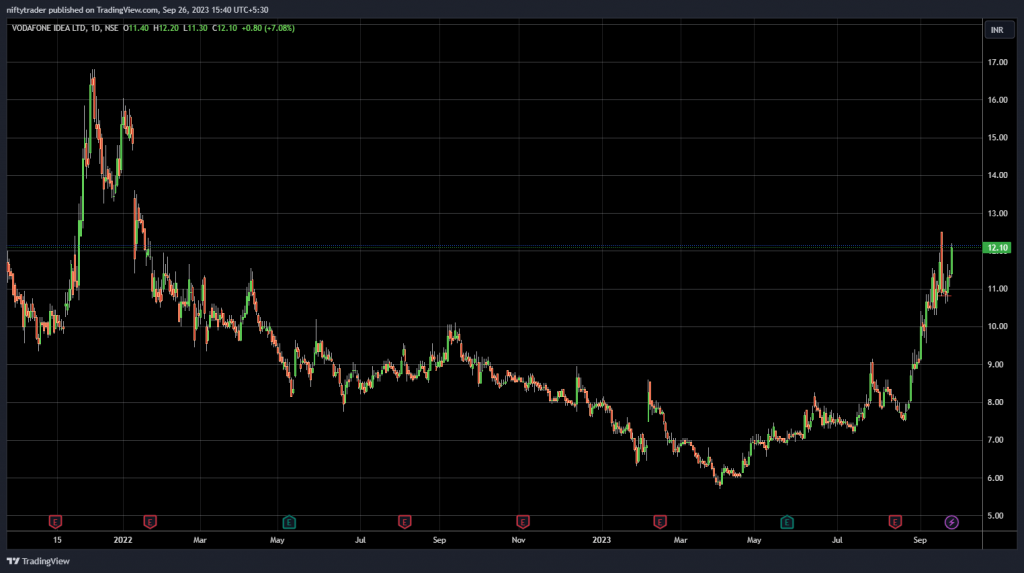 In Global News
However, there are some headwinds that investors should be mindful of. The increasing US government bond yield has been a cause for concern. Bonds are usually considered to be safer instruments but the reality is a bit different. These rising yields can have a wrecking ball effect on leveraged investments and any assets that involve interest payments.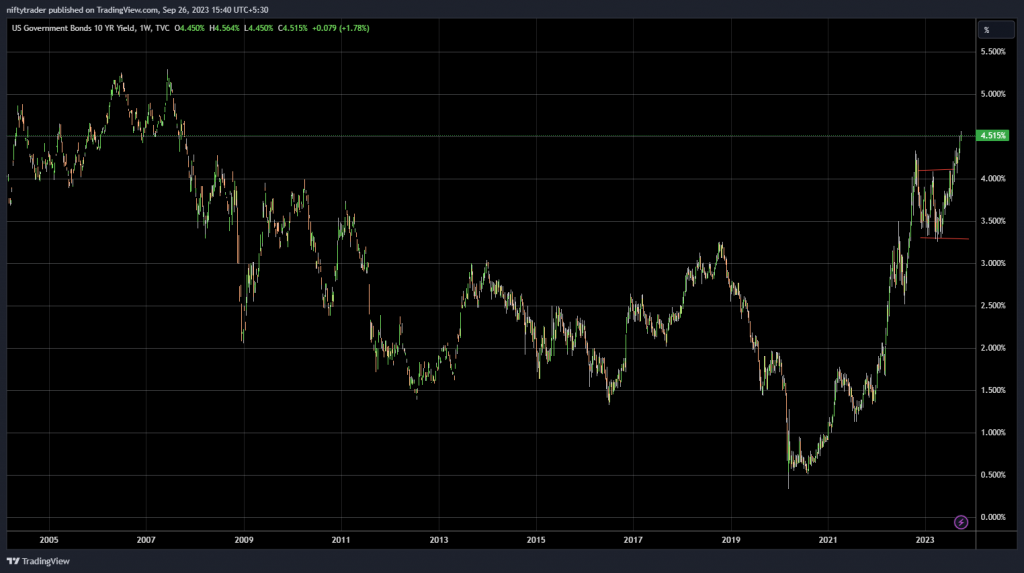 Additionally, the US Dollar Index has been consistently rising for the past eleven weeks, reaching a critical level of 106. The movement of the US Dollar Index can significantly impact non-US dollar assets.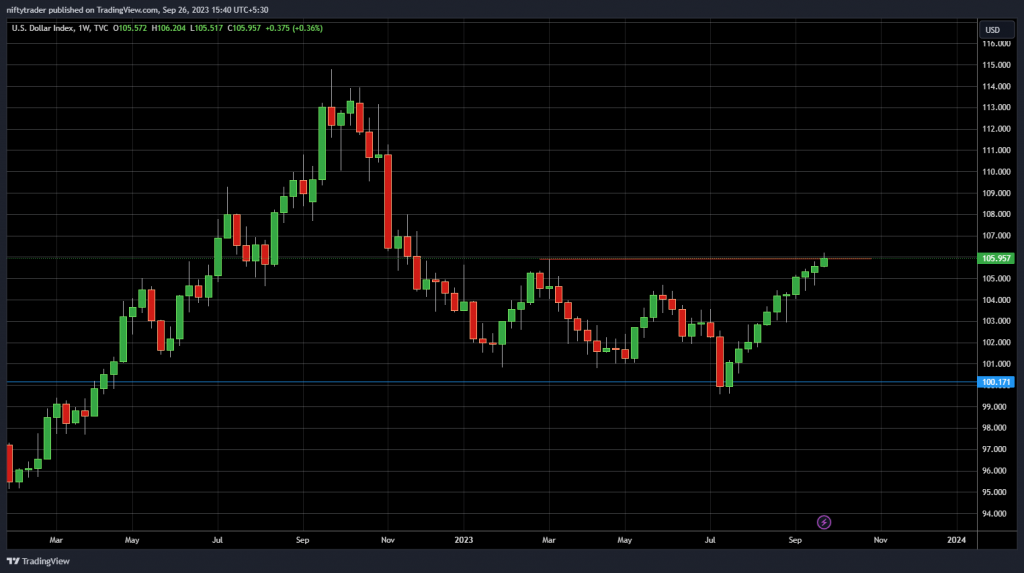 Download the WeekendInvesting App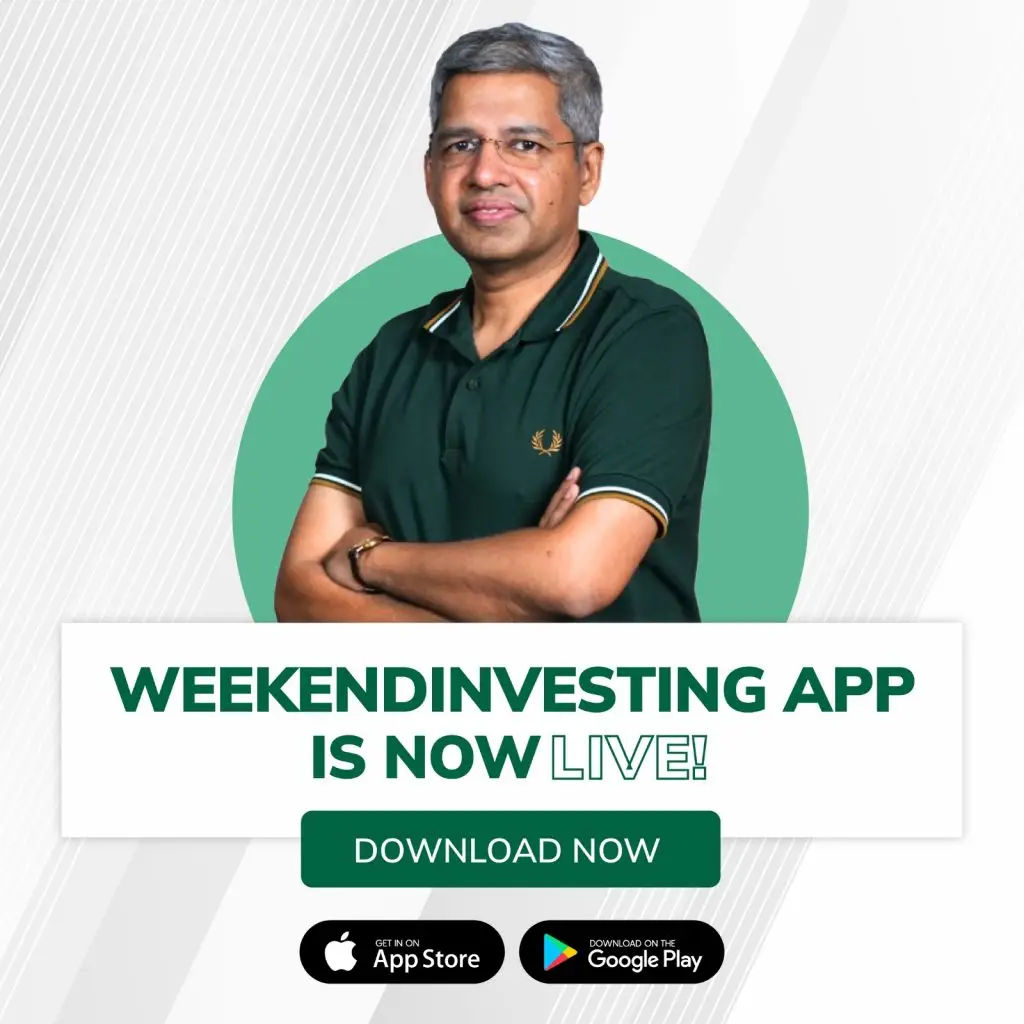 If you have any questions for us. please write to us on support@weekendinvesting.com. You can also get on a 1-1 meeting with us should you need more clarity about the strategies or process.