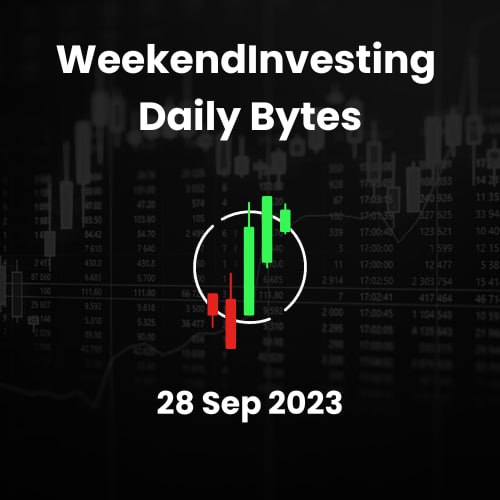 Nifty
Despite the initial positive opening with a gap up, the Nifty succumbed to negative global cues, resulting in a bearish engulfing candle and a return to a downtrend. The "dead cat bounce" started yesterday finished in less than 24 hours. Currently, the next major support level sits around 19,250, and breaking this level if there is further weakness could potentially fill the gaps seen on the chart. This doesn't look very promising.
In the short term, it seems unlikely that a major recovery will occur anytime soon. Today, was expiry day, we had a lot of gains at the beginning of the expiry month. One contributing factor to today's sell-off was the expiry of positions, which led to heightened selling pressure. However, it's possible that tomorrow could see a small bounce before determining the market's direction.
Headwinds Affecting the Market
Several headwinds are posing significant challenges to the stock market. The US dollar's value at 106+, Brent oil prices 95+, and the ten-year US yield at 4.6+collectively create a lethal combination that will continue to hinder market growth. As long as these three factors persist, particularly concerning larger caps where FIS (Foreign Institutional Investors) play, it's unlikely that we'll see significant upward movement.
Understanding FIS Impact on the Market
While individual stocks may not be ripe for selling in all cases, FIS, especially passive income players, can trigger broad market responses. When there is pressure to reduce allocations to emerging market funds due to the strengthening US dollar, indiscriminate selling occurs.
Although these macro moves are not stock-specific, they impact the entire market, resulting in a broad sell-off across all sectors. Conversely, the small-cap market has been relatively resilient due to minimal FIS exposure and strong domestic flows.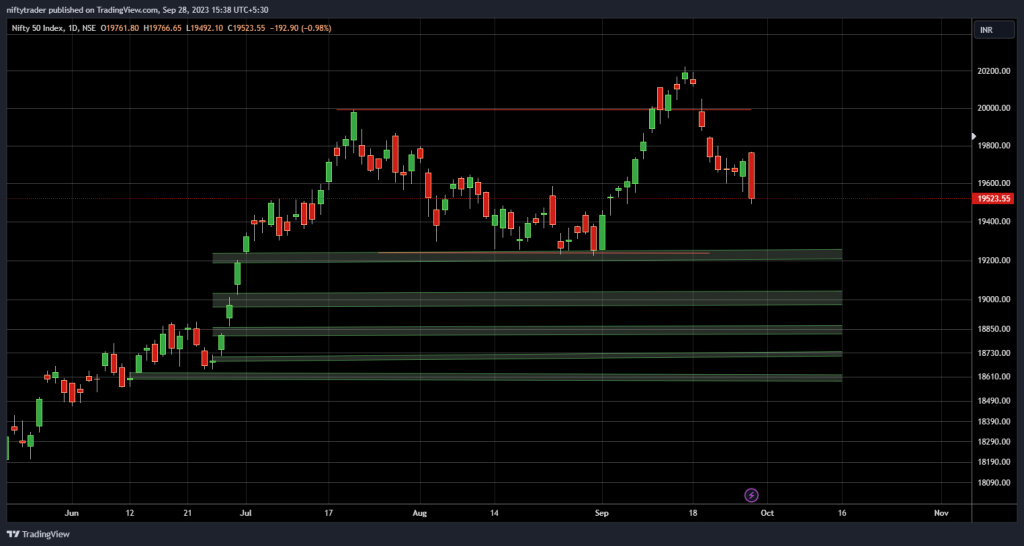 Nifty Heatmap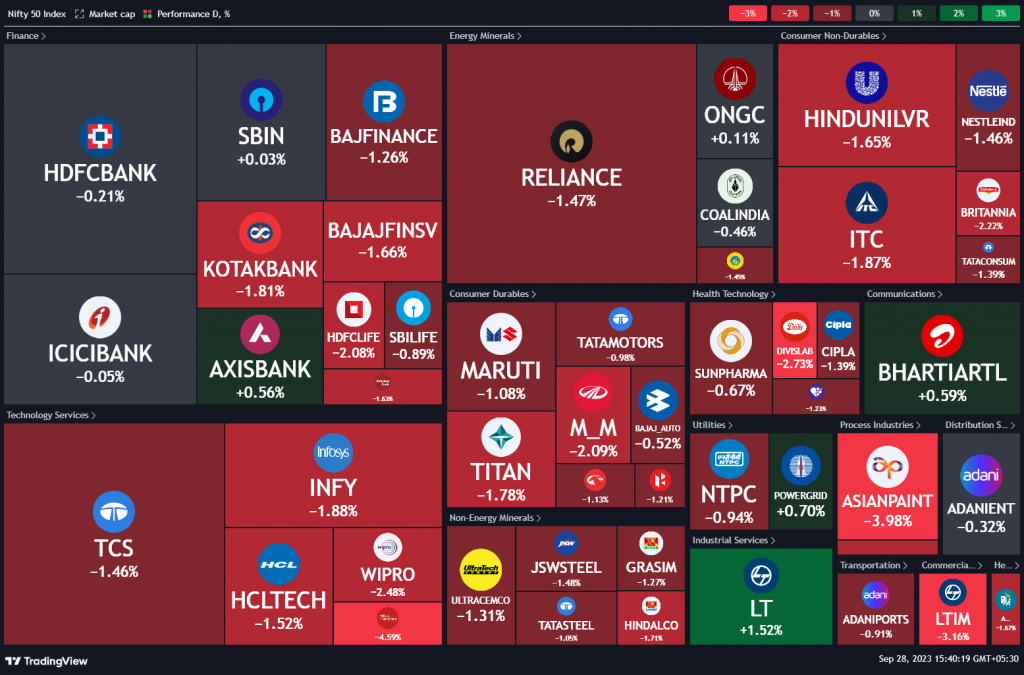 Taking a closer look at sector performance, we observe a downturn across the board. Major tech companies like Infosys, TCS, HCL, Tech Mahindra, and Wipro all experienced declines, with Tech Mahindra being hit the hardest, dropping by 4.5%. Kotak Bank smashed 2% and IndusInd Bank also faced losses and went down 1.6%, while Stand Bank, surprisingly, remained relatively stable like most PSU banks. Axis Bank was delightfully up at 0.5%, HDFC Bank continues to gradually bleed -0.2%.Reliance down 1.47%.
In the FMCG sector, stocks like ITC, Lever, Nestle, Britannia, and Tata Consumers all saw declines ranging from 1.3% to 2.2%. Autos, steel, and cement stocks were not spared either, as companies like Maruti, Tata Motors, Mahindra, and Bajaj Auto all experienced losses.
On a positive note, L&T Infotech demonstrated strength, closing 1.5% higher. Power Grid up 1.7%. Asian Paints down as the founder passed away after a remarkable run over 25 years. However, the overall performance of the pharma sector was disappointing, with significant declines observed across the board.
Mid Caps & Small Caps Performance
The bearish engulfing candle has significant implications for mid and small caps. Mid caps have returned to previous closing levels observed during a downturn two weeks ago, and further declines may be on the horizon.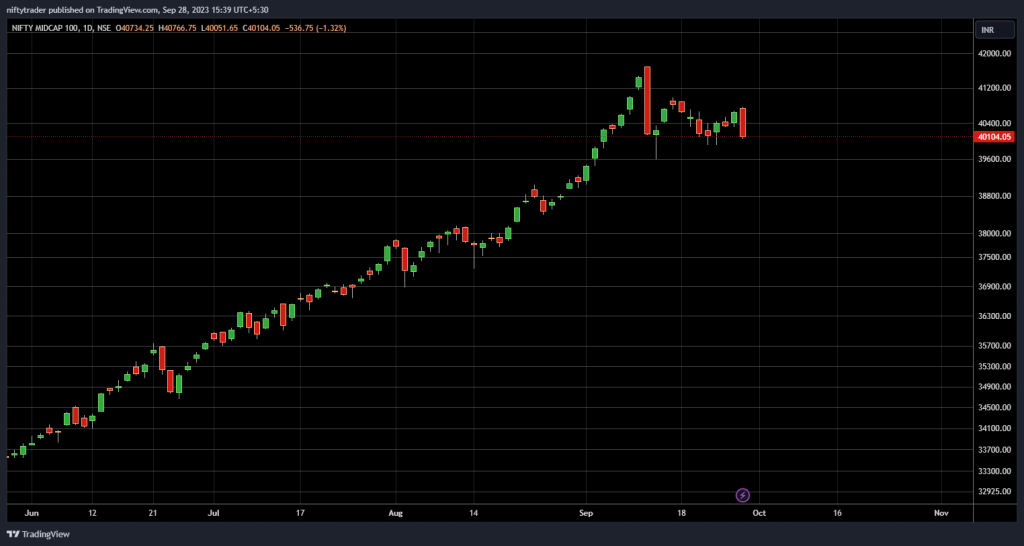 Small caps, on the other hand, have been holding up relatively well. However, the fate of small caps ultimately depends on how the rest of the market performs. If the larger caps continue to bleed, small caps will likely follow suit.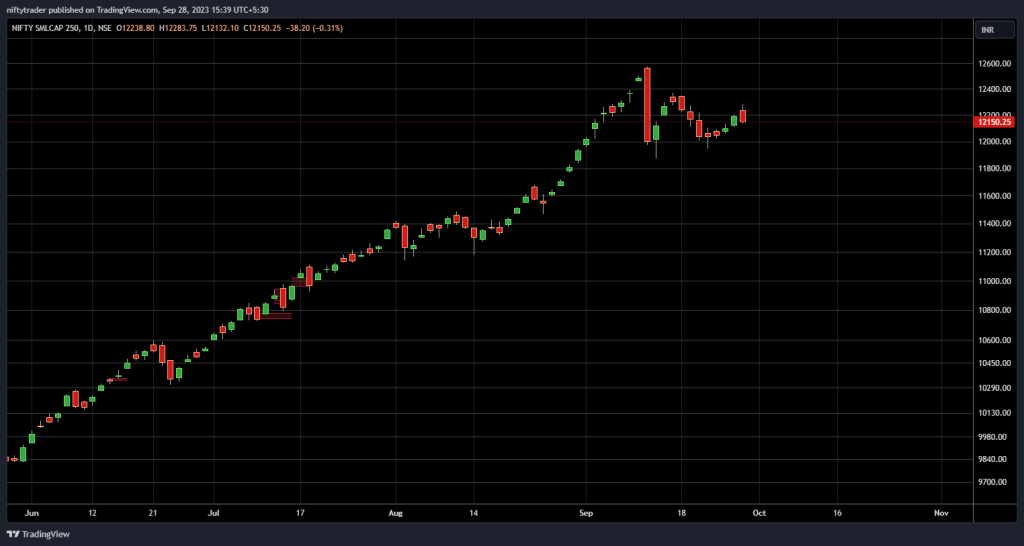 Bank Nifty
Looking at the Nifty Bank, we see that it has given up a significant support level and is now in the same range observed back in May. Over the past six months, the Nifty Bank has seen minimal movement, indicating a distribution phase. If the index falls below the August or even the June low, the situation could become quite painful.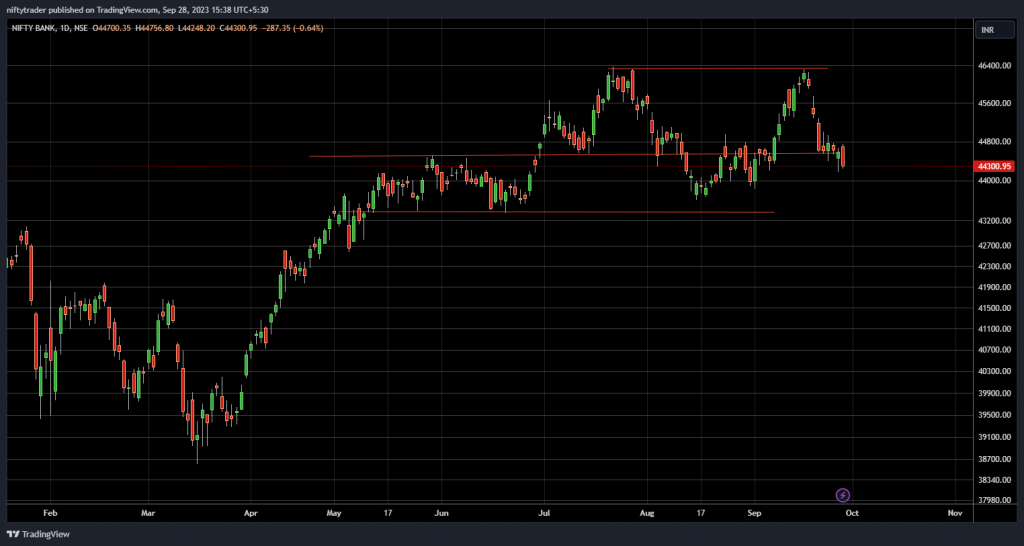 Stocks in Focus – Finolex Cables
Despite the overall market weakness, there were stocks that displayed strength and even hit new all-time highs. It's crucial to look for these strong stocks when considering any discretionary trade setups. One example is Finolex Cables, which recently reached a new all-time high after flagging in May and June.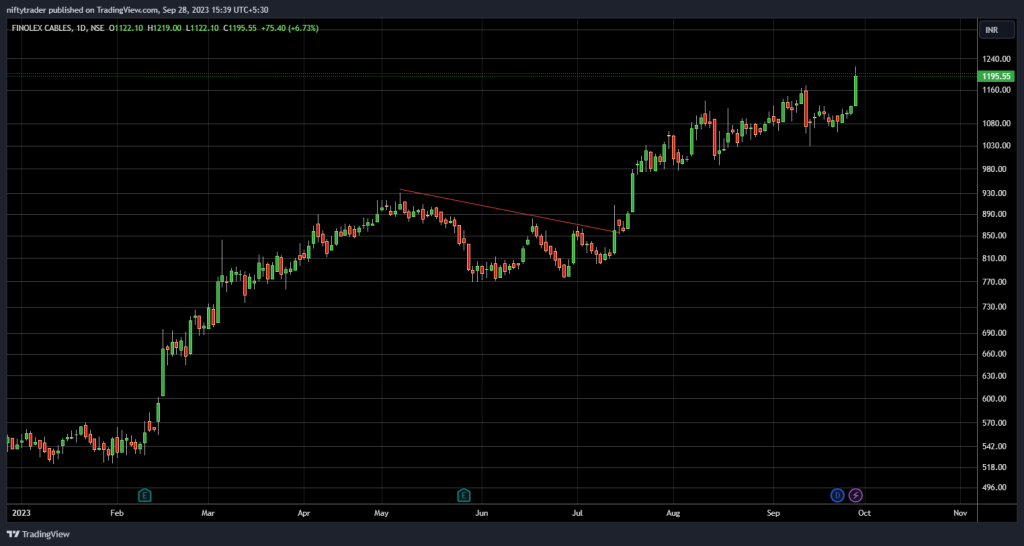 Global News
In terms of currency and oil prices, there is some relief on the horizon.
The US dollar index has fallen from 106.8 to 106.3, providing a slight alleviation of selling pressure.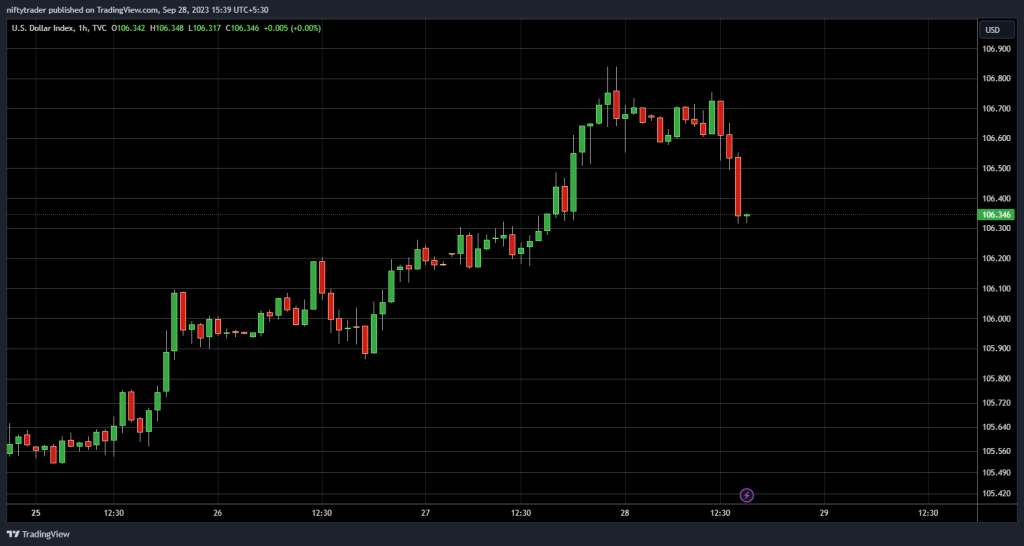 Similarly, Brent oil prices have cooled off from 95.3 to 93.9, indicating the potential start of a downward move.
Download the WeekendInvesting App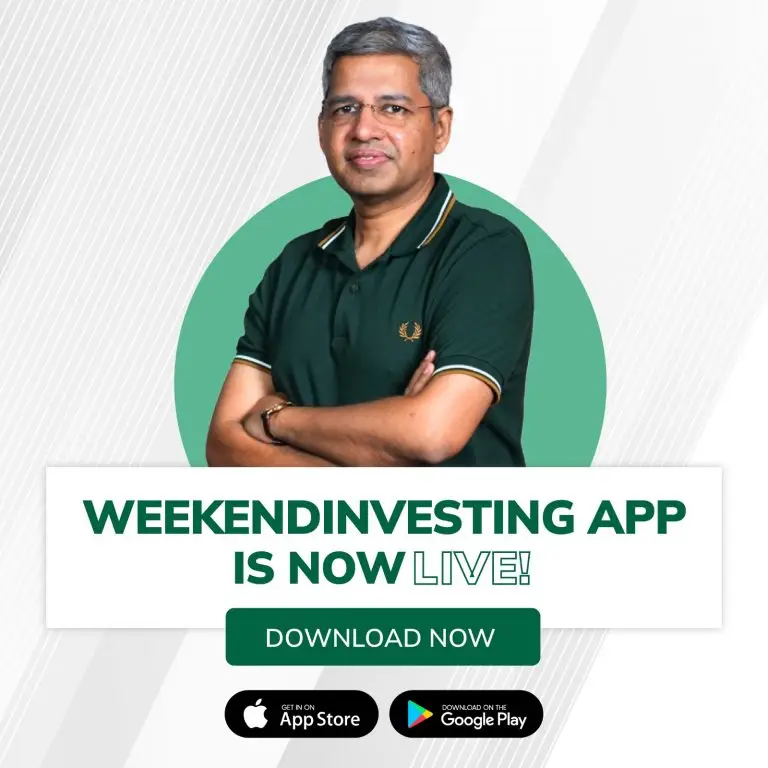 If you have any questions, please write to support@weekendinvesting.com