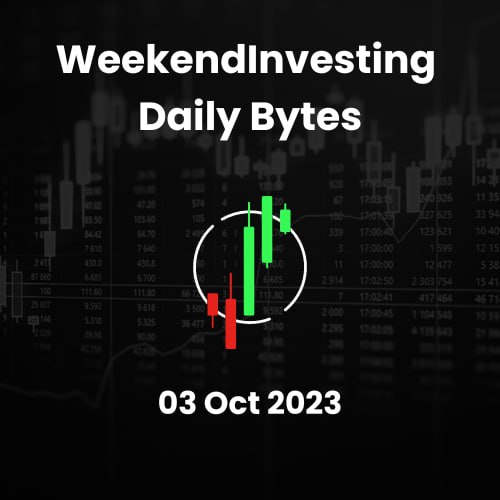 Nifty
The day started with a significant drop in the Nifty, falling below the 19,500 level from 19,600 in the morning. However, it later consolidated and remained near 19,520-30 for the majority of the day. This indicates that the Nifty has already experienced its downward movement and is now reacting to overseas cues.
The primary reason behind this reaction is the fear of heightened interest rates, which has impacted global markets. The U.S. market, in particular, experienced this impact over the last two days, with Friday and Monday witnessing market dips. The US yields have been going up, now at 4.7% and the dollar index is above 7. In response, the Nifty also saw a negative trend.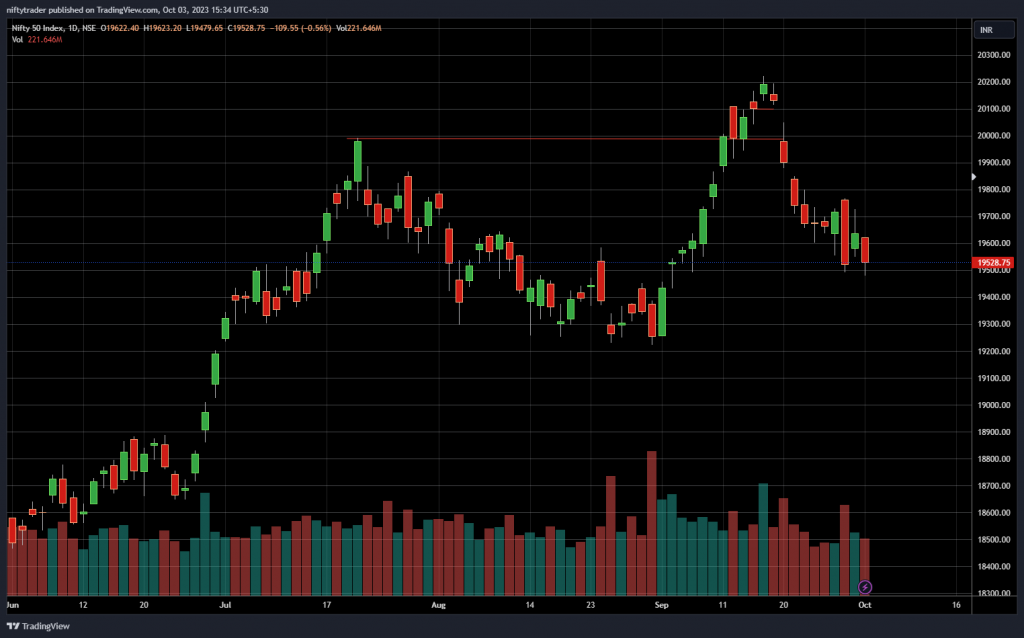 Nifty Heat Map
Analysing the Nifty heat map, we can observe that several sectors took a hit. The automobile sector, including Maruti, Tata Motors, Mahindra Bajaj Auto, and Hero Motors, experienced a significant decline. Additionally, HDFC Bank, ICC Bank both down 1.6%, Reliance down 1%, ITC, ONGC, Coal India, Hindalco, Grassim, and JSW all witnessed a decrease in their stock prices.However, amidst the prevailing bearish sentiment, there were a few bright spots. LNT, Titan, Bajaj Pinserv, Bajaj Finance, and Hindustan Unilever were the exceptions.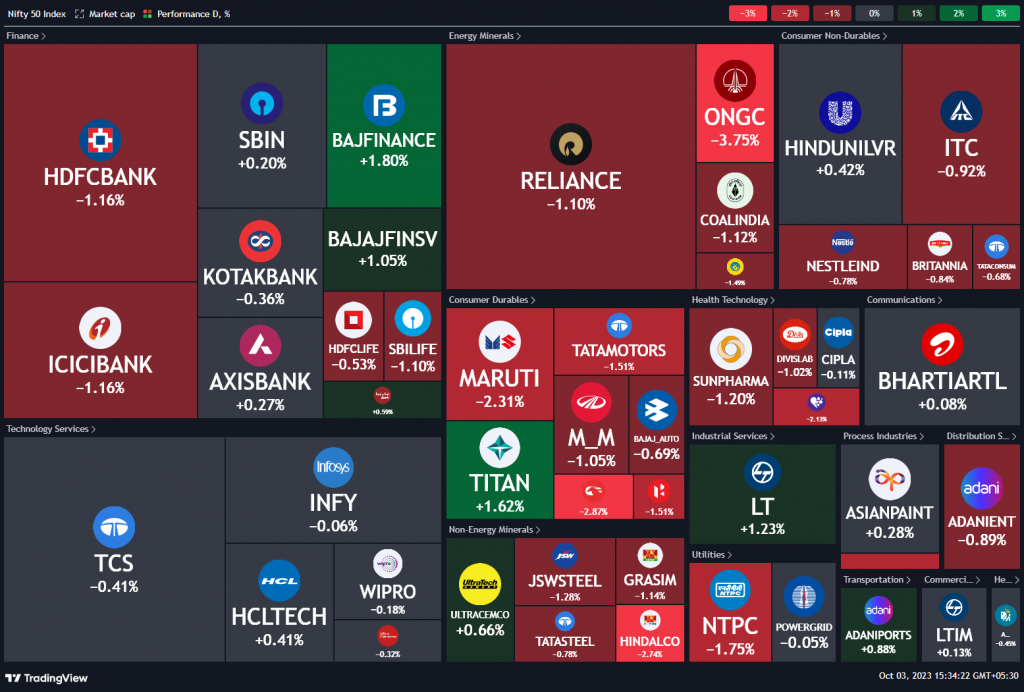 Sectoral Overview
PSU banks also emerged as bright spots, as they have witnessed a remarkable growth of 43% over the past twelve months. In the last month alone, PSU banks reported an increase of 18%, outperforming public sector enterprise stocks. Public Sector Enterprise stocks are next best, up 5.8%.
Comparing PSU banks with private banks, a significant disparity in performance becomes evident. While PSU banks have shown substantial growth over various time frames – one week, one month, three months, and twelve months – private banks have failed to show any significant gains, they are up 10% versus 43% for PSU Banks. PSU banks exhibit a major valuation catch-up, indicating a normalisation of ownership in favour of PSU banks.
Another sector that has displayed remarkable growth in the market is real estate, which witnessed a substantial increase of 48% over the past twelve months. This growth is particularly impressive given the current market situation. In summary, PSU banks and the real estate sector are currently the strongest sectors in the market.
A lot of sectors were down in the red – energy, auto, pharma, public sector enterprise, metal stocks. These were hit mainly due to global headwinds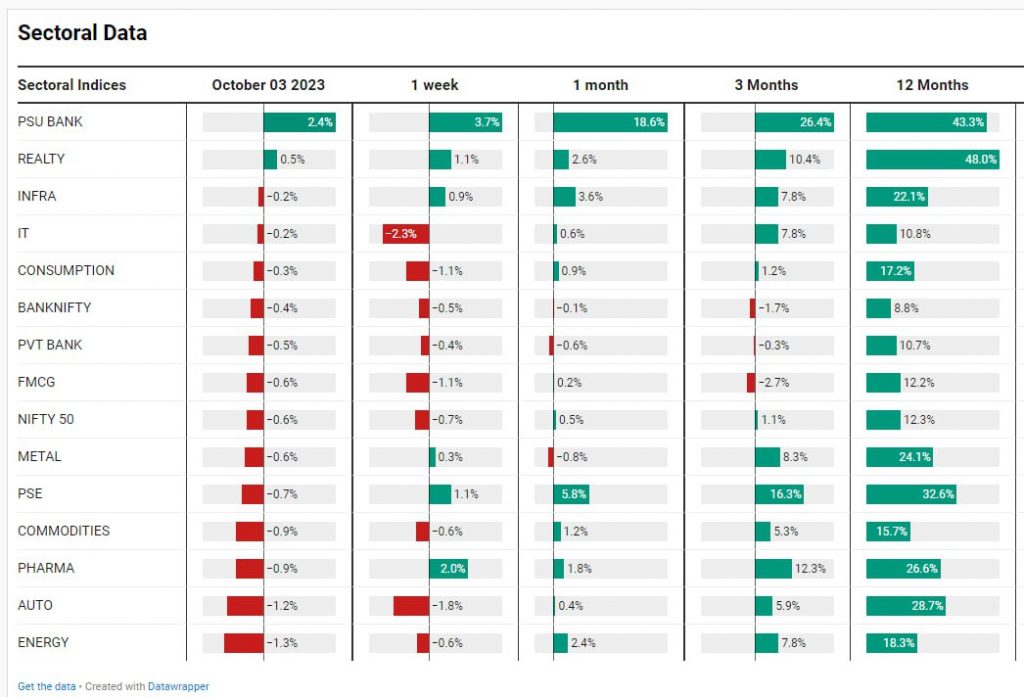 Mid & Small Cap Performance
The Nifty mid-cap segment remains stable, with the index hovering around 4600, least affected by the market trends. Similarly, the Nifty small-cap segment has shown positive movement, reaching over 12,300. In fact, it is now just 1.5% away from its all-time high. This suggests that there is a steady inflow of liquidity into mid-cap and small-cap stocks, indicating a sustained growth pace in these segments.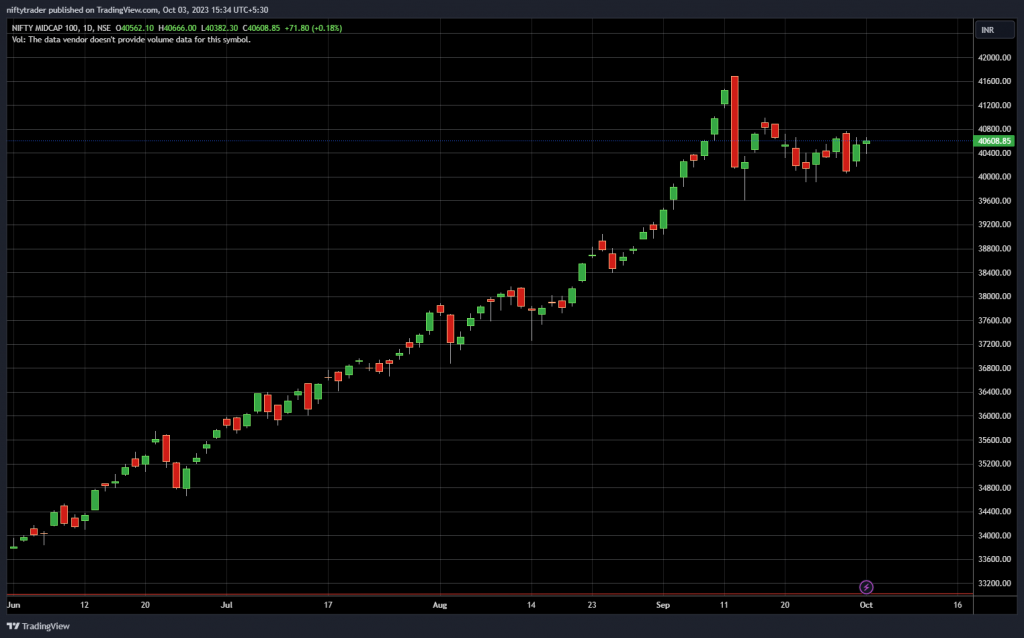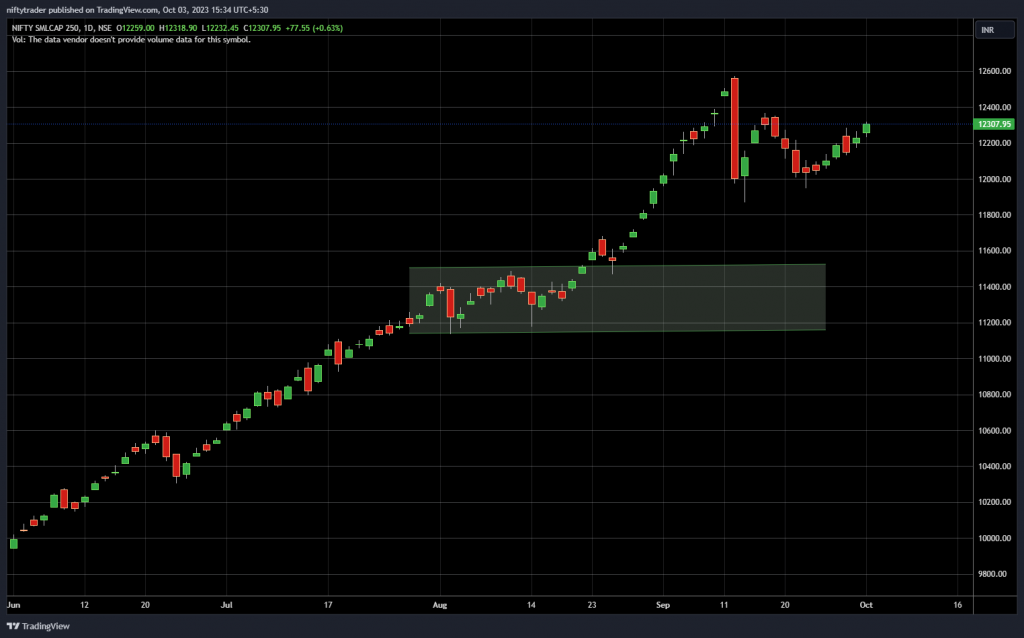 Bank Nifty
On the other hand, the Nifty Bank continues to be sluggish, remaining at 44,400 for the past four to five months. The lethargic performance of the private banking sector, which dominates the weights of Nifty Bank, is primarily responsible for this stagnation.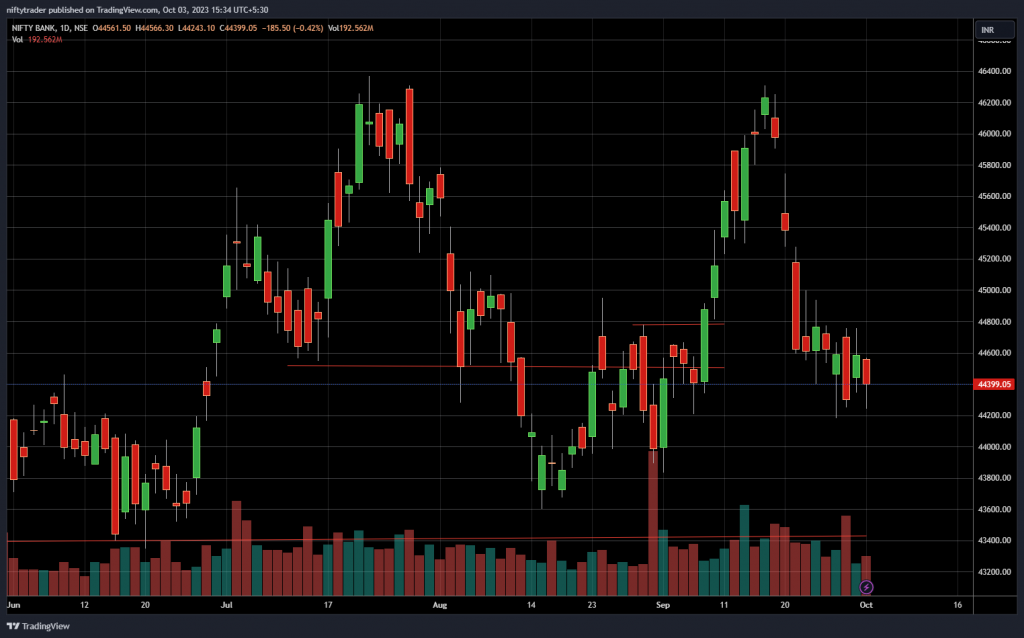 Highlights
Stocks like Larsen & Tubro (L&T) have consistently displayed remarkable growth, with a 50% increase in their stock price since June. The infrastructure sector, including L&T, is actively contributing to these positive movements.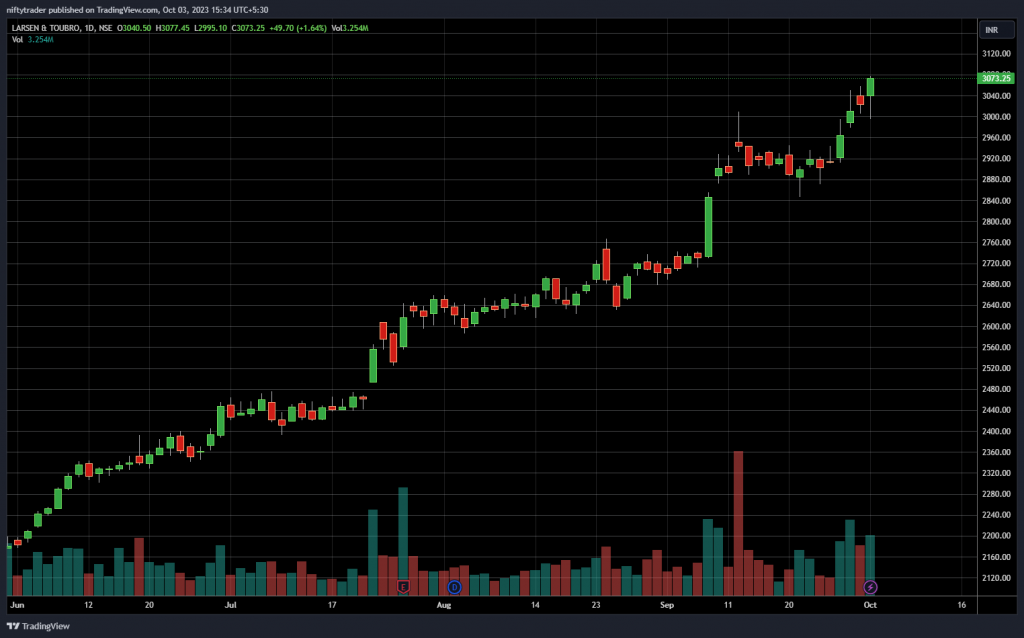 Speaking of PSU banks, they have recently broken out of a ten-year consolidation phase and are currently ruling the market. Despite the overall market conditions, PSU banks are reaching new highs, with Nifty PSU Bank reaching 5300.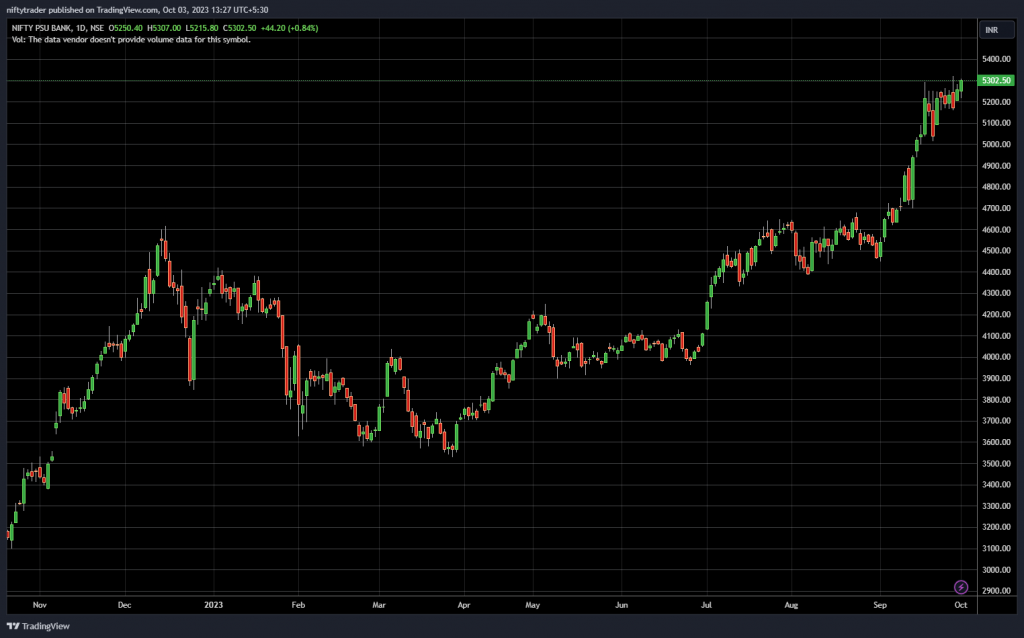 Stocks in Focus – Vedanta
The recent demerger announcement by Vedanta intends to unlock shareholder value by carving out six new companies. However, the market response to this announcement has been relatively muted. We would have expected to have a couple of circuits on this stock however, the stock price has only witnessed a small increase from 220 to 231 in a week. This could indicate that investors had already factored in the demerger news, the news seems to be already priced in. There may be ambiguity surrounding the actual impact of the unlocking process.
Download the WeekendInvesting App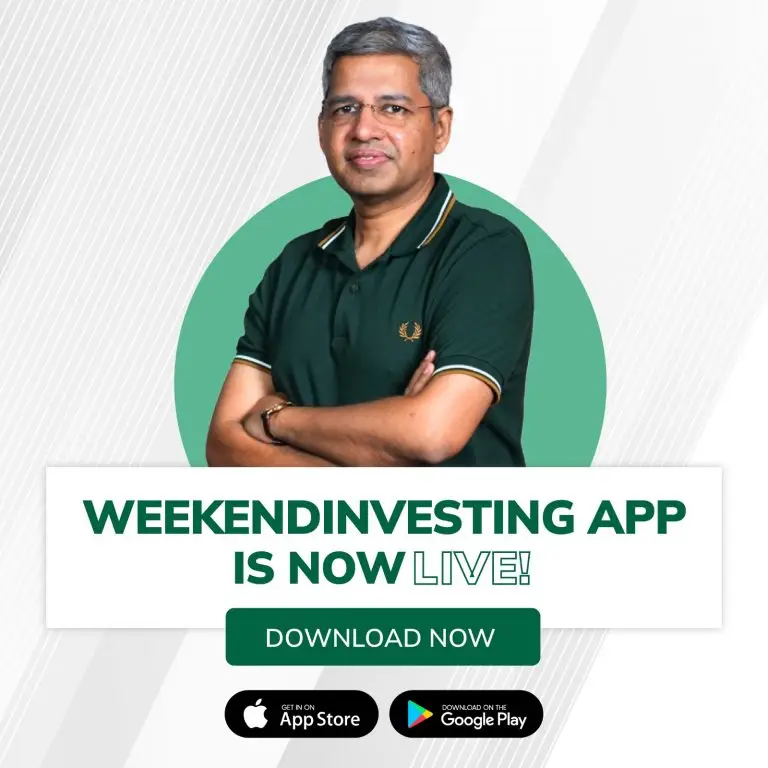 If you have any questions, please write to support@weekendinvesting.com