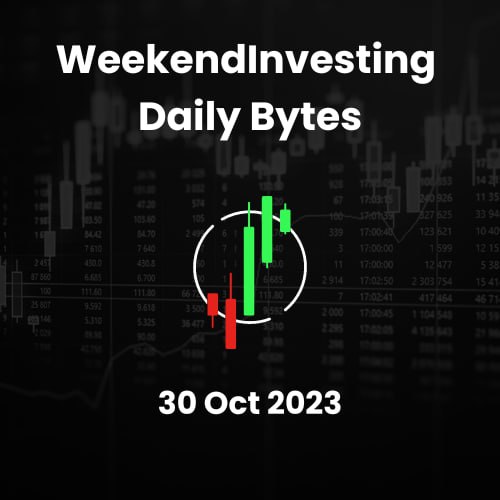 How are the Markets Looking ?
In this Daily Byte, we witnessed another day of reassurance in the market despite a gap down opening. The markets closed at 19,050 on Friday and we opened at par. The markets initially dipped, losing approximately 90 points in the first few minutes of transactions. However, they quickly recovered and not only regained the morning losses but also closed well above the previous day's close. This positive movement indicates a potential upward trend and suggests that the market may face resistance at the 19,200 mark if it continues to climb. The long candle of 18,940 to 19,140 with a good closing was very reassuring for now. We are always prone to weakness from overseas market.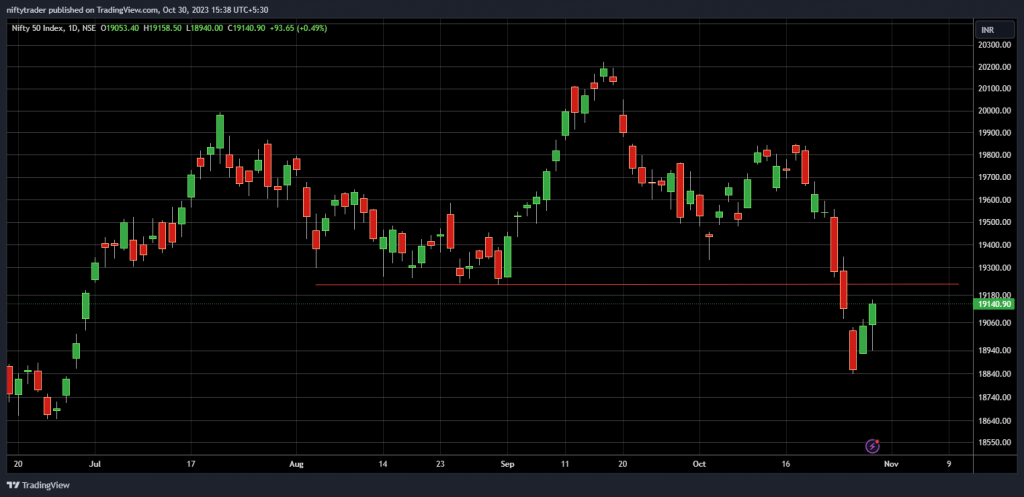 Nifty Heatmap
The day's heatmap shows a predominantly green market, with Reliance leading the way with a 2% increase, followed by BPCL at nearly 3.5% and ONGC, Cipla, Adani Enterprise, SBI Life, and HDFC Bank, all performing well with positive gains. On the other hand, Maruti experienced a 1.5% decline despite high expectations for their results, and Tata Motors and Mahindra also suffered losses. There was a noticeable selling trend in the auto space, causing a decline in auto stocks. Additionally, Axis Bank, Power stocks and some FMCG stocks also experienced losses.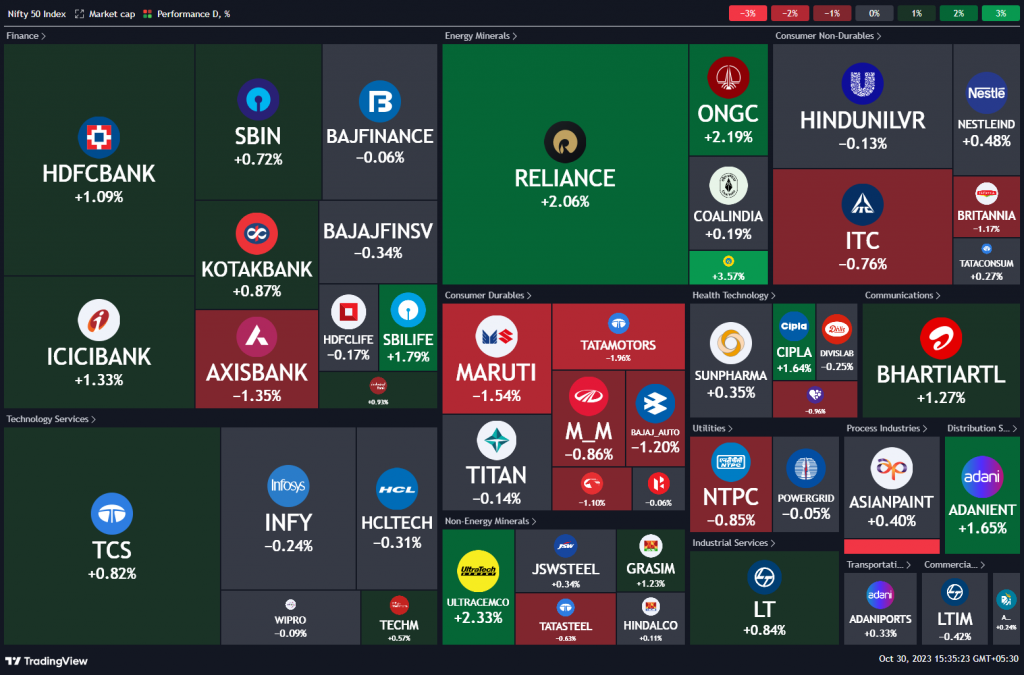 Sectoral Overview
While autos were the worst-performing sector of the day, the real estate sector remains the biggest gainer, posting a 2.1% increase for the week. In fact, the real estate sector has shown remarkable growth over the past month, gaining 2% and 3.4% for the month and year respectively. Many investors have expressed scepticism about the sustainability of the real estate rally, but historical data suggests that once real estate rallies begin, they rarely stop in a short period of time. This ongoing rally has the potential to continue for several more years, with the occasional correction along the way. Long term cycles of real estate don't stop easily, there may be a year of correction but once a real estate cycle starts, it is hard to stop. However, it is hard to tell how far it can go.
Energy stocks saw a 1.2% increase, while infrastructure stocks grew by 1.1%. Both the commodities bank and the Nifty private banks and public sectors showed signs of recovery, paving the way for a positive outlook for the PSU Banking Index. The real estate sector held the second position, while energy stocks secured the third rank during the previous week. Although no significant declines were seen across major sectors in the past week, some sectors experienced substantial losses over the past month.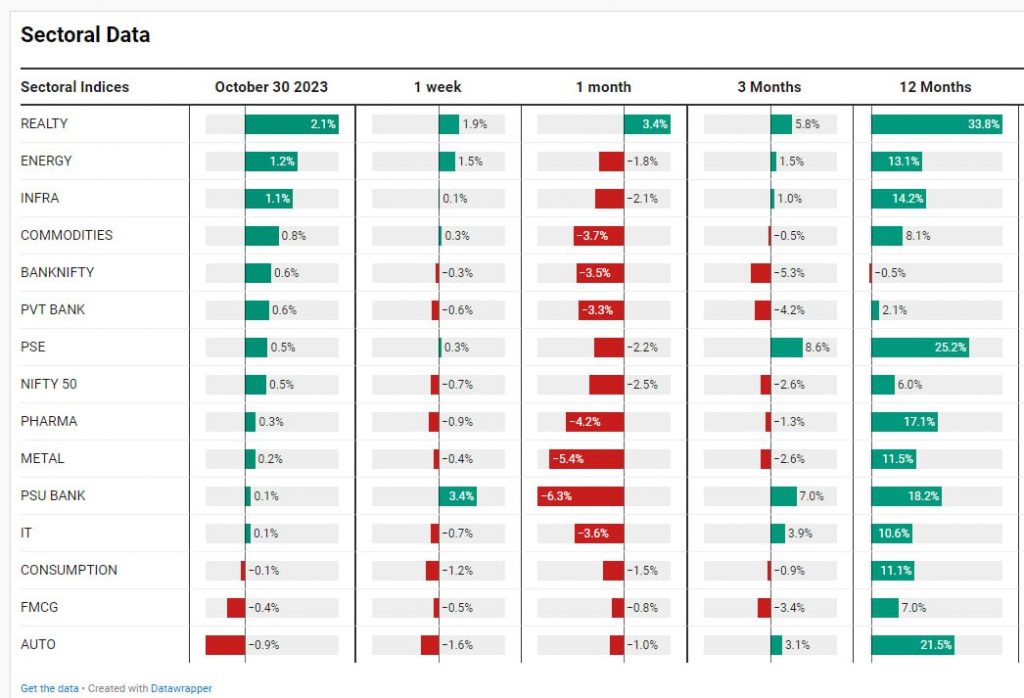 Mid & Small Cap Performance
The mid-cap stocks have shown a slight recovery but are still within the same range as the previous day's closing, indicating a cautious approach by investors. Small-cap stocks also made minor gains but still closed relatively close to the previous day's closing price. However, the fact that they have managed to rise above the previous breakdown zone is a positive sign, and small-cap stocks continue to demonstrate strength compared to other indices.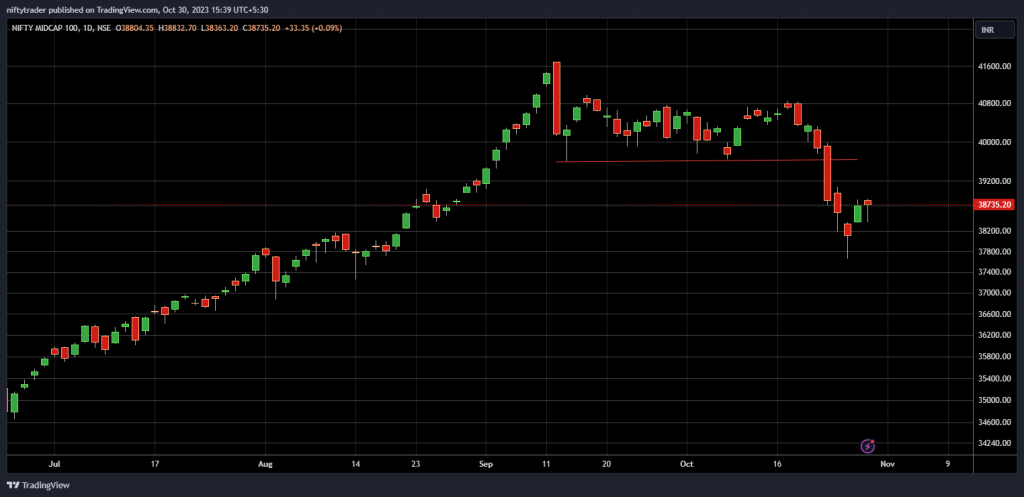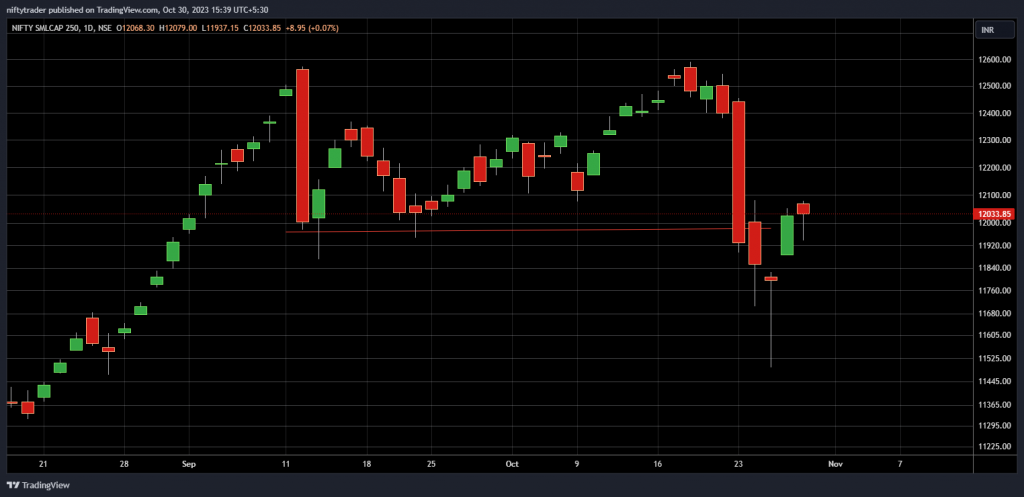 Bank Nifty Overview
The Nifty Bank index also had a good day, bouncing back from oversold levels. Although there was a momentary dip in the morning, the index quickly recovered, indicating a potential u-turn and bullish sentiment. However, the current support zone now acts as a significant resistance level that needs to be surpassed for further sector growth.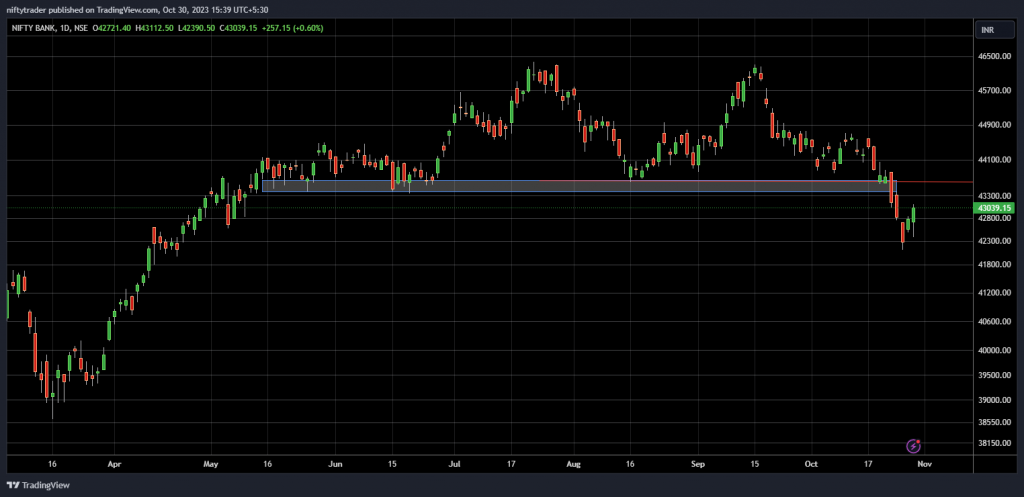 Highlights
Two sectors that showed particularly promising performance are the Nifty Energy and Nifty Real Estate sectors. The Nifty Energy sector has recovered more than half of its previous losses and is inching closer to its all-time high. Meanwhile, the Nifty Real Estate sector has experienced a recovery over the past two sessions, compensating for the losses of the previous three days. Both sectors are now on the verge of reaching their all-time highs, further strengthening their potential for future growth.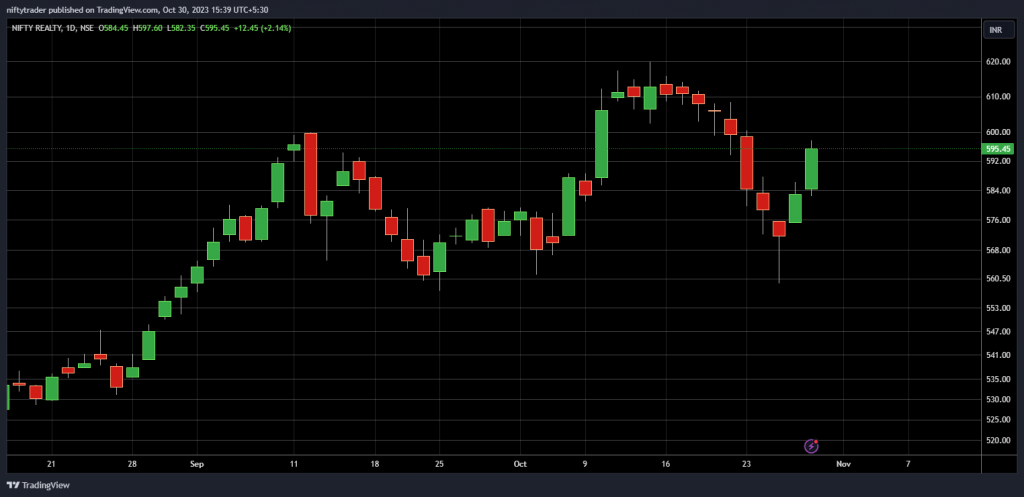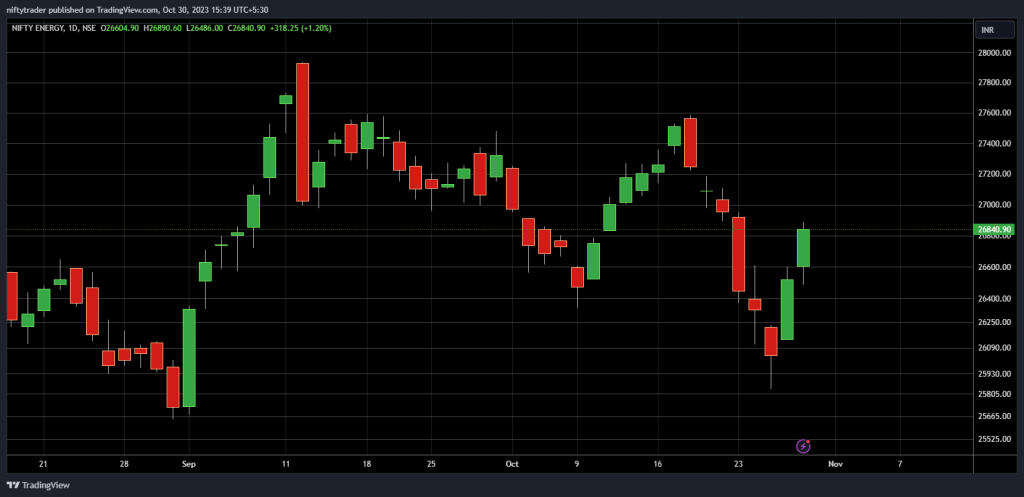 When an index or stock is nearing an all-time high, it indicates significant strength and suggests a higher probability of continued upward movement. Therefore, investors should carefully evaluate these sectors and stocks near their all-time highs as potential long-term investment opportunities. Although future market movements cannot be predicted with certainty, historical data indicates that real estate rallies tend to persist for an extended period.