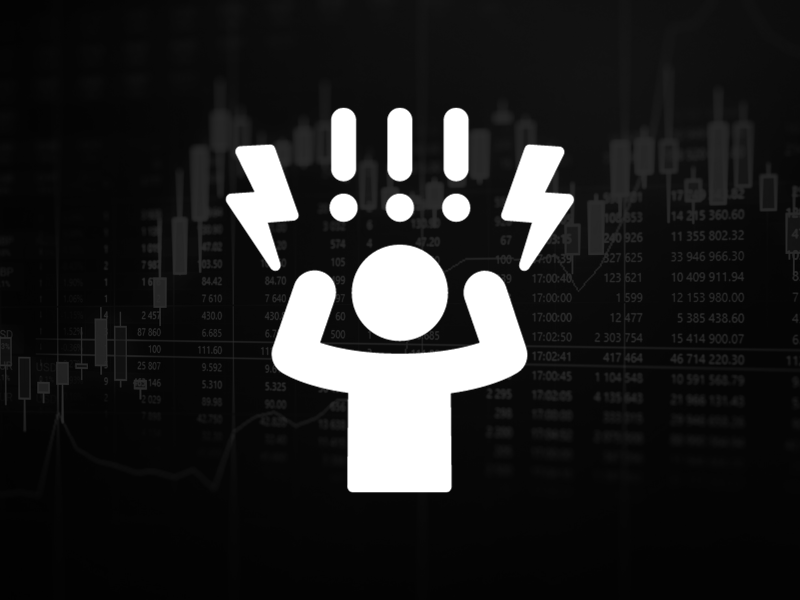 Sticking to Your Investing Strategy: Lessons from Market Volatility
When it comes to investing in the stock market, it's no secret that it can be a sticky and challenging market to navigate. During times of market volatility and falling prices, it's easy to feel overwhelmed and uncertain about your investment strategy. However, it's important to remember that the market will always test your resolve and confidence in your own strategy.
Whether you're a long-term investor, a trader, or someone who identifies trends in the market, your chosen strategy will undoubtedly be put to the test. This is why it's crucial to evaluate your actions and ask yourself if you're sticking to your planned strategy during times of uncertainty.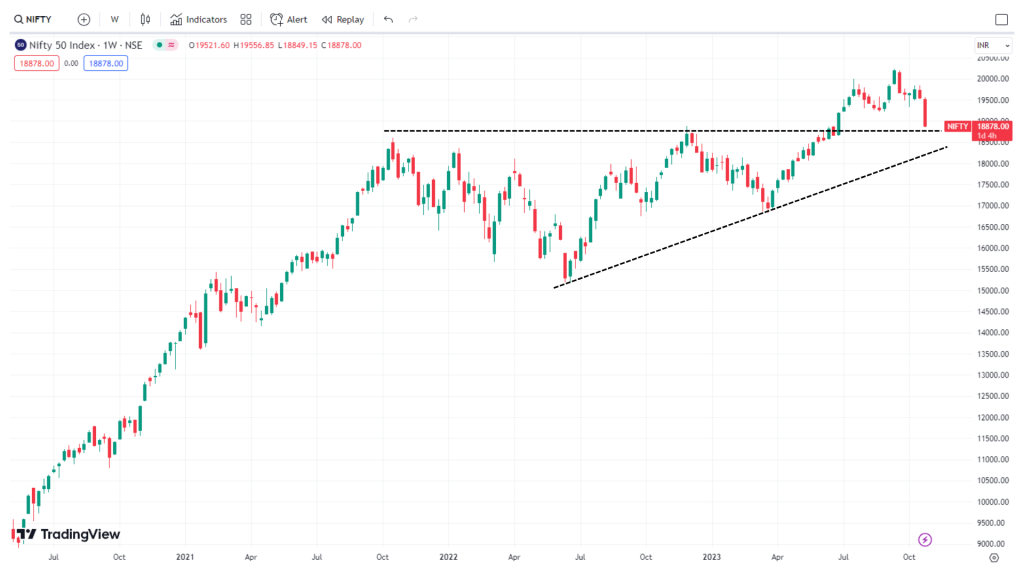 For example, if your strategy involves buying stocks when the market hits a certain lower level, ask yourself if you're adhering to this plan. Are you following through on your exit strategy? If you're using a momentum strategy that requires rebalancing, are you adding more capital to take advantage of market dips? It's vital to stay disciplined and execute your planned actions, even when the market narrative tempts you to rethink your strategy.
Reflecting on past experiences can also provide valuable lessons. Consider the scenario where the COVID-19 pandemic led to a significant market downturn. Did you panic and abandon your stocks, only to realise later that it was a mistake? Such experiences teach us not to abandon the market and remind us that, despite temporary setbacks, India is still a growing economy in the larger scheme of things.
When market troubles arise, take a step back and look at the larger picture. Examine how the market has performed over the past several decades. In the long run, the stock market has continuously shown an upward trend. While day-to-day market fluctuations can be challenging, remember that they are temporary and part of the market's natural cycle.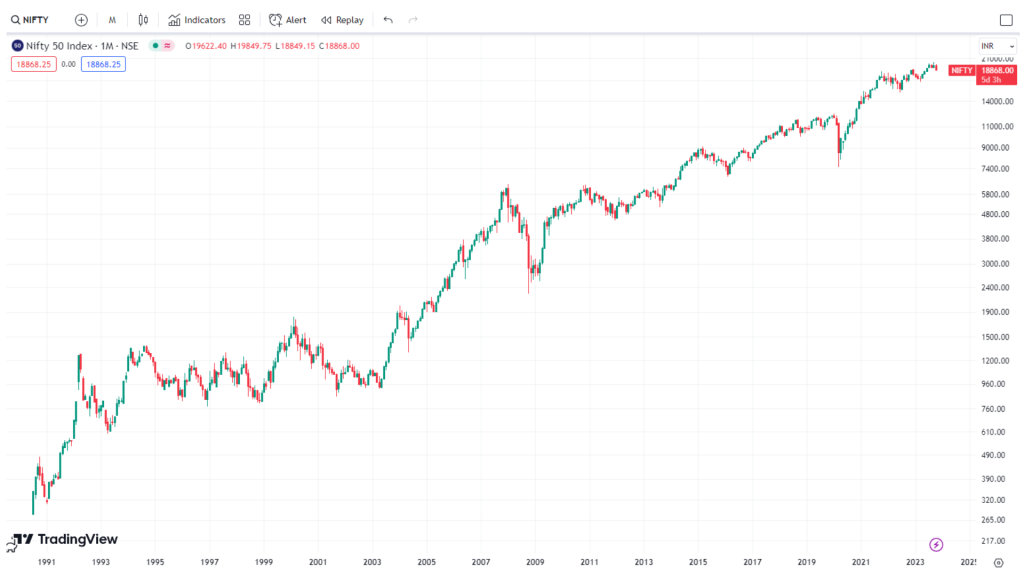 It's important to note that market downturns are not new phenomena. Just last year, the market experienced a significant drop from 18,900 to 16,800 points in a matter of three to four months.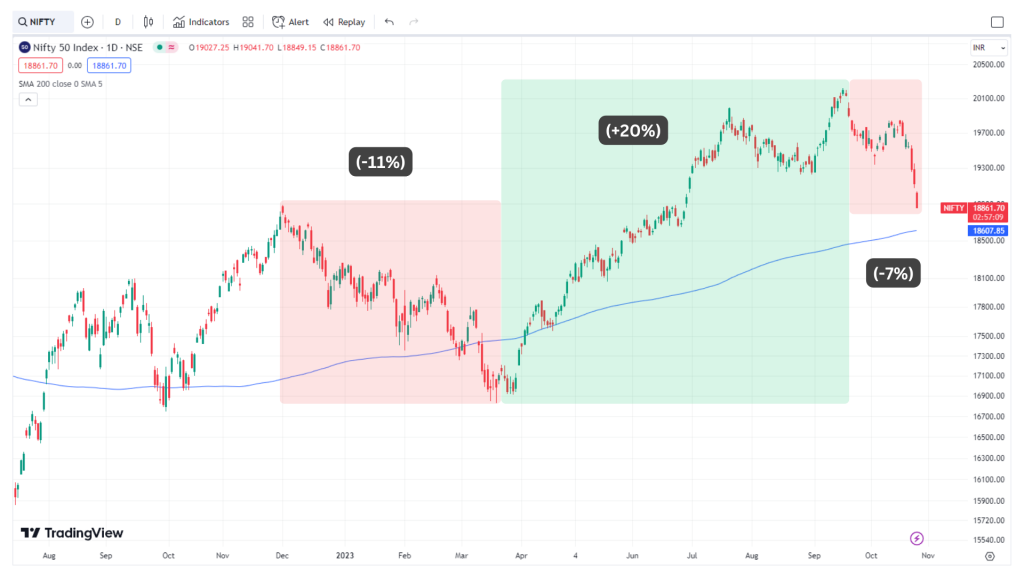 During such periods, the pain may feel intense, but it's crucial to keep in mind that this too shall pass. History has shown that the market rebounds and presents new opportunities. By maintaining your resolve and sticking to your strategy, you become stronger and better prepared for future challenges.
Indian investors, in particular, are in a fortunate position. The country's economy continues to grow, providing a solid foundation for long-term investors. While short-term excesses may occur and sometimes need to be corrected, they do not disrupt the overall long-term picture. Therefore, there is no need to fear or feel panicked.
Of course, during times of market volatility, it's important to reassess your strategy and make adjustments if necessary. However, if you have been following a time-tested strategy that has worked well for you in the past, it's essential to have faith in its continued success. Despite occasional hiccups, staying the course and remaining consistent with your proven strategies is crucial.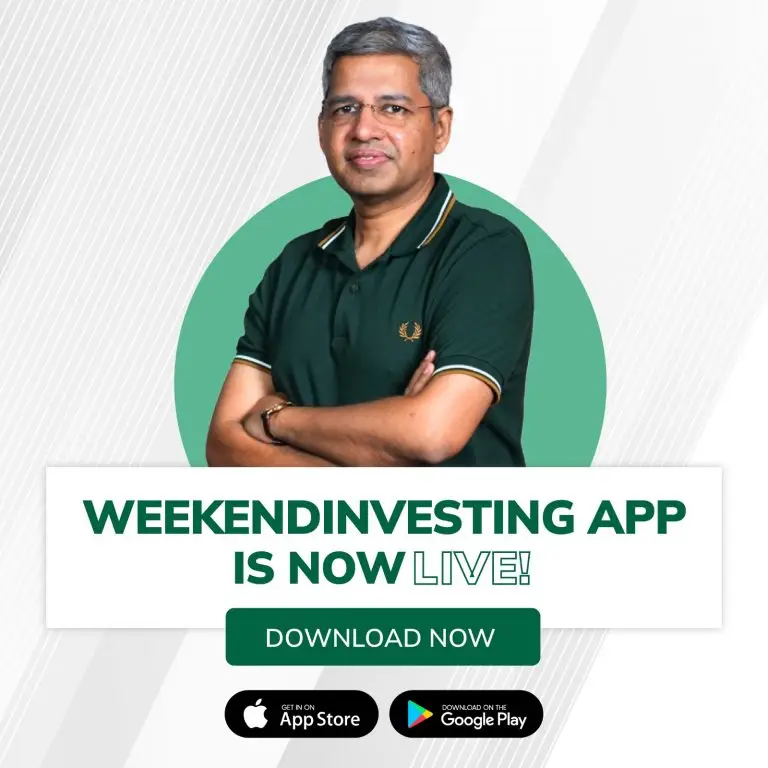 If you have any questions, please write to support@weekendinvesting.com