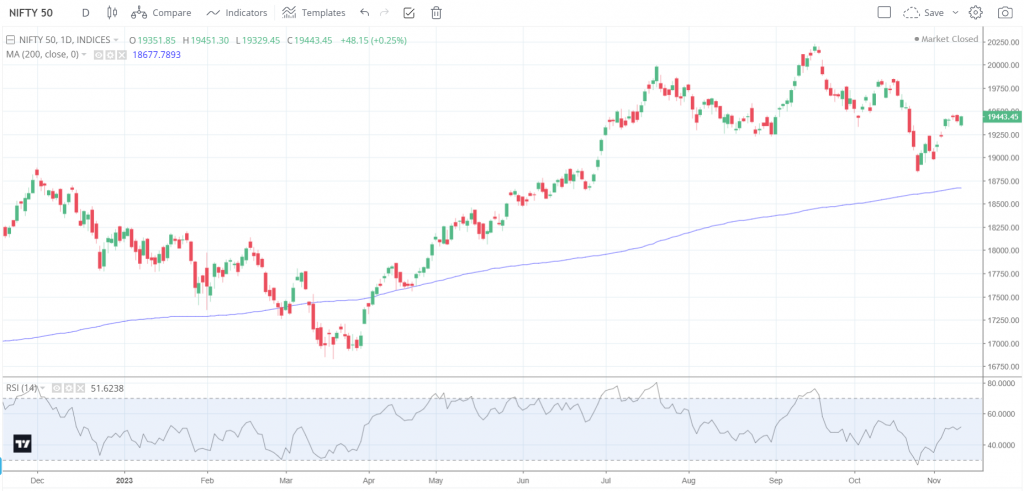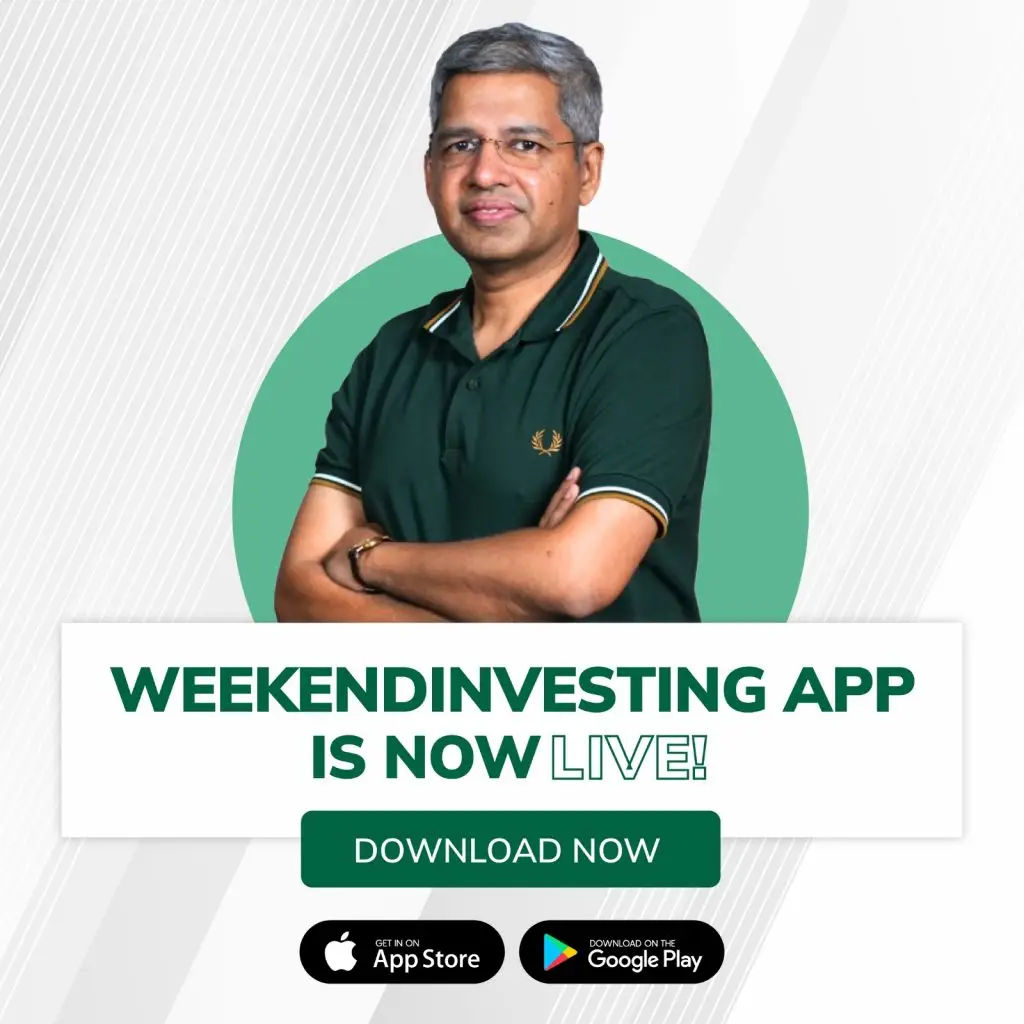 A quick introduction to the Weekend Investing app, now available on Google Play and App Store. The app has been received with great enthusiasm, with over 5,000 users already joining. We encourage all weekend investors to download the app, as it provides numerous benefits and features that can enhance your investment experience.
By joining the app, you will receive immediate notifications for urgent messages from us. Additionally, all our content, including YouTube videos and Twitter posts, can be accessed in one place. This ensures that you stay up to date with relevant and valuable information. Moreover, the app allows you to interact with our team, ask questions, and provide feedback. It offers a seamless and convenient channel for communication between investors and our support team.
One of the key advantages of the app is access to exclusive educational content and strategies tailored specifically for weekend investors. We offer educational US strategies, trend analysis posts, market psychology insights, and much more. By leveraging these resources, you can enhance your investing knowledge and make informed decisions. Furthermore, the app provides opportunities for online and offline meetups exclusively for WeekendInvesting subscribers, allowing you to engage with fellow investors and expand your network.
A unique feature of the app is the ability to book a one-on-one call with the Weekend Investing team. This personalised support ensures that you receive prompt assistance and have your queries addressed directly. Additionally, a chat feature is available to provide immediate solutions to any questions or concerns you may have. The aim of the app is to facilitate seamless interaction and provide phenomenal support to all weekend investors and app users.




Introducing "The WeekendInvesting Newsletter"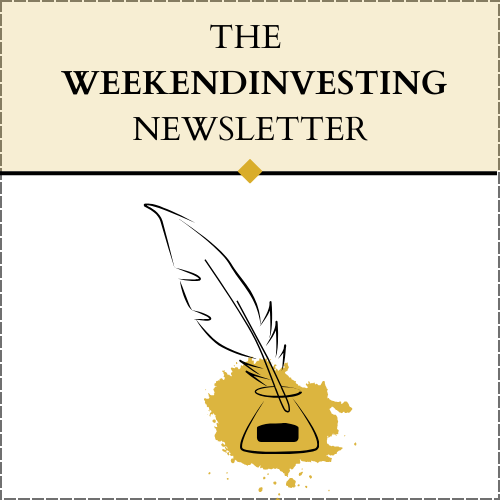 Another brand new initiative from our Research Desk is The WeekendInvesting Newsletter. This is a daily newsletter that summarizes all the stories we cover during the day(market nuggets), including the daily byte that we shoot every evening. This newsletter will be delivered to your email every evening on market days, providing you with a wealth of market-related information. The newsletter includes both summaries and long-form blogs for all the market nuggets covered. These blogs are also linked to the videos we shoot, so you can choose to watch or read the content according to your preference.
Check out our newsletters for this week.
From the Research Desk of WeekendInvesting
The gamification of the options market
The Indian stock market has witnessed a significant rise in retail investors dabbling in options trading. This trend has raised concerns among regulatory authorities . .
Are the US smallcaps showing direction for the near future?
The US stock market has been facing some challenges recently, particularly when it comes to the small cap index. In this article, we will take a closer look at the Russell 2000, the small cap index, and analyse its performance over the past few months.
Case Study : Why we picked Zomato!
To better understand the effectiveness of momentum trading, let's take a look at the example of Zomato Limited, a well-known food delivery company. Zomato's stock experienced significant fluctuations over time. It initially listed at around Rs120 . . .
The secret of success : Casino Math
Momentum Investing is popular among investors aiming to take advantage of upward trends in stock prices. The concept behind momentum investing is simple: buy stocks that are rising and sell those that are falling. In this article, we will explore Mi MT Allcap strategy . . .
Entered at the top ? No Problem !
In this article, we dive into an interesting study on Mi NNF 10 strategy and its benchmark , the Nifty Next 50 Index. Mi NNF 10 is a strategy that selects ten stocks from the Nifty Next 50 stocks. This study analyses the performance of this strategy over the last 14-15 years of data.
One ratio that investors often overlook but can provide valuable insights is the Gold to Nifty ratio. In this article, we will explore what this ratio signifies and how it can be used to allocate assets effectively.
What to expect after a FED Pause – SURPRISE
The Federal Reserve (Fed) plays a crucial role in shaping the economic landscape of the United States. One of the key tools at its disposal is the interest rate. By adjusting the interest rate, the Fed influences borrowing costs, inflation, and economic growth.
Momentum can help you navigate bubbles!
Bubbles have long been a recurring theme in financial markets, with various asset classes experiencing periods of rapid growth, followed by dramatic collapses. The phenomenon of bubbles is driven by human greed and the dynamics of supply and demand. In this article, we will explore a historical perspective on bubbles and discuss a rational approach to riding these waves of market volatility.
What can we learn from WeWork ?
WeWork, the shared working space and innovation company, had a meteoric rise and an equally dramatic fall. In just 12 years, WeWork went from virtually zero to a peak valuation of $47 billion, only to end in bankruptcy. This journey offers valuable insights and lessons for investors.
Investing can be a complex and unpredictable venture. Just like a farmer tends to their crops, investors must adopt a patient and strategic mindset to achieve success. In a thought-provoking tweet, Brian Feroldi suggests that thinking like a farmer can provide valuable insights into the investment process.
Markets this week
This week was certainly better than the last one. Not very bullish, rather on the sideways to optimistic note but we did see upward traction as global markets moved up.
On the weekly candle front, you can very notice the latest candle candle making an effort to inch past the strong red candle we saw two weeks earlier which also becomes the most crucial resistance to watch out for at 19557 levels.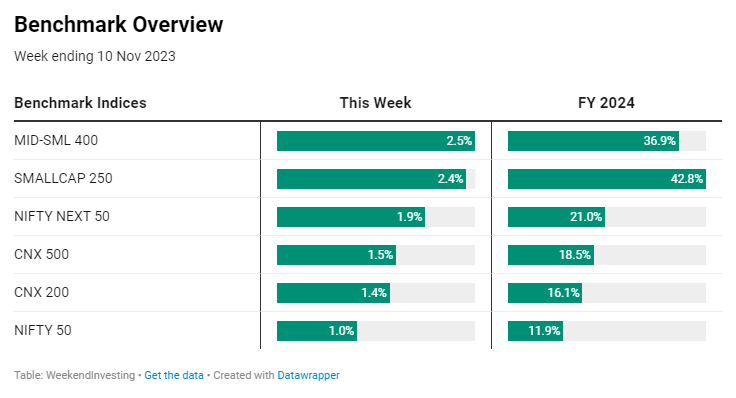 Sectoral Overview
PSE stocks and PHARMA had a blockbuster week clocking more than 4% gains while REAL ESTATE has continued on its phenomenal run with 2.9% this week and 71% this FY 24. INFRA, ENERGY, METALS & COMMODITIES all did quite well this week to record gains of 2% plus while IT and PSU BANKS taking a pause.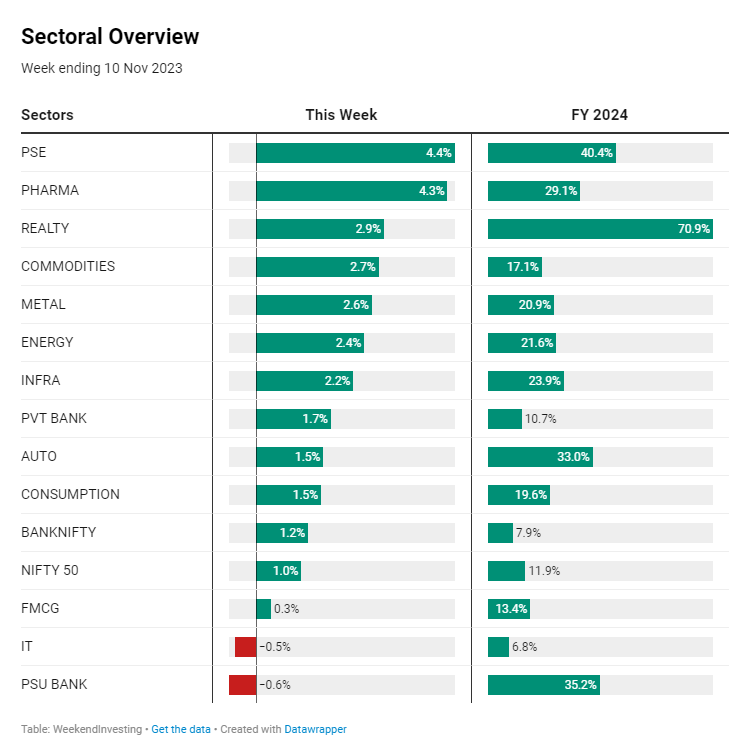 REAL ESTATE has been absolutely phenomenal across all recent timeframes securing the first rank while PSE has held on to its second position with a consistent performance. The sector to note this week would PHARMA which has done outstandingly well in the last 10 days to sit and #3 and #4 in the last 10 and 20 days as against its weak rank of #16 across 3 months. A solid recovery for the index. GOLD seems to have collapsed in the last 10 days after remaining at the top spot for a couple of weeks sometime ago. METALS, BANKS, FINANCIAL SERVICES and IT remained weak occupying the last spots on our charts.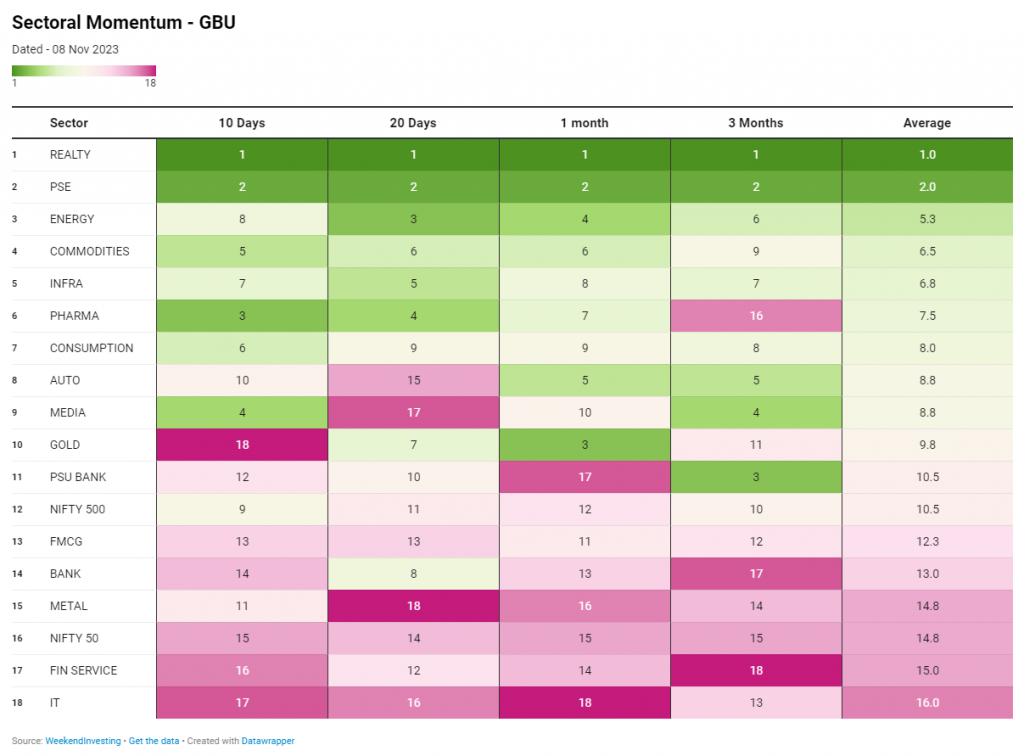 Benchmark Indices Overview
Nifty 50 was relatively weak at 1% gains compared to Mid & Small caps which have displayed a very strong outperformance in the last 7 months to be more precise. Mid-small 400 index & Smallcap 250 index clocked around 2.4% while rest of the indices stayed between 1.5% and 2%. Smallcap 250 index leads the FY 24 charts with superb gains of 42%.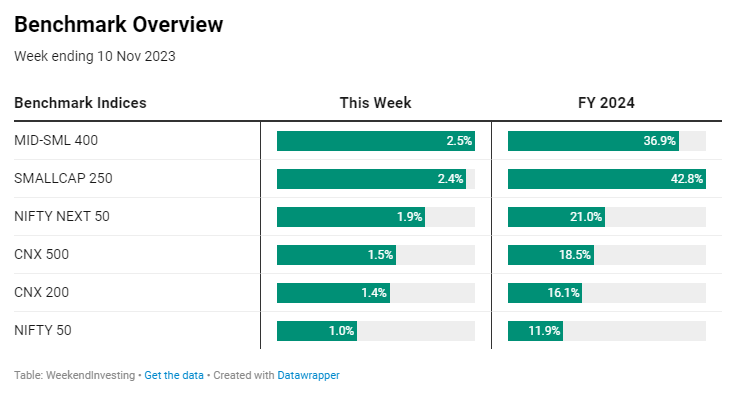 WeekendInvesting Overview
Mi 20 continues to put on a fabulous show recording a whopping 4% this week along with Mi 25, Mi NNF 10, Mi 35 & Mi MT Allcap all clocking 3% plus. Barring NG 5050 all strategies have done exceptionally well this week. Mi 20 tops the FY 24 table with an outstanding return of 73.4% followed by Mi 35 & HNI Wealth Builder at 55% each.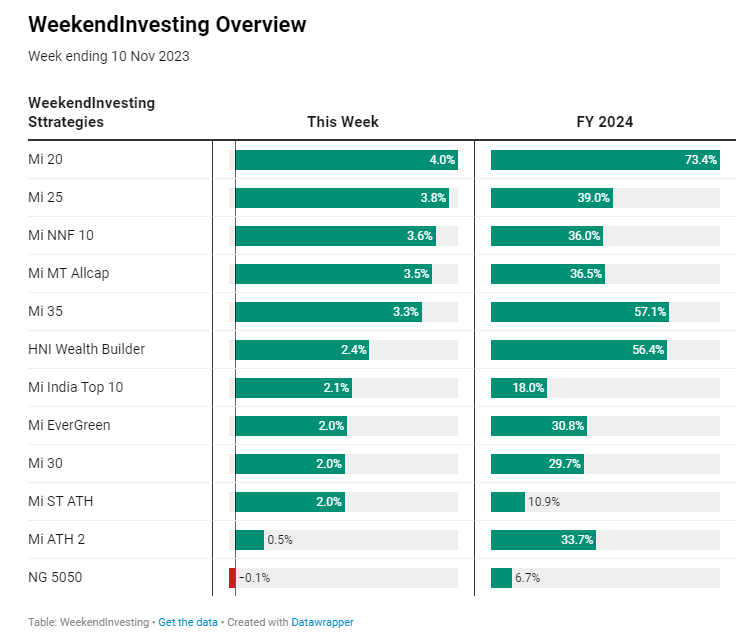 Spotlight : Diwali Special Offers & Launch of HNI Wealth Builder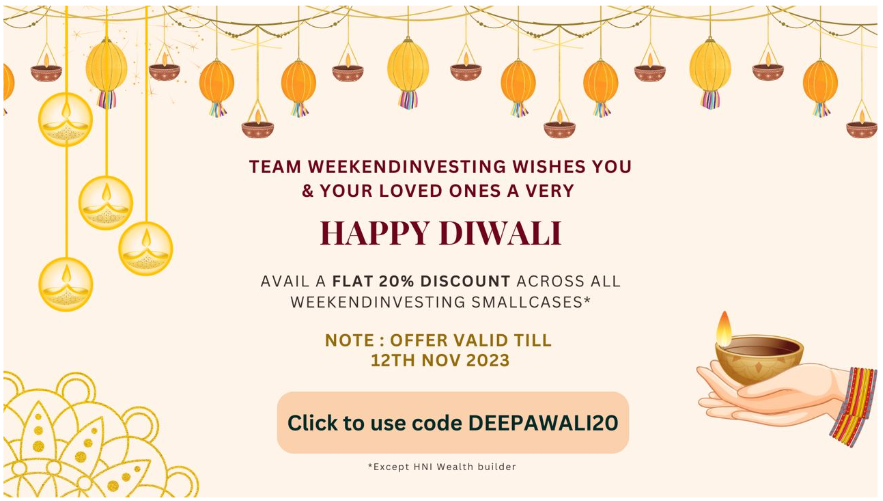 Use code DEEPAWALI20 to avail a flat 20% discount on all WeekendInvesting Smallcases (except HNI Wealth Builder)
HNI Wealth Builder Launching on 12th Nov 2023 @ 6 pm (Mahurat Session)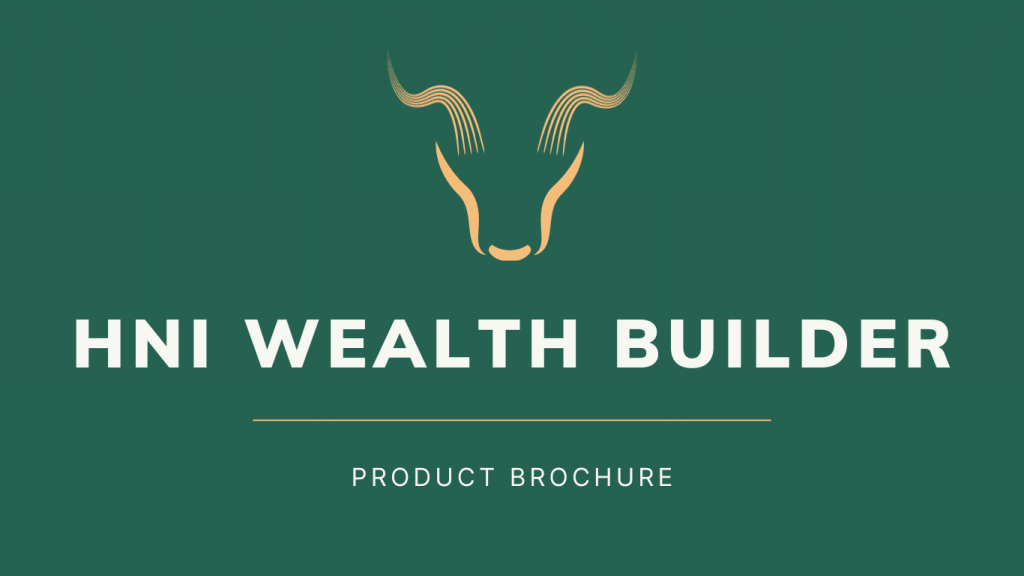 HNI Wealth Builder is an absolute momentum based weekly rebalanced – core strategy that extracts alpha from the Mid and Small cap space suitable for larger capital.
Note : The strategy will open for subscriptions on 12th of Nov, 2023 (Sunday) at 6 pm for the first 100 subscribers only.
Rebalance Update
We give advance notice here on the upcoming changes in your smallcase for Monday. This advance notice can be used to ignore Monday's update if there is no change. If there is a change indicated you can use the smallcase app or log in to weekendinvesting.smallcase.com to see the rebalance. A backup email is sent by mid-day Monday if you have not rebalanced by then and yet another one a day later.
Note: We are not including LIQUIDBEES as an ADD or an EXIT count.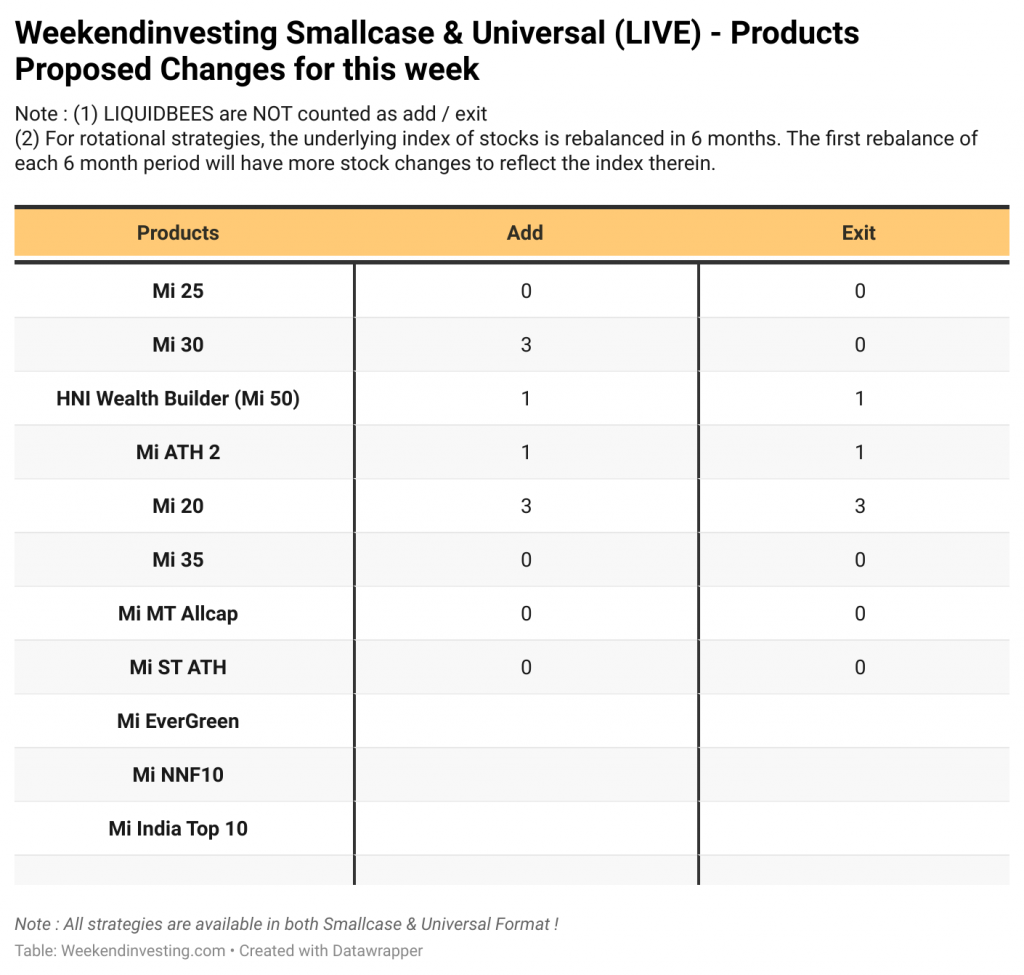 WeekendInvesting Strategies Performance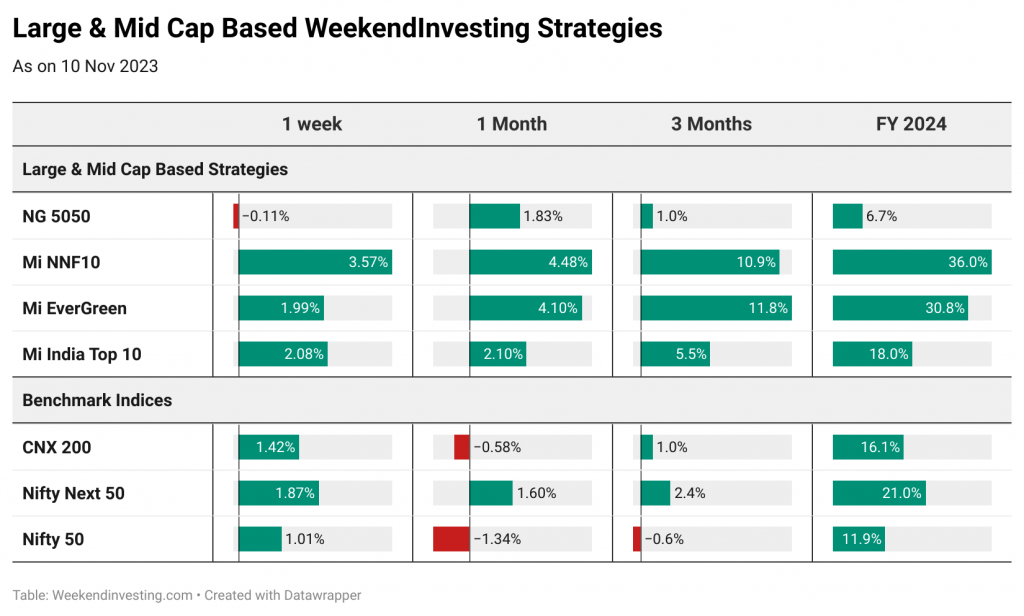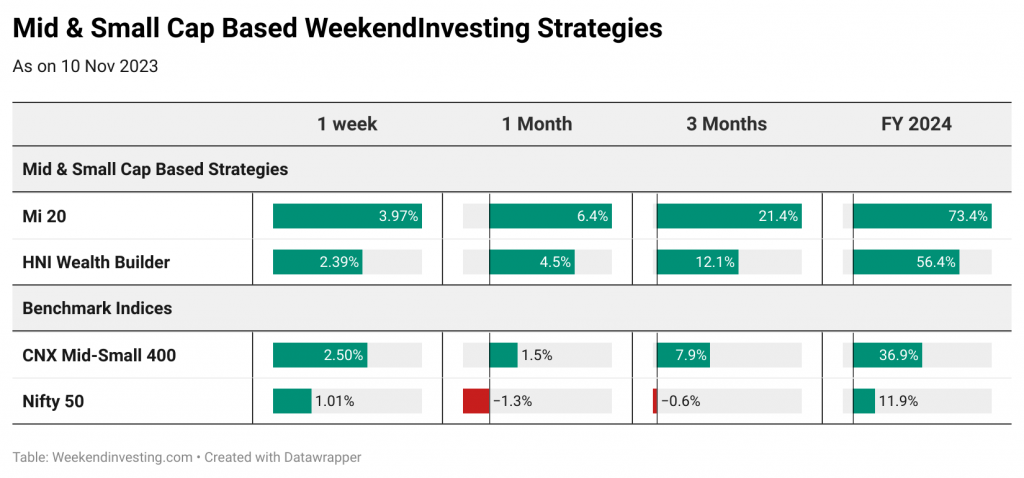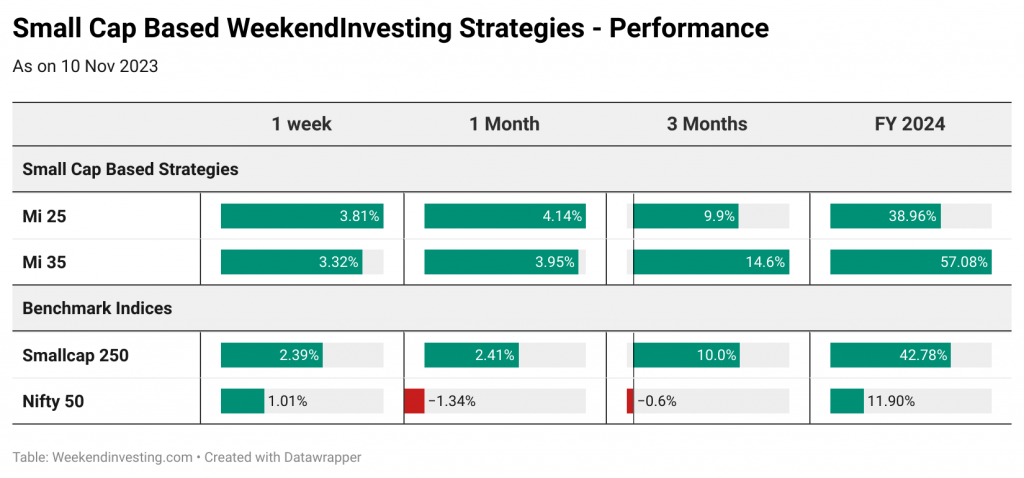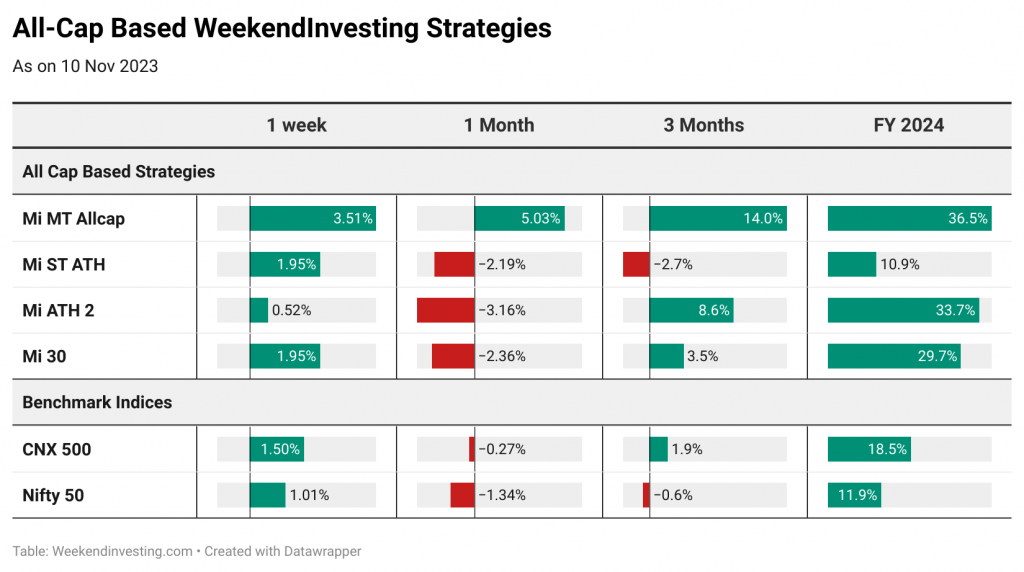 Many of you had asked us to make the index series of all WeekendInvesting Products available so that you could perform your own analysis and studies. You can find a link to the LIVE sheet here and also on the HUB under the support column in the content tab.
WeekendInvesting Telegram and YouTube Channel
We post daily content related to investing on our Weekendinvesting Telegram Channel and YouTube channel to help our community take stock of the performance of markets, sectors & our products and touch base upon a new topic every day. We look forward to having you all there! Several videos in this blog are from this series.
STAIRS is a LONG / SHORT derivative strategy that is designed to offer an uncorrelated diversification option to your equity portfolio. STAIRS will do well when there are up trends & also when there are down trends while giving up some of the gains when markets remain rangebound/volatile.
You may go through our latest weekly report for more details.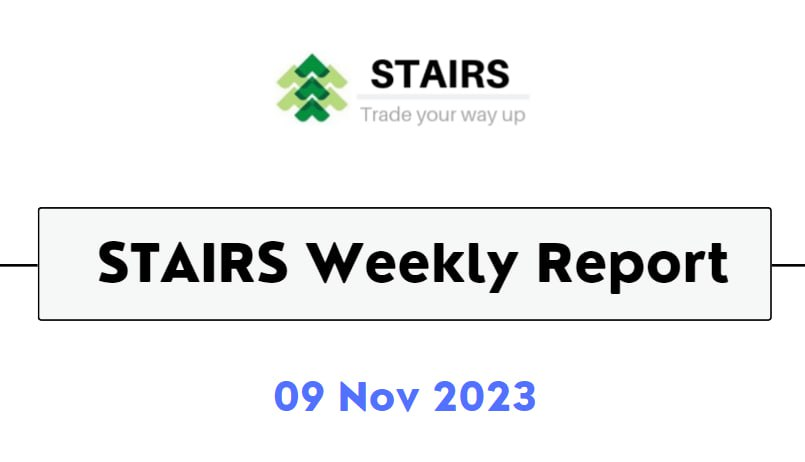 All STAIRS models go in line with our fundamental philosophy of making the most and compounding aggressively when markets give us trends and go very defensive as trends fizzle out and enter a rangebound territory, thus providing robust capital & profit protection.
Effectively – STAIRS is a complete trading system (Futures & Options) that covers each of the following decisions required for a successful trading outcome:
• Markets – What to buy or sell?
• Position Sizing – How much to buy or sell?
• Entries – When to buy or sell?
• Stops – When to get out of a losing position?
• Exits – When to get out of a winning position?
That's it for this week. See you in the next week's edition !