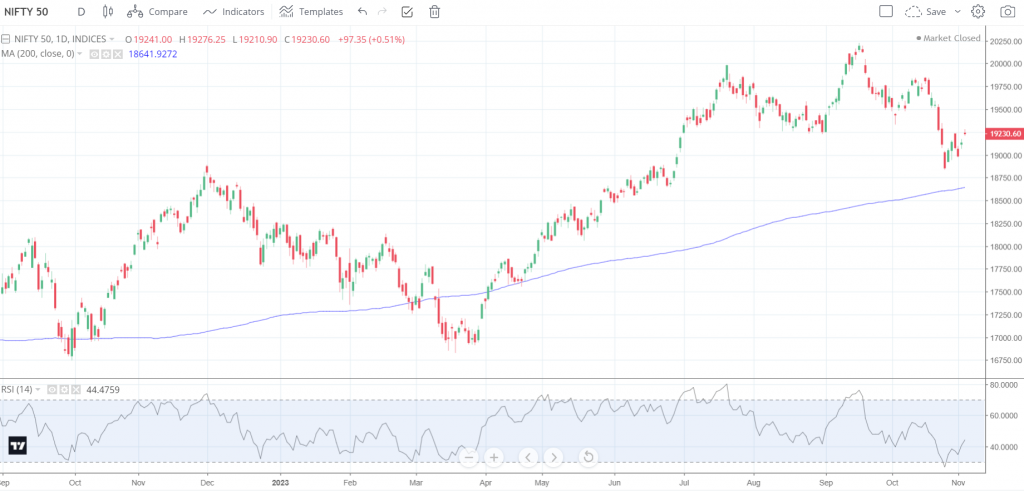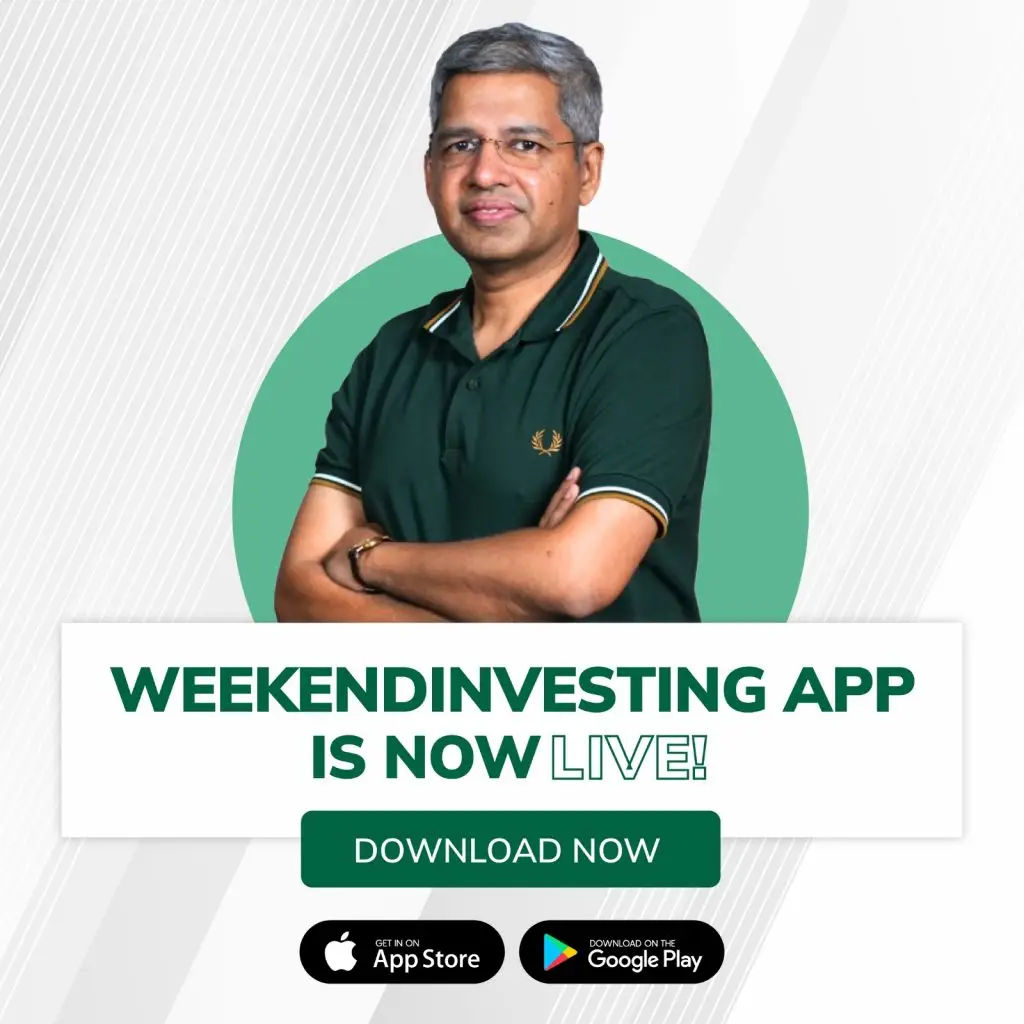 A quick introduction to the Weekend Investing app, now available on Google Play and App Store. The app has been received with great enthusiasm, with over 5,000 users already joining. We encourage all weekend investors to download the app, as it provides numerous benefits and features that can enhance your investment experience.
By joining the app, you will receive immediate notifications for urgent messages from us. Additionally, all our content, including YouTube videos and Twitter posts, can be accessed in one place. This ensures that you stay up to date with relevant and valuable information. Moreover, the app allows you to interact with our team, ask questions, and provide feedback. It offers a seamless and convenient channel for communication between investors and our support team.
One of the key advantages of the app is access to exclusive educational content and strategies tailored specifically for weekend investors. We offer educational US strategies, trend analysis posts, market psychology insights, and much more. By leveraging these resources, you can enhance your investing knowledge and make informed decisions. Furthermore, the app provides opportunities for online and offline meetups exclusively for WeekendInvesting subscribers, allowing you to engage with fellow investors and expand your network.
A unique feature of the app is the ability to book a one-on-one call with the Weekend Investing team. This personalised support ensures that you receive prompt assistance and have your queries addressed directly. Additionally, a chat feature is available to provide immediate solutions to any questions or concerns you may have. The aim of the app is to facilitate seamless interaction and provide phenomenal support to all weekend investors and app users.




Introducing "The WeekendInvesting Newsletter"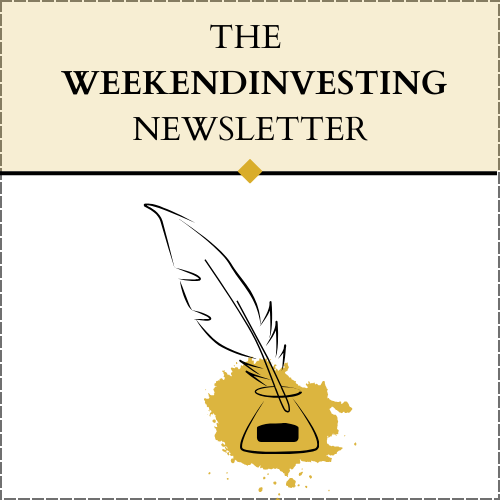 Another brand new initiative from our Research Desk is The WeekendInvesting Newsletter. This is a daily newsletter that summarizes all the stories we cover during the day(market nuggets), including the daily byte that we shoot every evening. This newsletter will be delivered to your email every evening on market days, providing you with a wealth of market-related information. The newsletter includes both summaries and long-form blogs for all the market nuggets covered. These blogs are also linked to the videos we shoot, so you can choose to watch or read the content according to your preference.
Check out our newsletters for this week.
From the Research Desk of WeekendInvesting
A gods gift for CDSL !
One of the stories that caught our attention was the potential impact of the new change in companies law on Central Depository Services Limited (CDSL). The new legislation could have significant implications for CDSL, and it's important for investors to understand how this could affect the company's performance in the market.
Can inflation ruin our near future ?
Another article explored the relationship between inflation and the erosion of purchasing power over time. Inflation can gradually decrease the value of money, making it essential for individuals to understand how to protect their wealth and make informed investment decisions.
Smallcaps determine the health of the market
The health of small caps was highlighted in a piece discussing the correlation between small caps and the overall health of the market.
Are you mentally prepared for high interest rates and inflation if they hit us?
In uncertain times, it's crucial to be prepared for potential challenges. A thought-provoking article asked whether we are prepared for tough times based on factors such as changes in interest rates and inflation. Understanding how these variables can impact our investments is essential in navigating the market successfully.
Don't let combined PE ratios fool you.
Investors often focus on price-to-earnings (PE) ratios to gauge a company's valuation. However, an article cautioned against solely relying on PE ratios due to the skewed distribution of PE ratios within an index.
What does Monthly ATH mean for INR Gold ?
Gold's value and implications were explored in an article discussing its recent rise to a monthly all-time high on the charts. Understanding the reasons behind gold's performance and its potential impact on investment portfolios is crucial for investors interested in diversifying their holdings.
Drawdowns Acche Hain !!
The concept of drawdowns was highlighted in a piece emphasizing the importance of understanding and accepting drawdowns as a normal part of investing. While drawdowns can be challenging, they are inevitable in the investment journey, and investors should approach them with a long-term perspective.
The market expectations are mostly wrong
We wrote another article talking at length about how general market expectations are usually wrong and how to deal with the expectation noise.
Will Bitcoin save you in times of crisis ?
Examining market expectations and the comparison between bitcoin and gold was the subject of another interesting article. The recent Israel attack event was analyzed to understand how both assets reacted, shedding light on the contrasting roles played by bitcoin and gold in times of uncertainty.
Why are smallcaps running in India ?
A piece delved into the reasons behind the growing popularity of small caps in India. Understanding why small caps are thriving in the Indian market can provide valuable insights for investors.
As you can see, we covered a wide range of topics in our ten research articles this week. If you missed any of these articles, they are available through the Weekend Investing app, the Weekend Investing website blog, and the Weekend Investing newsletter in both video and written formats.
Markets this week
In terms of market performance, the Nifty showed a modest upward trend, although with less confidence compared to the previous bounce. The bounce from the bottom of 18,850 level resulted in a gain of around 400 points to approximately 19,250. This relief rally was driven by indications from the Fed that hiking interest rates would be challenging. Additionally, positive results from sectors like PSU banks and new-age companies like Zomato contributed to the market's optimism.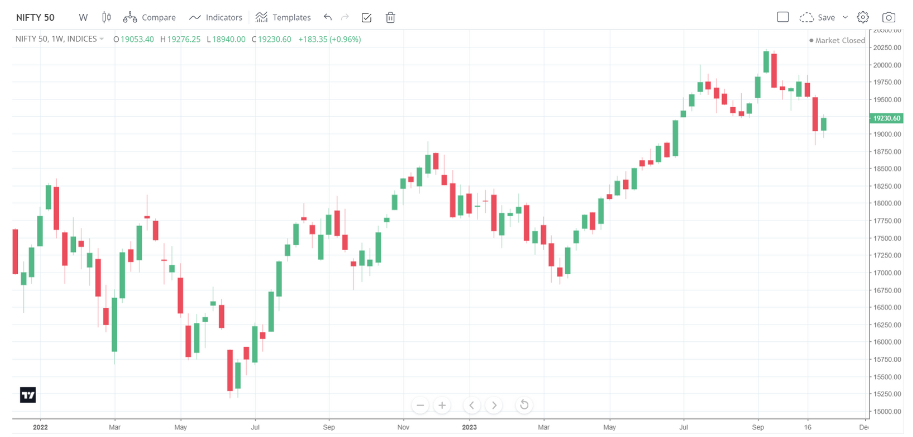 Sectoral Overview
This week witnessed a significant momentum in real estate, with a phenomenal 10.4% increase. PSU banks, energy, infrastructure, and commodities also showed positive movement. However, autos, metals, and pharma experienced a dull week.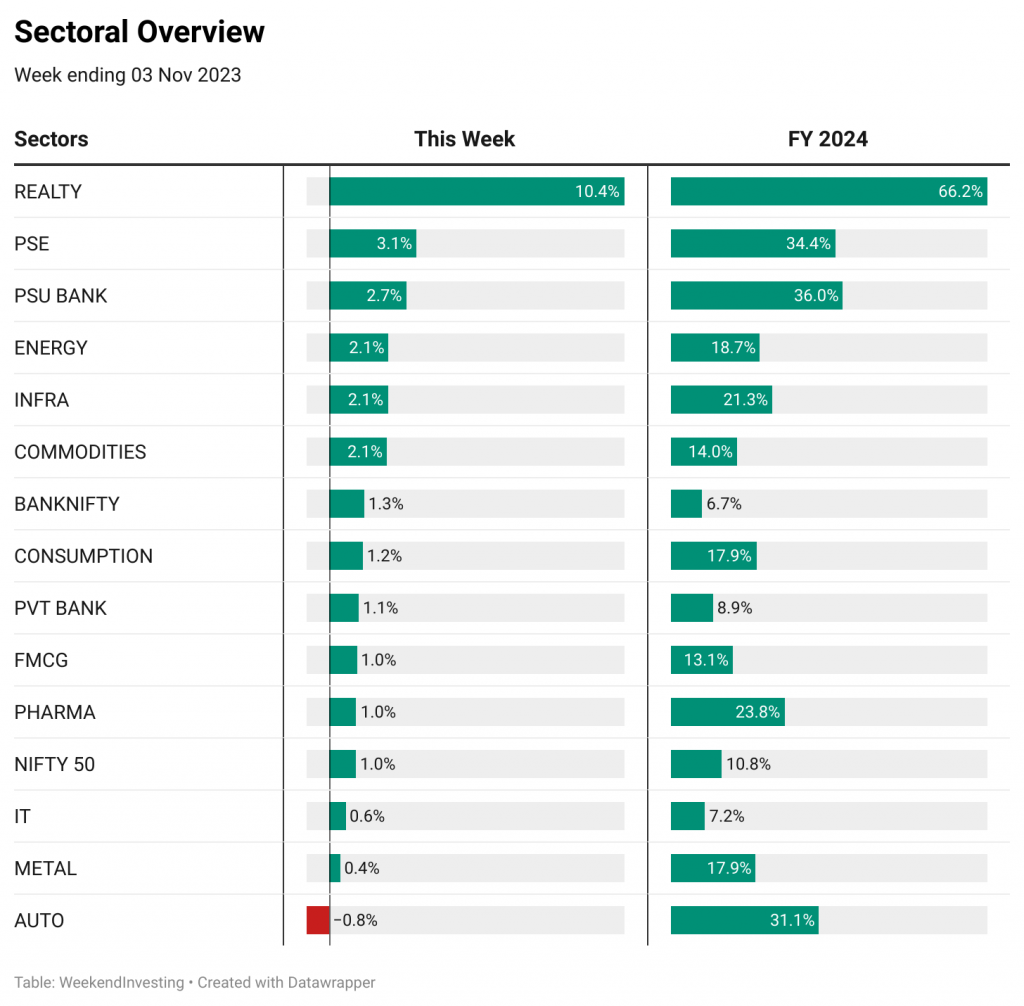 Realty grabbed the top spot across all timeframes in our sectoral momentum study putting up an outstanding show in the recent past. PSU banks have also done well to stage a comeback after a relatively weaker outing in the last 30 day period. GOLD has slipped to the twelfth rank after a couple of weeks at the top as markets have been on a rise recently. Consumption and Auto seem to have lost momentum in the last 2 weeks Metals, Pharma & Financial Services continue to languish at the bottom.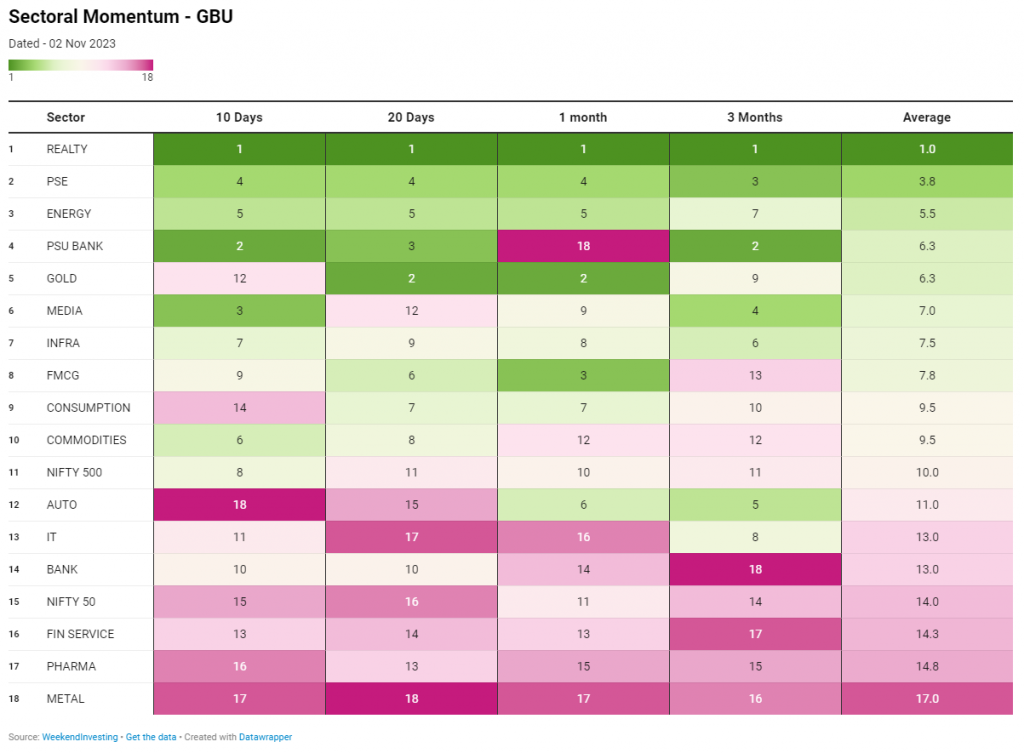 Benchmark Indices Overview
In terms of specific indices, the Nifty 50, CNX 200, and CNX 500 all registered gains. Small caps and mid and small cap 400 indices performed even better, while the Nifty Next 50 emerged as the top index mover. In the financial sector, small cap 250 and mid and small cap indices saw remarkable gains.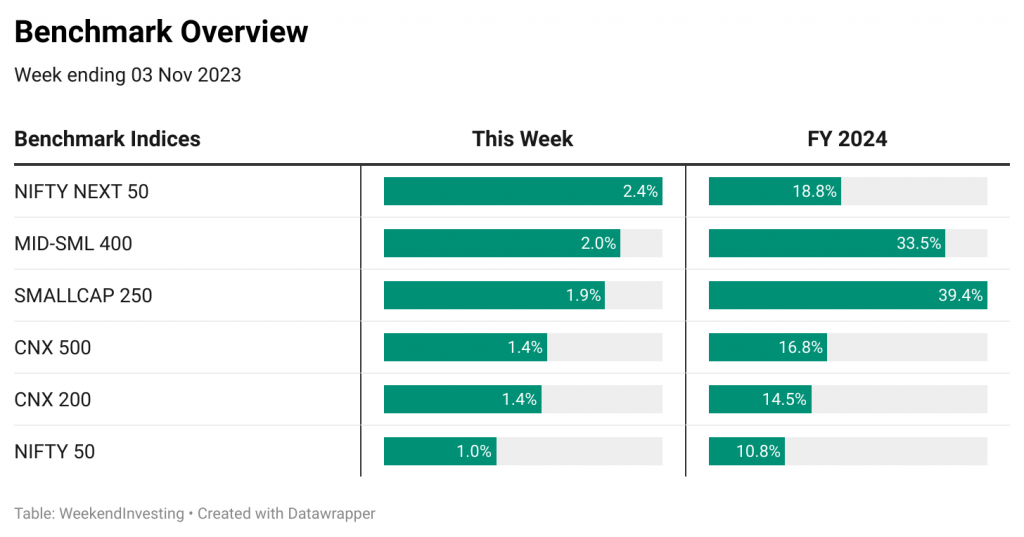 WeekendInvesting Overview
Among WeekendInvesting strategies, HNI Wealth Builder, also known as Mi 50, had a fantastic week, achieving a return of 3.2%. This strategy, which focuses on small and mid-cap stocks, has demonstrated consistent performance and limited drawdowns over the years. Other strategies, such as Mi MT All Cap, Mi NNF 10 and Mi Evergreen, also recorded positive returns.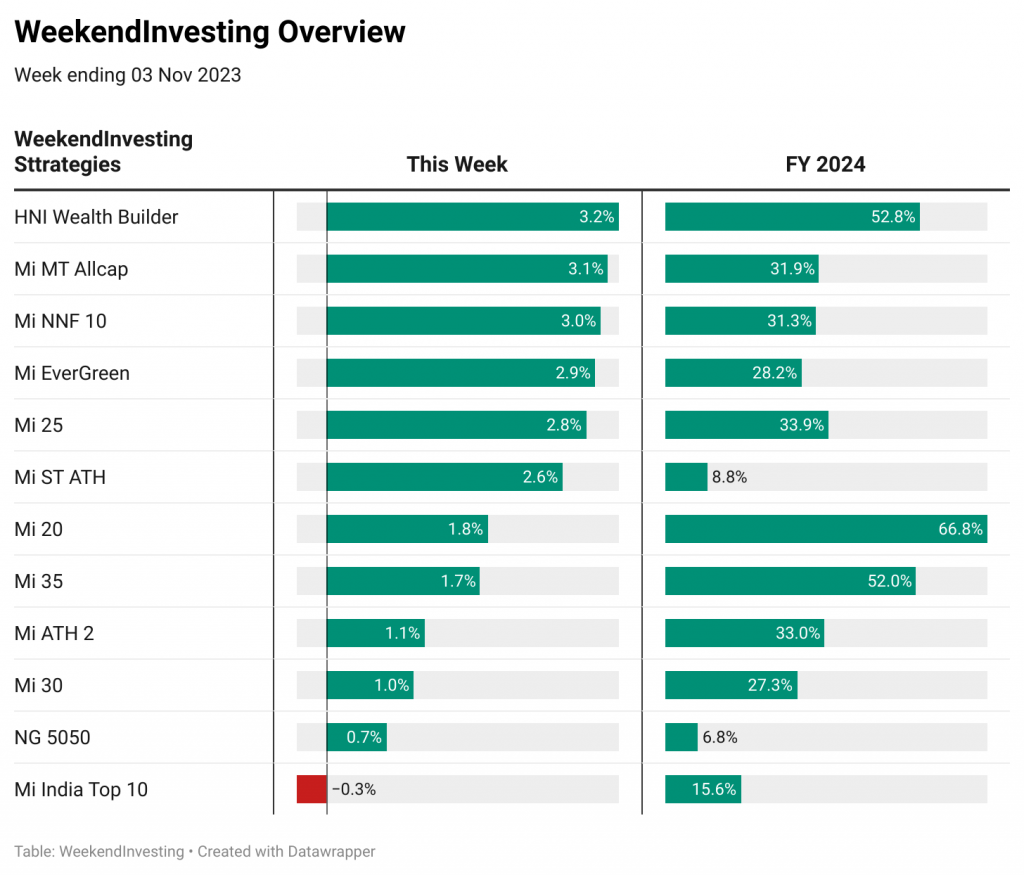 Spotlight : HNI Wealth Builder – A consistent performance across all market phases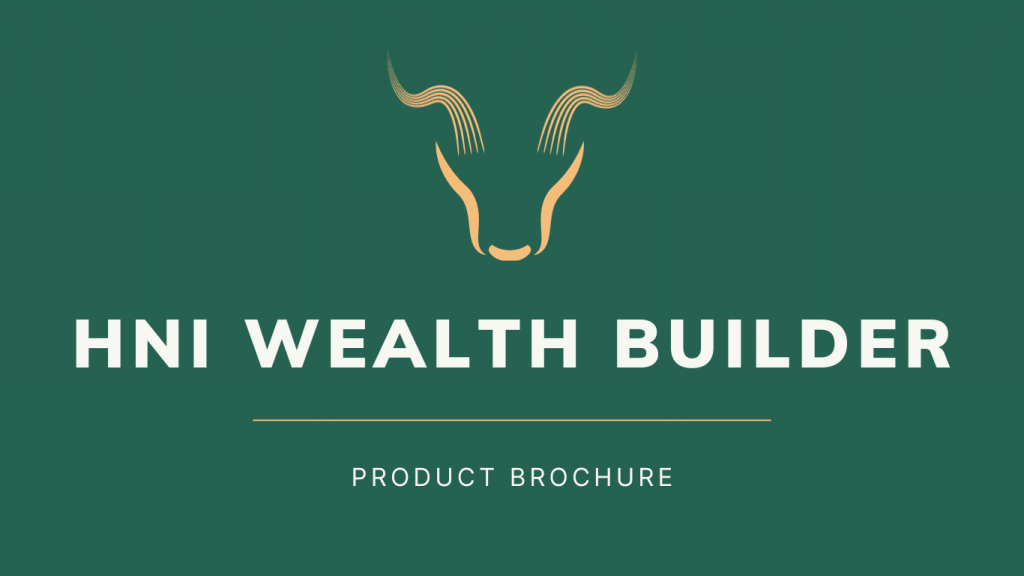 HNI Wealth Builder is an absolute momentum based weekly rebalanced – core strategy that extracts alpha from the Mid and Small cap space suitable for larger capital.
Performance across three different market phases
Let us take 3 phases of the mid-small 400 index between 2016and see how HNI Wealth Builder managed to extract outperformance from its benchmark in each of these phases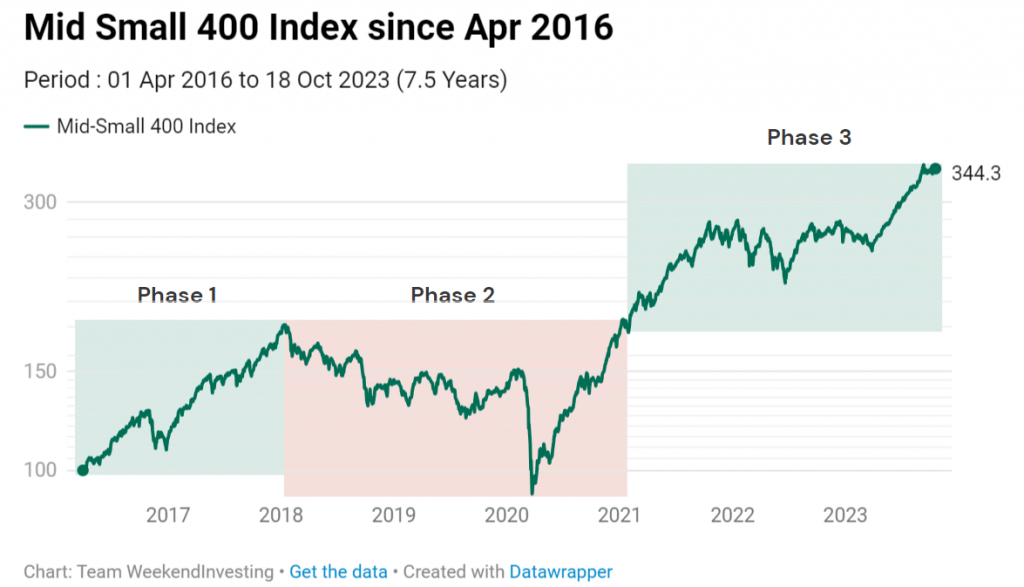 Phase 1 : Apr 2016 to Dec 2017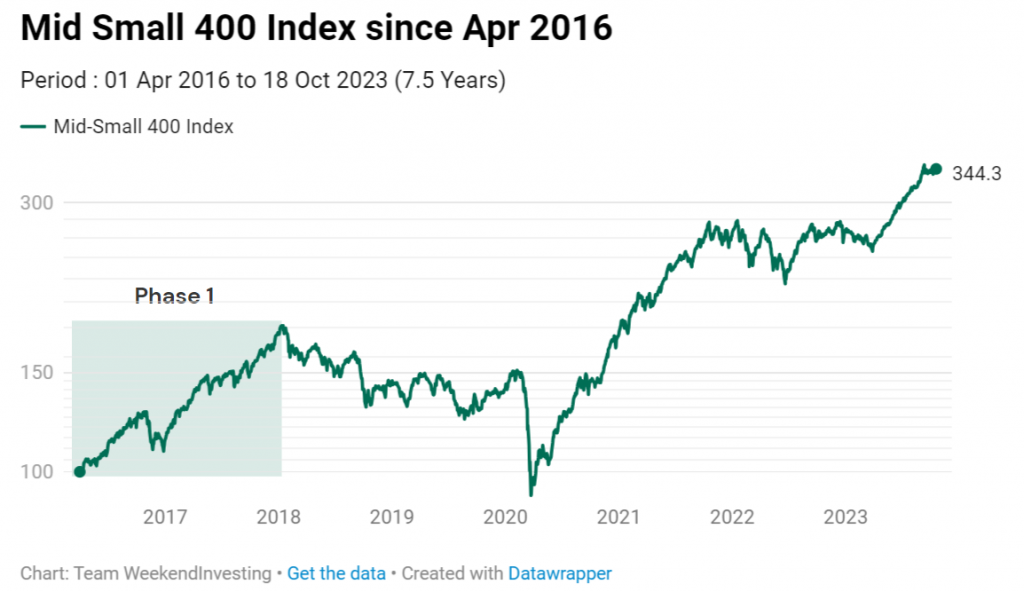 In this period of 1 year and 8 months, the mid-small 400 index was on an uptrend clocking a solid 76.5%.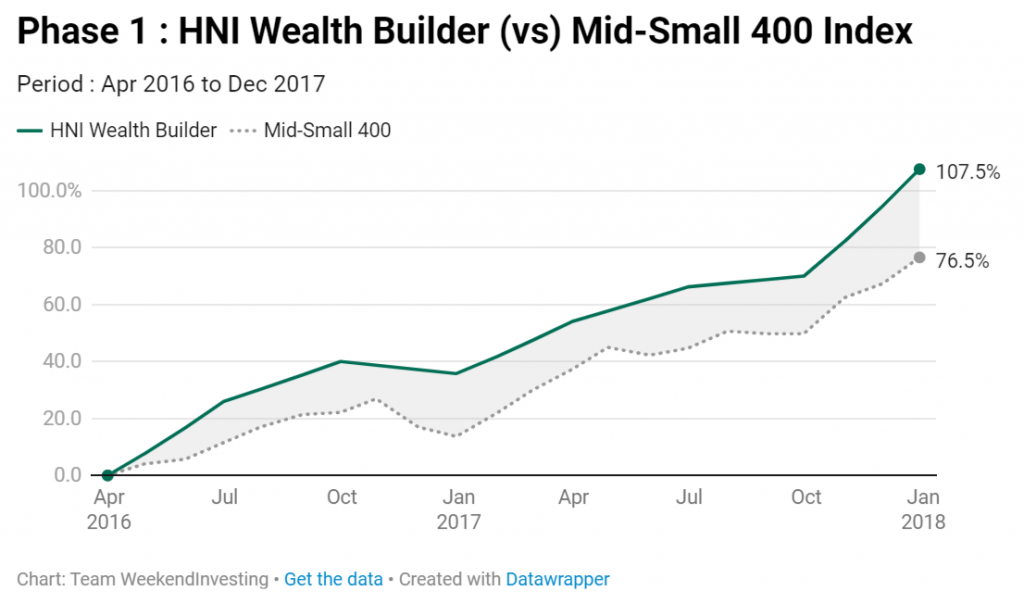 During this period, the mid and small-cap index gained approximately 76.5%. HNI Wealth Builder, which commenced in April 2016, achieved a return of 107%, thus outperforming the index by a decent margin.
Phase 2: Jan 2018 to Jan 2021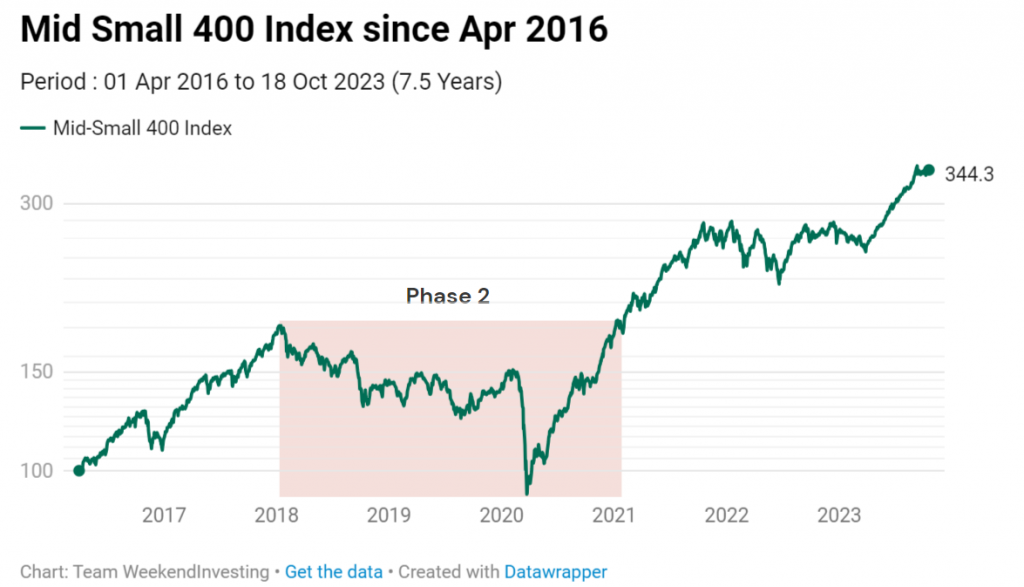 This phase compartmentalized into two parts. In the first part, the benchmark started on a downtrend back in Jan 2018 all the way till Mar 2020 (period of 2 years and 3 months) which saw the benchmark record a mammoth drawdown of 50%.
Apr 2020 to Jan 2021 (period of 9 months) saw a ferocious bull rally across all segments of the markets with mid-small 400 recovering from its drawdowns thus establishing a new peak since Jan 2018.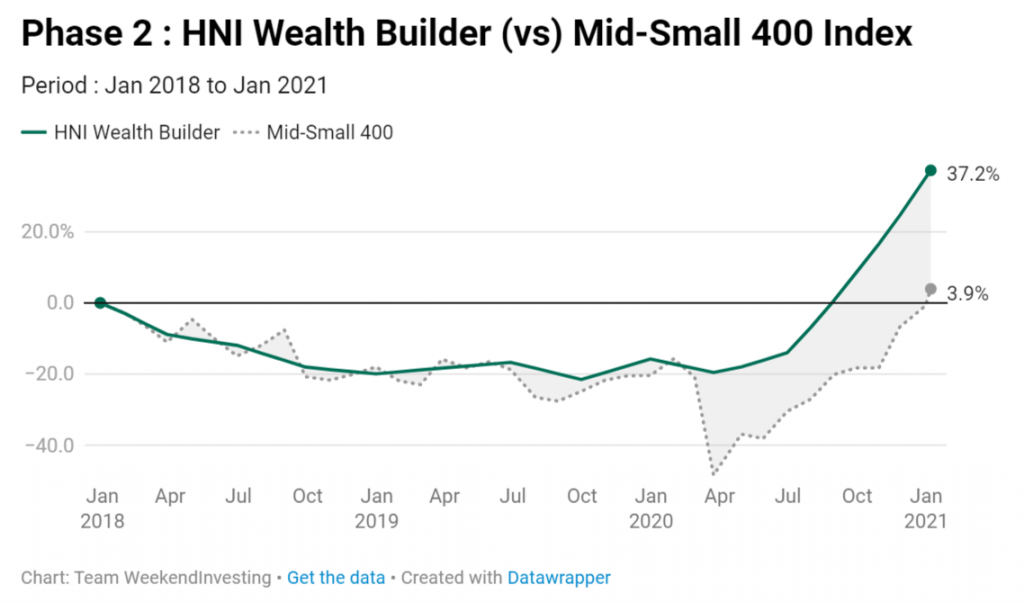 HNI Wealth Builder was on par with its benchmark all the way till Feb 2020 but Mar 2020 was a different story. The strategy, by virtue of its dynamic allocation to CASH during weaker market regimes escaped the majority of the COVID crash thus staging a fantastic outperformance on the downside too. HNI Wealth Builder's max drawdown was at 22% compared to 50% on the mid-small 400 index.
This helped the strategy gain a head start when the markets commenced their uptrend. At the end of this period in Jan 2021, HNI Wealth Builder had clocked 37% outperforming its benchmark which recorded ~4% gains only.
Phase 3 : Jan 2021 to Oct 2023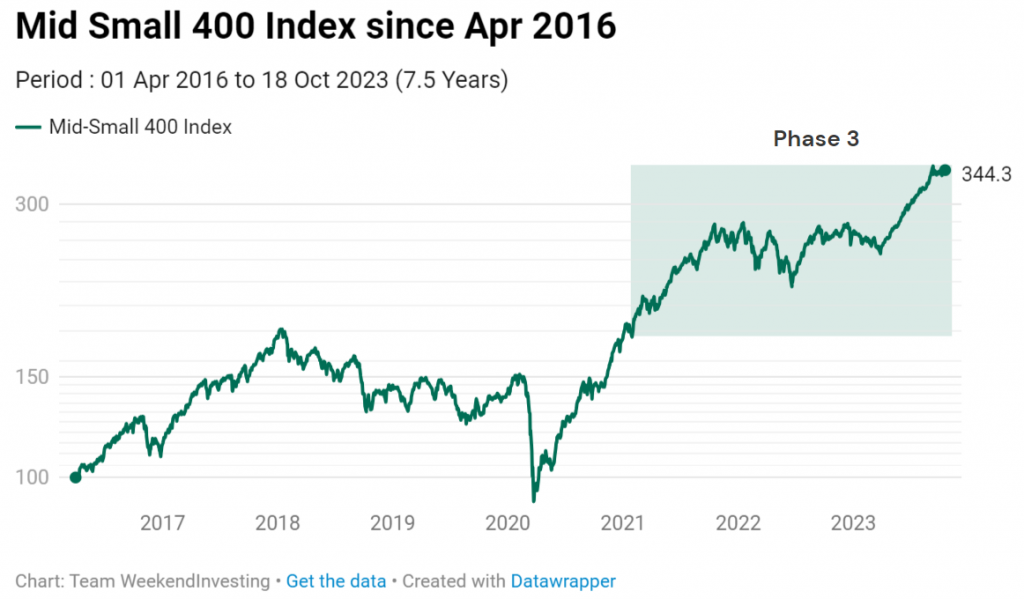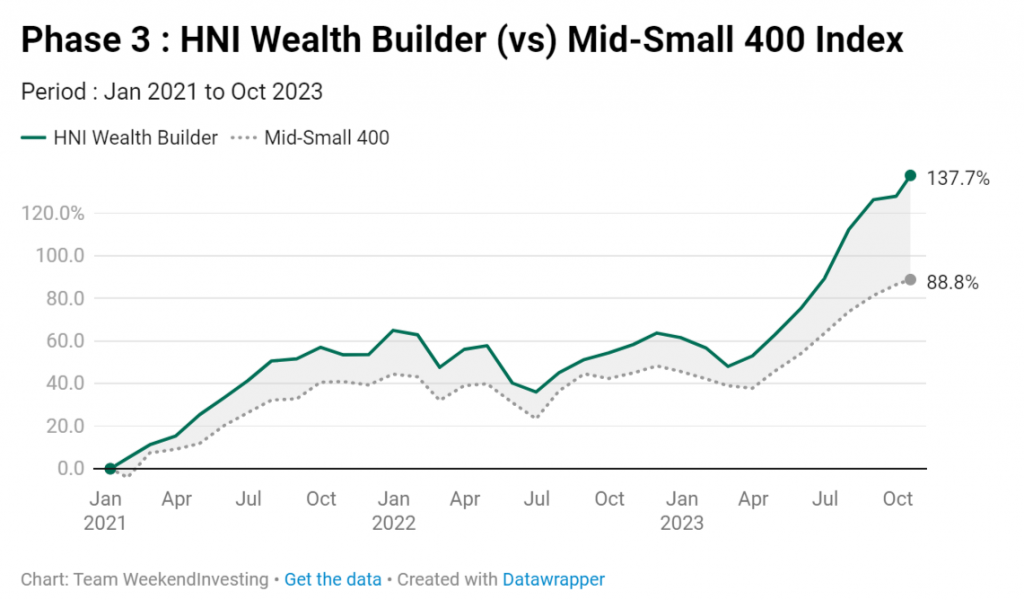 The final phase in this study is between Jan 2021 and Oct 2023. The first 12 months of this phase (between Jan 2021 and Dec 2021) saw the mid-small 400 index clock about 44% whereas the HNI Wealth Builder amassed a healthy 65%.
This was followed by a period of consolidation between Jan 2022 to May 2023 post which we have witnessed a break out.

In the entire period (Jan 2021 to Oct 2023), HNI Wealth Builder Clocked a superb 137% compared to 89% on the mid-small 400 index.
The objective of the strategy has been to achieve outperformance on both upside and downside while keeping focus on capital protection via dynamic cash allocation and a widely diversified portfolio.
HNI Wealth Builder will open up for subscriptions (100 slots only on first come first serve basis) on the 12th of November 2023.
Please fill up the below enclosed form to submit your interest so that we can communicate further information.
Rebalance Update
We give advance notice here on the upcoming changes in your smallcase for Monday. This advance notice can be used to ignore Monday's update if there is no change. If there is a change indicated you can use the smallcase app or log in to weekendinvesting.smallcase.com to see the rebalance. A backup email is sent by mid-day Monday if you have not rebalanced by then and yet another one a day later.
Note: We are not including LIQUIDBEES as an ADD or an EXIT count.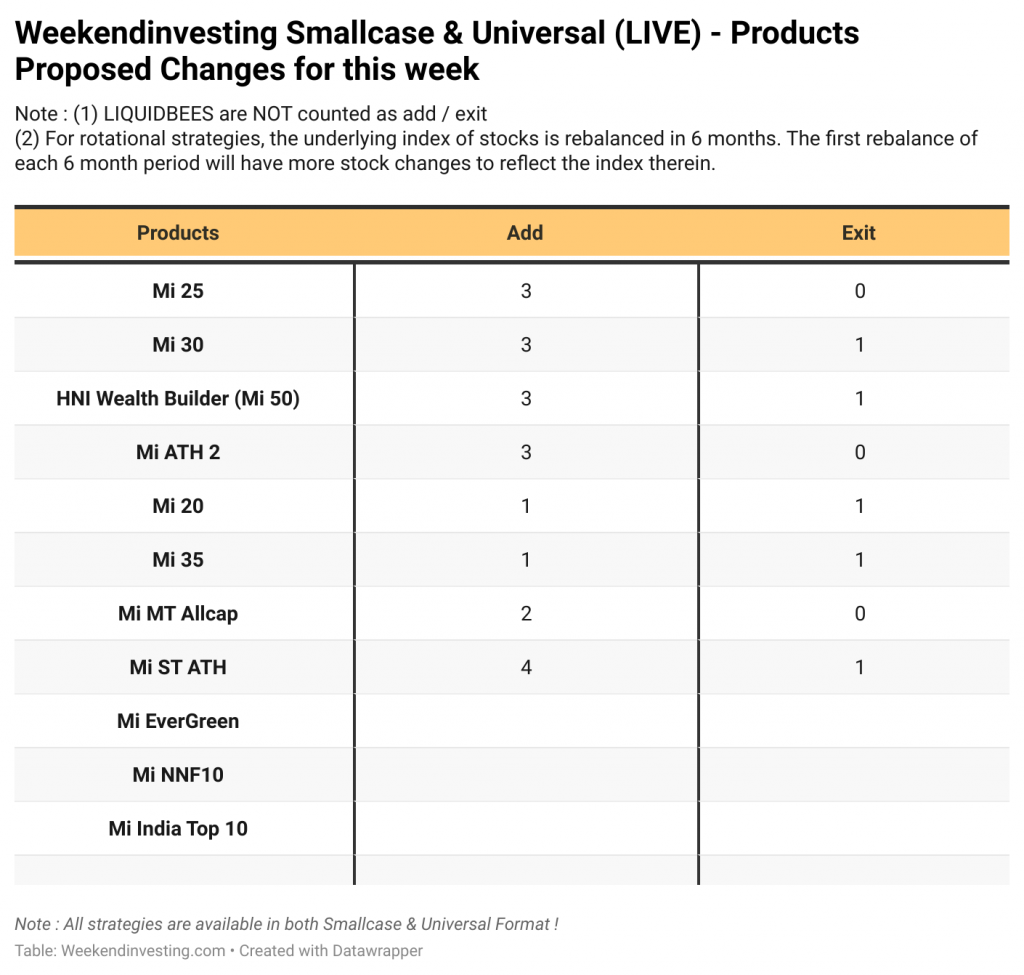 WeekendInvesting Strategies Performance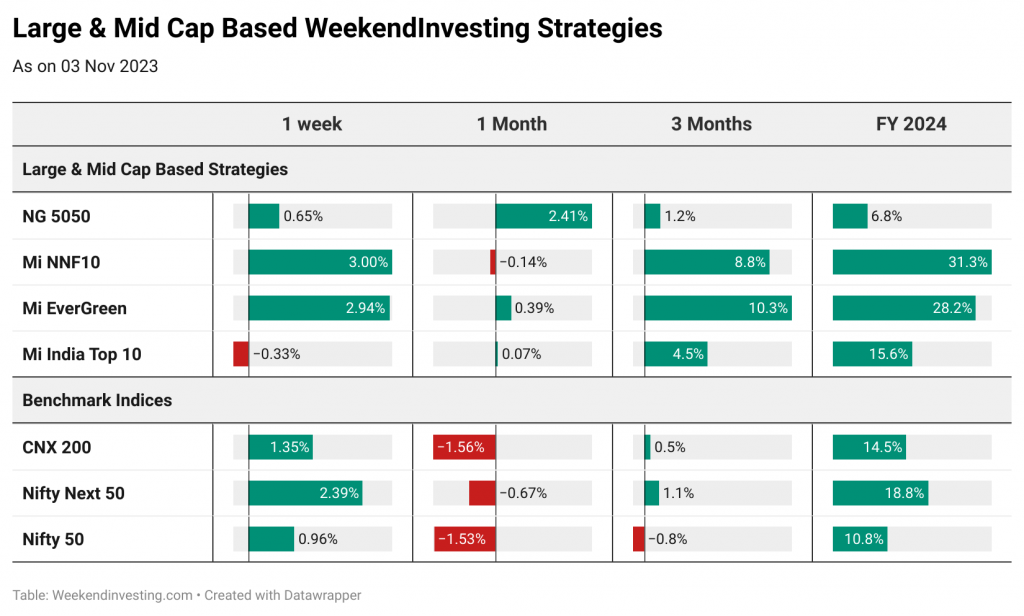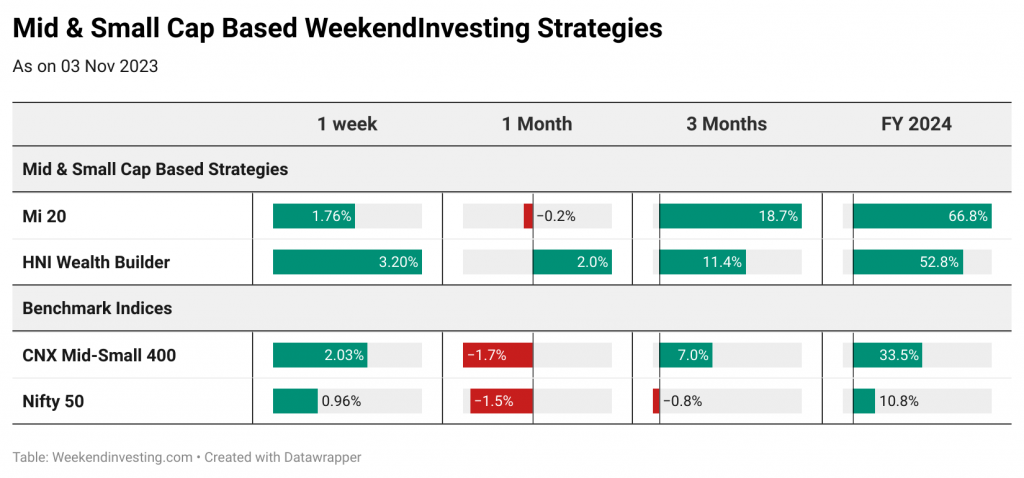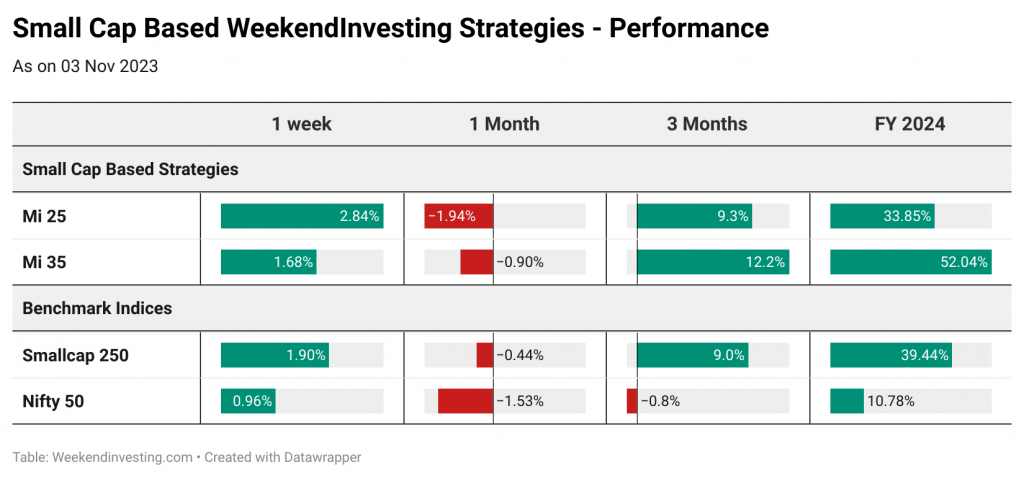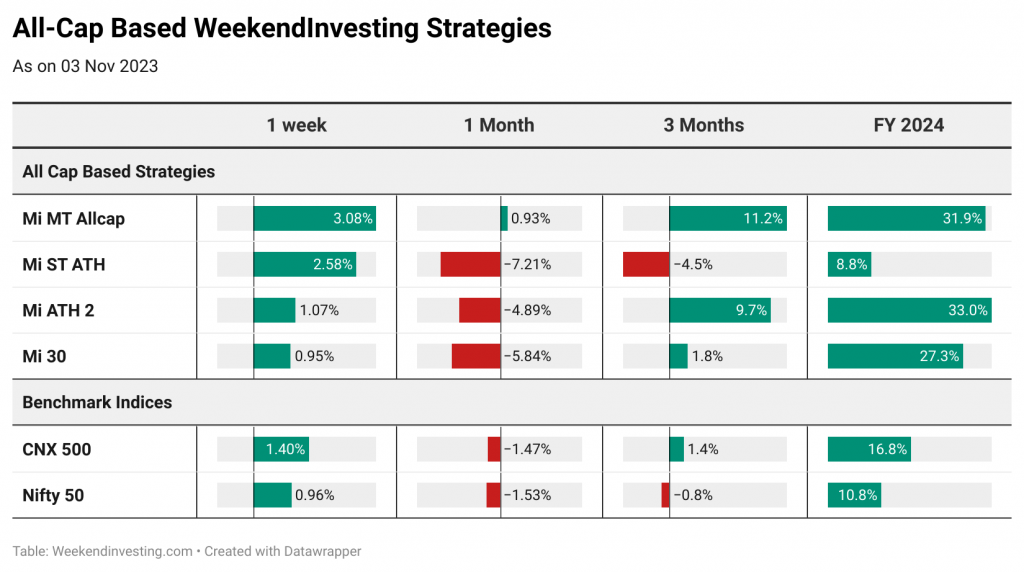 Many of you had asked us to make the index series of all WeekendInvesting Products available so that you could perform your own analysis and studies. You can find a link to the LIVE sheet here and also on the HUB under the support column in the content tab.
WeekendInvesting Telegram and YouTube Channel
We post daily content related to investing on our Weekendinvesting Telegram Channel and YouTube channel to help our community take stock of the performance of markets, sectors & our products and touch base upon a new topic every day. We look forward to having you all there! Several videos in this blog are from this series.
STAIRS is a LONG / SHORT derivative strategy that is designed to offer an uncorrelated diversification option to your equity portfolio. STAIRS will do well when there are up trends & also when there are down trends while giving up some of the gains when markets remain rangebound/volatile.
You may go through our latest weekly report for more details.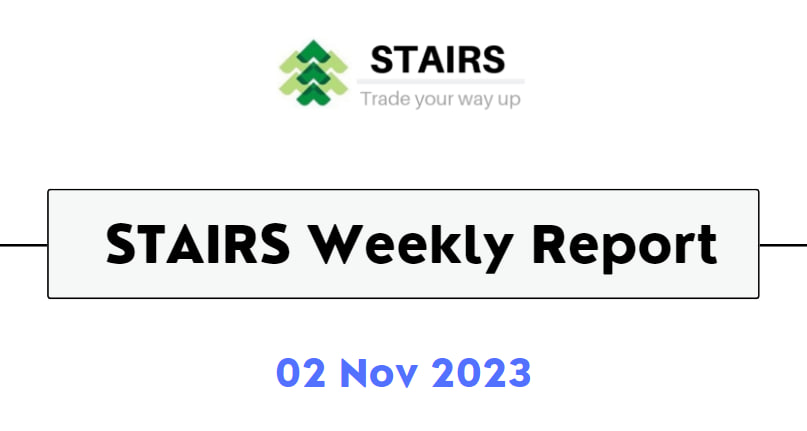 All STAIRS models go in line with our fundamental philosophy of making the most and compounding aggressively when markets give us trends and go very defensive as trends fizzle out and enter a rangebound territory, thus providing robust capital & profit protection.
Effectively – STAIRS is a complete trading system (Futures & Options) that covers each of the following decisions required for a successful trading outcome:
• Markets – What to buy or sell?
• Position Sizing – How much to buy or sell?
• Entries – When to buy or sell?
• Stops – When to get out of a losing position?
• Exits – When to get out of a winning position?
That's it for this week. See you in the next week's edition !