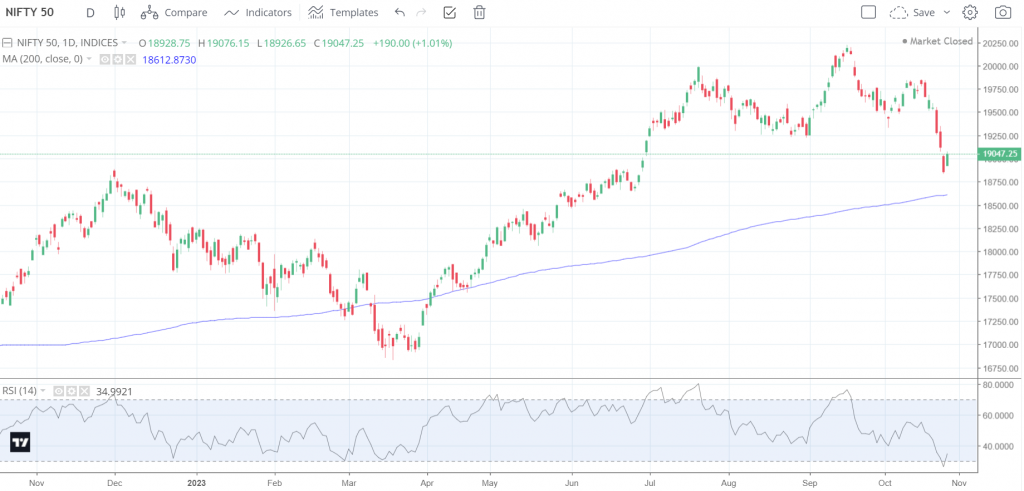 The WeekendInvesting App !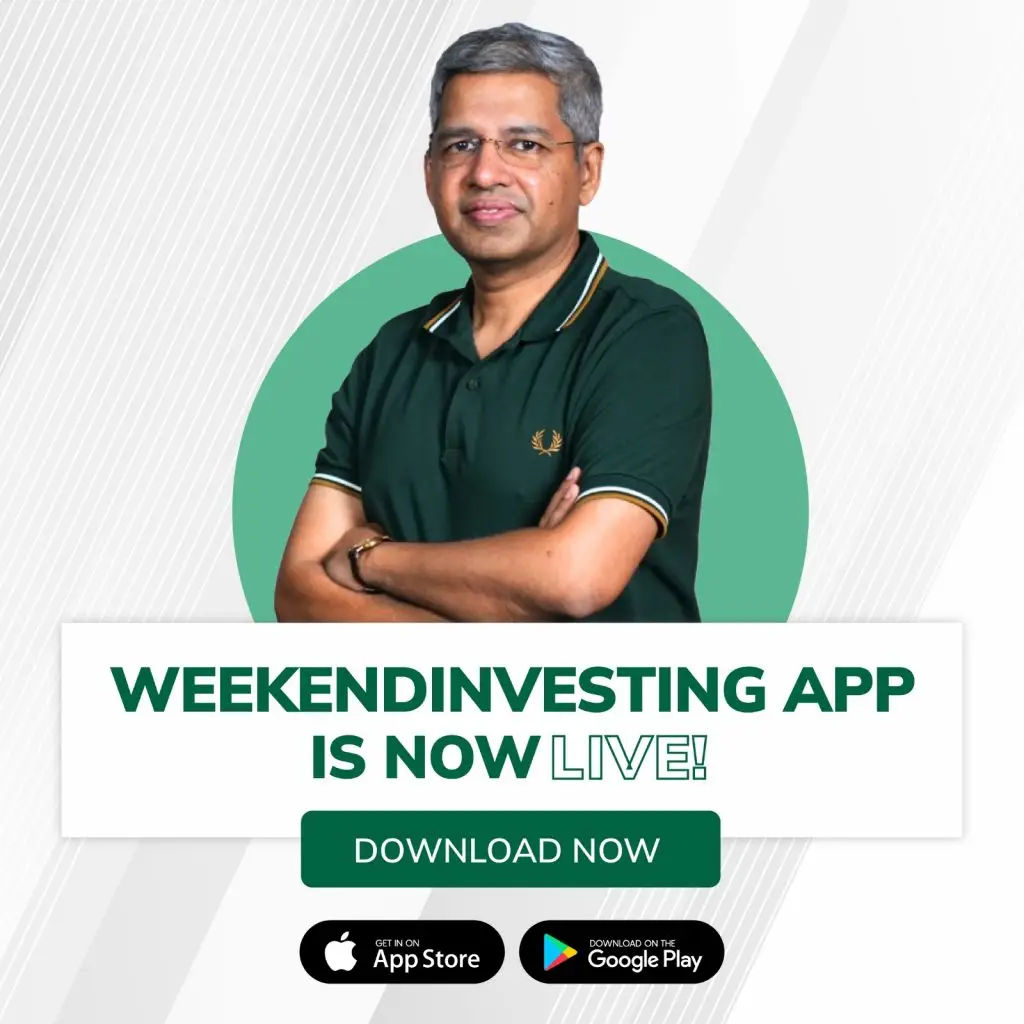 A quick introduction to the Weekend Investing app, now available on Google Play and App Store. The app has been received with great enthusiasm, with over 5,000 users already joining. We encourage all weekend investors to download the app, as it provides numerous benefits and features that can enhance your investment experience.
By joining the app, you will receive immediate notifications for urgent messages from us. Additionally, all our content, including YouTube videos and Twitter posts, can be accessed in one place. This ensures that you stay up to date with relevant and valuable information. Moreover, the app allows you to interact with our team, ask questions, and provide feedback. It offers a seamless and convenient channel for communication between investors and our support team.
One of the key advantages of the app is access to exclusive educational content and strategies tailored specifically for weekend investors. We offer educational US strategies, trend analysis posts, market psychology insights, and much more. By leveraging these resources, you can enhance your investing knowledge and make informed decisions. Furthermore, the app provides opportunities for online and offline meetups exclusively for WeekendInvesting subscribers, allowing you to engage with fellow investors and expand your network.
A unique feature of the app is the ability to book a one-on-one call with the Weekend Investing team. This personalised support ensures that you receive prompt assistance and have your queries addressed directly. Additionally, a chat feature is available to provide immediate solutions to any questions or concerns you may have. The aim of the app is to facilitate seamless interaction and provide phenomenal support to all weekend investors and app users.




Introducing "The WeekendInvesting Newsletter"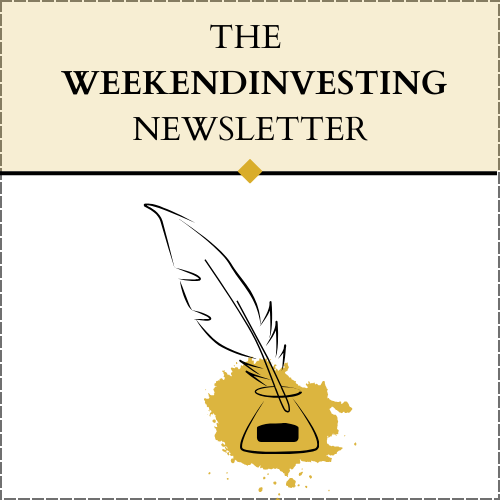 Another brand new initiative from our Research Desk is The WeekendInvesting Newsletter. This is a daily newsletter that summarizes all the stories we cover during the day(market nuggets), including the daily byte that we shoot every evening. This newsletter will be delivered to your email every evening on market days, providing you with a wealth of market-related information. The newsletter includes both summaries and long-form blogs for all the market nuggets covered. These blogs are also linked to the videos we shoot, so you can choose to watch or read the content according to your preference.
Check out our newsletters for this week.
From the Research Desk of WeekendInvesting
The first report focused on a case study of Mi India Top 10 strategy. We analyzed its performance over the long term, highlighting periods of underperformance but also emphasizing the benefits of staying invested for the long term.
Case Study on Gold in Japan : Another case study was conducted on Japan, specifically on how gold has protected investments even during the worst equity markets in the last three to four decades. The study examined the importance of hedging gold and the potential outcomes if gold had been hedged.
Nifty vs S&P 500 Historical Charts : This story compared historical charts of the Nifty and S&P 500. We analyzed the movement and performance of these two indices to provide insight into their correlation and potential investment opportunities.
Case Study on Momentum Investing : A case study was conducted on momentum investing, showcasing its effectiveness in providing a great exit before the collapse of the narrative or actual results. This study emphasizes the benefits of incorporating momentum-based strategies into investment decisions.
What to do After a Market Fall : We also explored what investors should do after a market fall. The study analyzed the historical precedence of previous falls to provide guidance on potential actions investors can take during such times.
You have Life, Car & Health insurance but no portfolio insurance ? We highlighted the importance of portfolio insurance in the form of hedging with Gold. The study stressed that while we have insurance for our life, car, and health, it's equally important to protect our investment portfolios.
Market Performance Near 200 DMAs : This study was based on the market's performance near the 200 DMAs (daily moving averages). This study examined how the market has historically performed in relation to these DMAs and provided insights into potential future trends.
What to expect from an Election year ? This study focused on the market movements during pre and post-election years. This analysis delved into the historical data to understand the correlation between elections and market performance, providing useful information for investors during election cycles
All of these reports, along with rich content, are available on the Weekend Investing app. Subscribers can also receive some of this content through the daily newsletter and the Twitter feed. The abundance of free content aims to build a community of momentum investors who can take advantage of these insights.
It's worth noting that while much of the valuable content on the internet is behind paywalls, the research desk at Weekend Investing has made a conscious decision not to charge for their content. This effort is driven by the goal of building a community and providing free access to informative and actionable investment information.
Now let's move on to the market performance of the week.
Markets this week
The market experienced significant volatility during the week, with sharp down days followed by a bounce. Nifty lost about 2.5% on the weekly chart. This decline broke the previous lows made three weeks ago and at the end of August, indicating a sign of weakness in the market.
There is uncertainty about how much the market will bounce back, but it is expected that the resistance will come around the 19000 level, which was broken down in the recent decline. The hope is that the market will consolidate for a few weeks before starting an upward trend. However, whether the bounce leads to higher highs and higher lows or another collapse remains to be seen.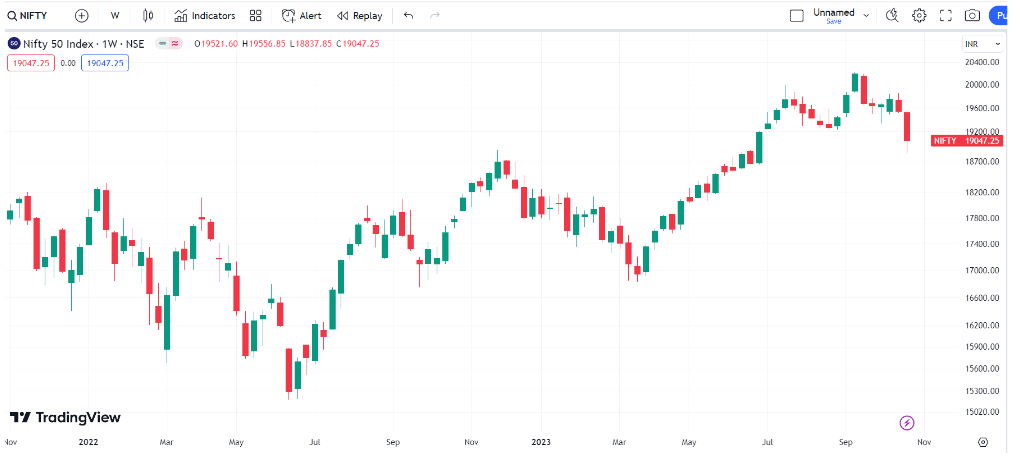 Sectoral Overview
In terms of sectoral performance, metals experienced the most significant loss at 3.9%, followed by commodities, IT stocks, real estate, private banks, infrastructure, pharma, public sector enterprises, consumption, auto, and energy, all of which lost around 2% to 3%. FMCG, the defensive sector, experienced a minimal loss of 0.8%, while PSU Banks made a sharp recovery on the last day to end the week with an overall loss of 0.6%.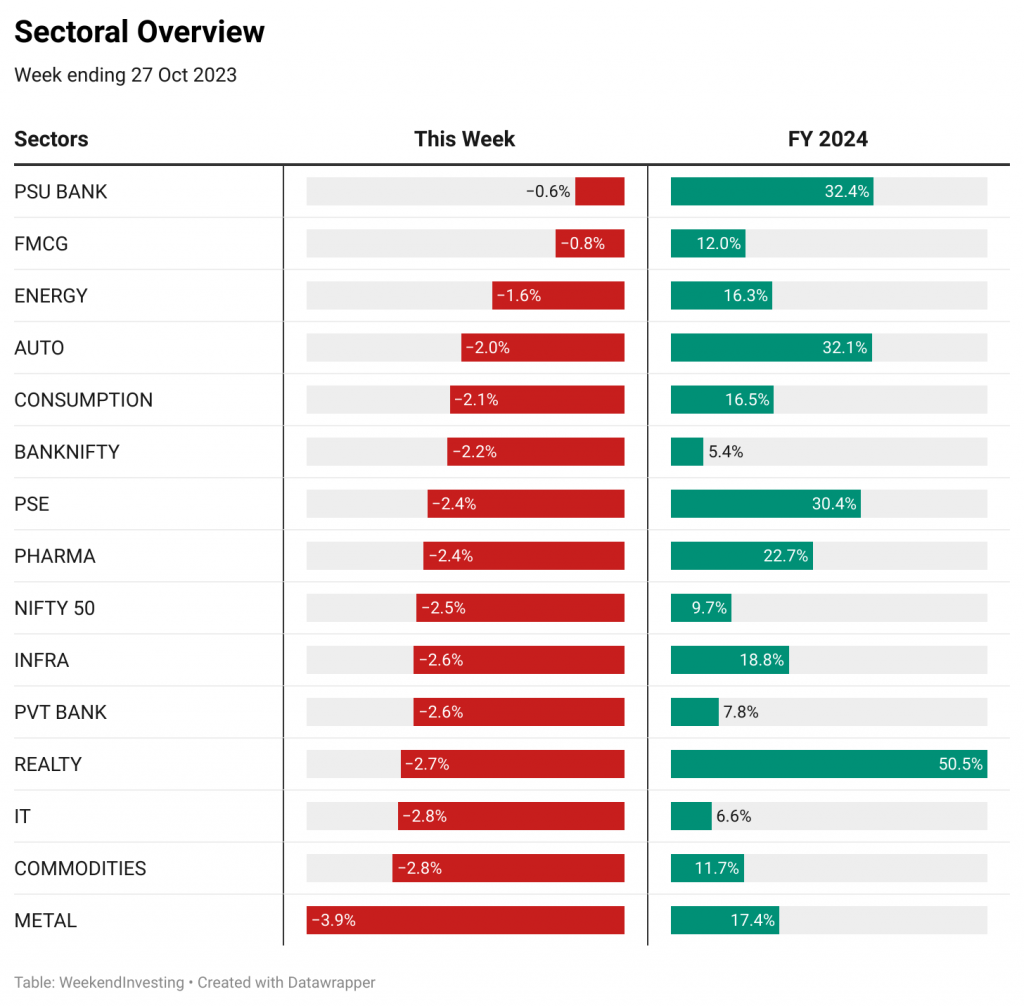 The sectoral momentum has shifted dramatically, with pharma, FMCG, and consumption stocks moving up in the ranks in the short term. Real estate and public sector enterprise stocks, which were previously performing well, have moved down in terms of momentum. Gold has also shown remarkable strength, closing above $2,000 for the first time since May 23. Autos are performing strongly, and Maruti's recent results have confirmed the positive trend in the sector.
Financial services, private banking, and infrastructure sectors have lagged in terms of performance, while media is trying to recover from a downward trend. Metals have shown little movement.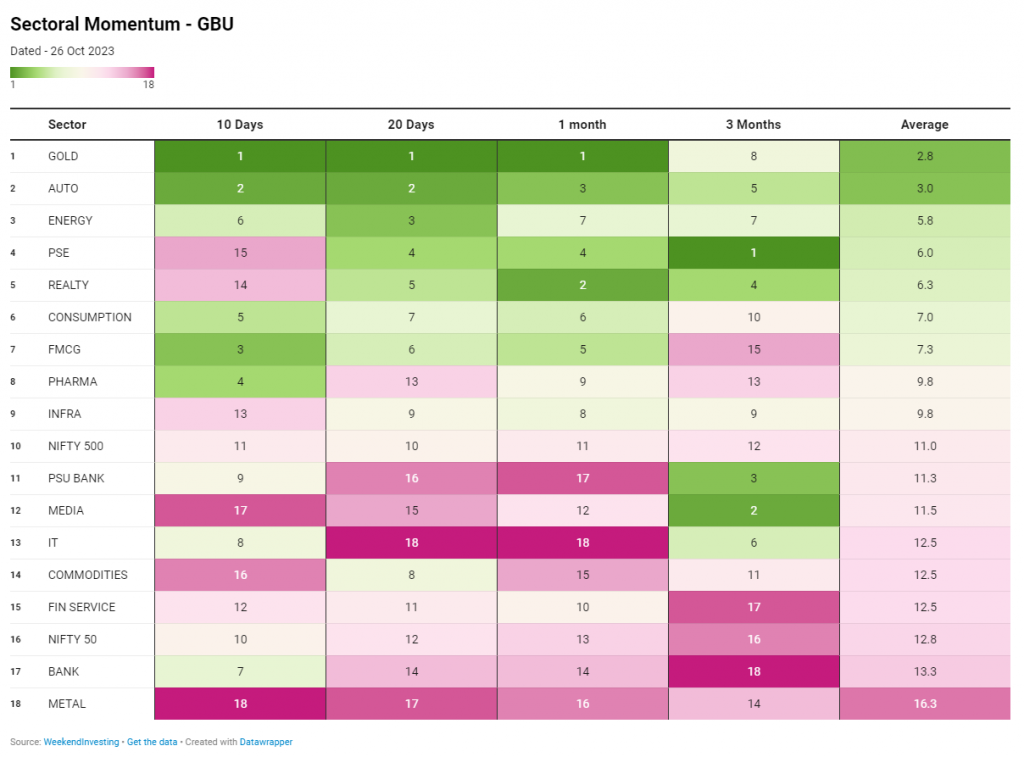 Benchmark Indices Overview
All benchmark indices were in deep red this week but the bounce on the last session would have provided some cushion to market enthusiasts. The fact that mid and smallcaps did not fall too bad in comparison to large caps also signifies that there may not be much of weakness heading forward but only time can answer this accurately.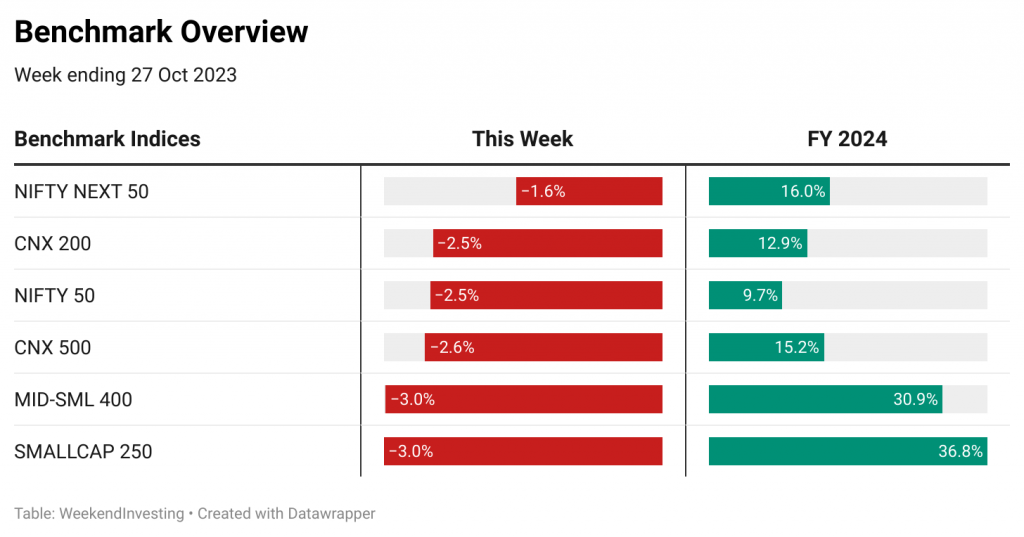 WeekendInvesting Overview
Several strategies have shown positive performance, with some outperforming the indices. Mi 20, Mi 35, Mi ATH 2, HNI Wealth Builder, and Mi 25 have all delivered impressive results, with returns ranging from 31% to 63% for the financial year. However, Mi ST ATH has lagged behind this year.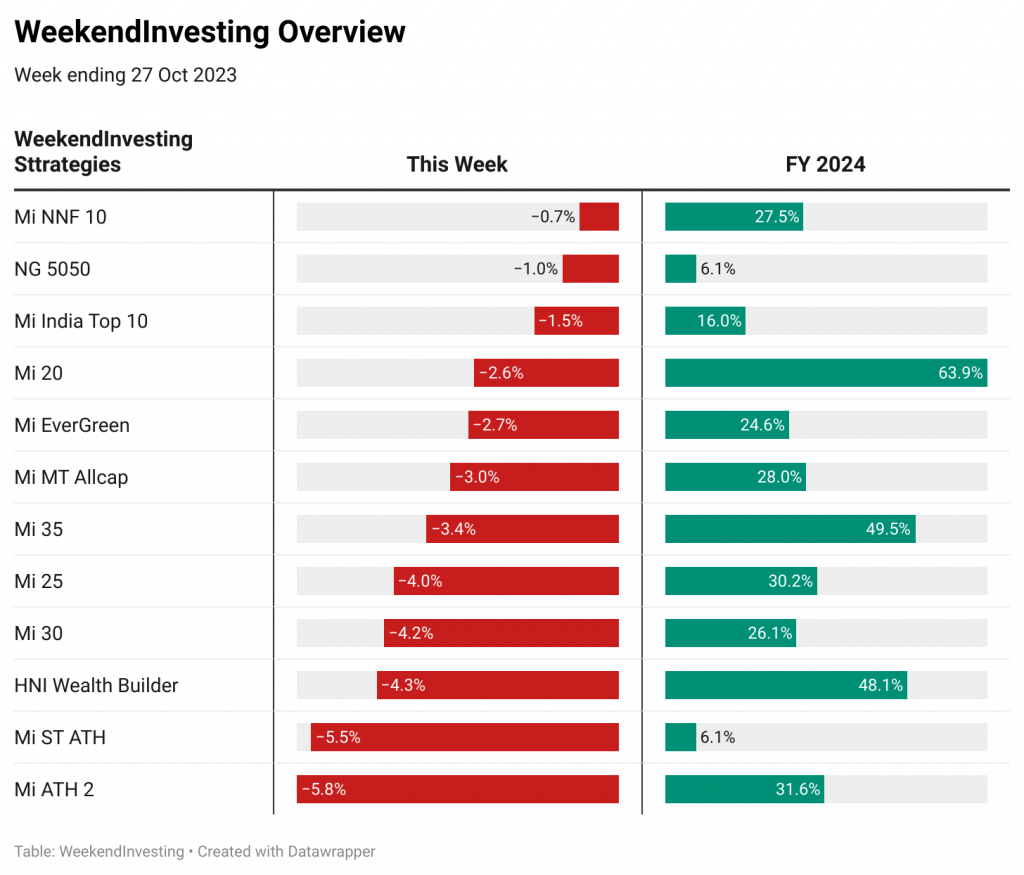 Spotlight – HNI Wealth Builder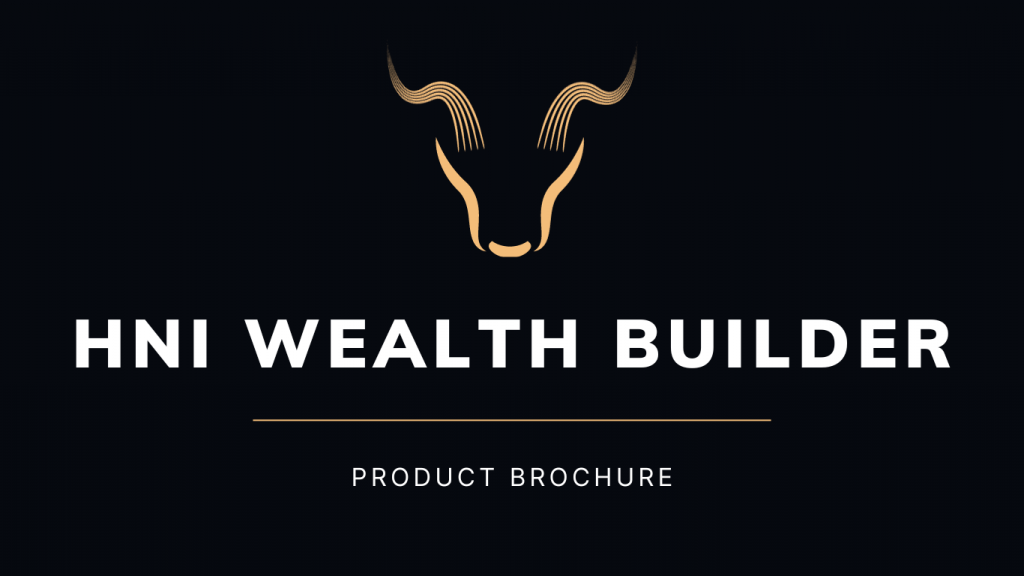 HNI Wealth Builder is an absolute momentum based weekly rebalanced – core strategy that extracts alpha from the Mid and Small cap space suitable for larger capital.
Key Highlights
Fill up this interest form to be among the first to be notified !
Rebalance Update
We give advance notice here on the upcoming changes in your smallcase for Monday. This advance notice can be used to ignore Monday's update if there is no change. If there is a change indicated you can use the smallcase app or log in to weekendinvesting.smallcase.com to see the rebalance. A backup email is sent by mid-day Monday if you have not rebalanced by then and yet another one a day later.
Note: We are not including LIQUIDBEES as an ADD or an EXIT count.

Note for HNI Wealth Builder (formerly known as Mi 50 Smallcase) users : You shall be able to carry out your rebalance on 31st Oct 2023 since one of the stocks in the portfolio has been suspended on NSE. We will be able to share more details soon.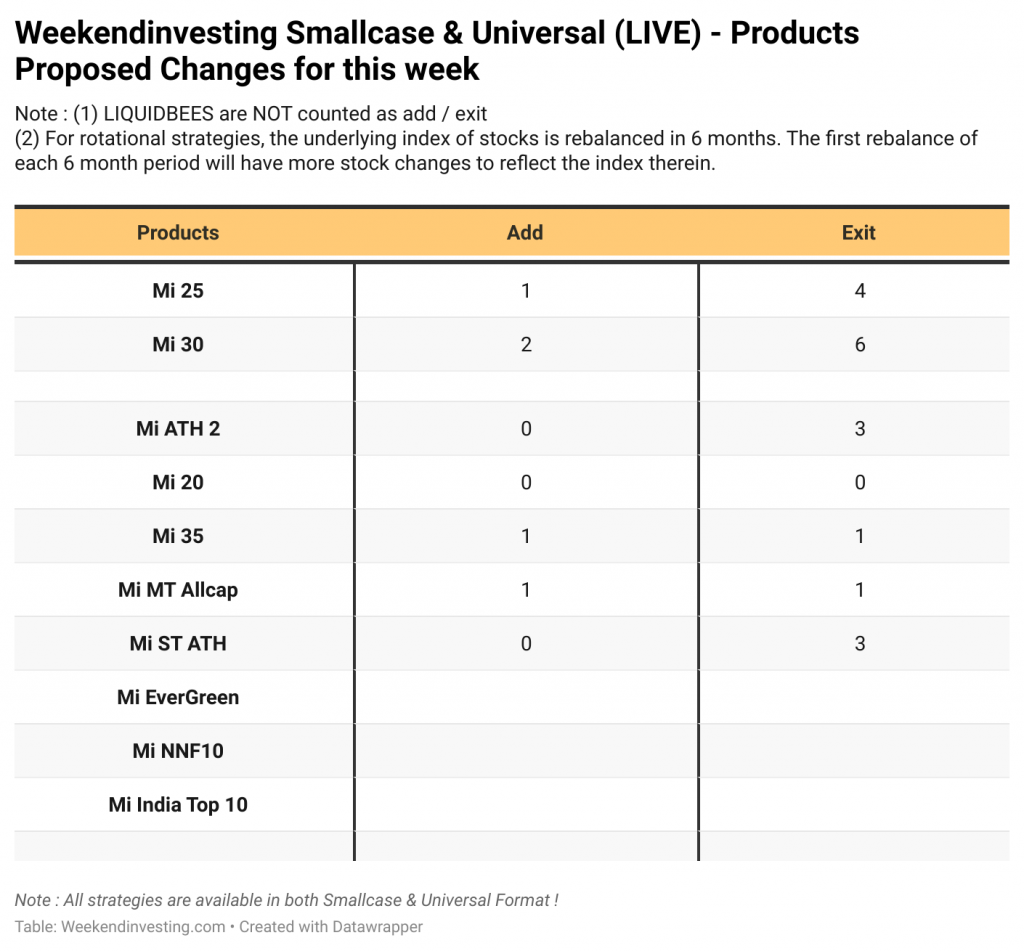 WeekendInvesting Strategies Performance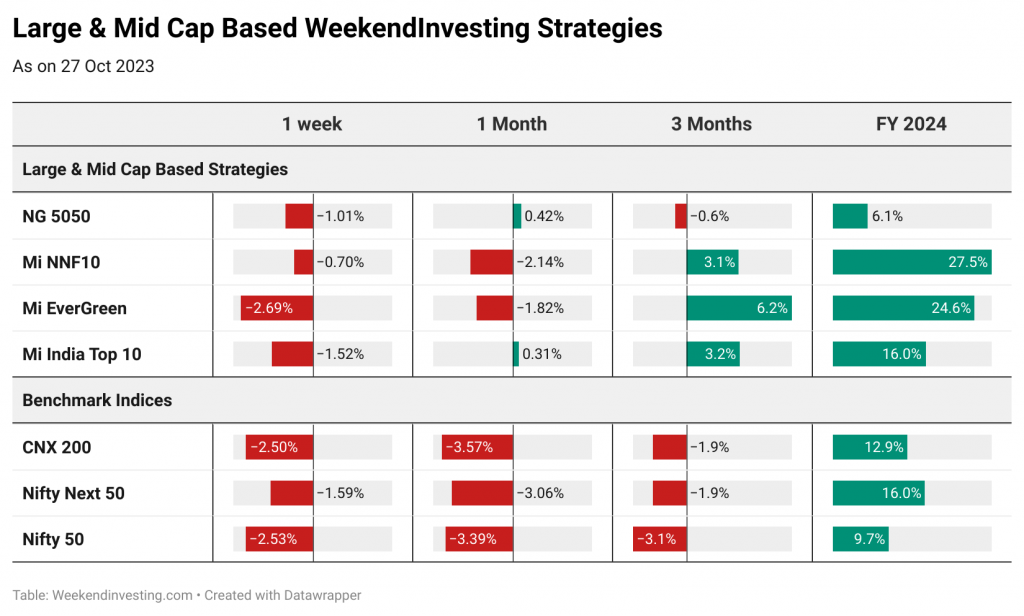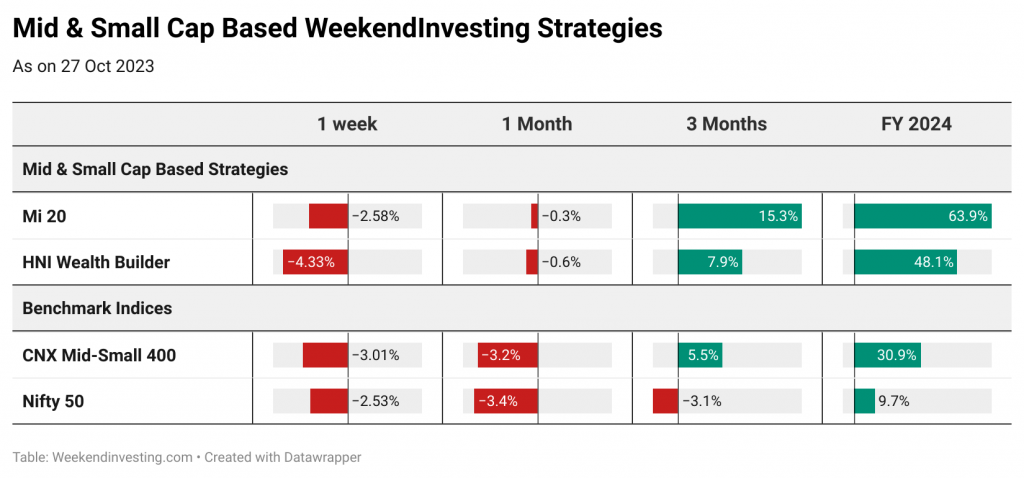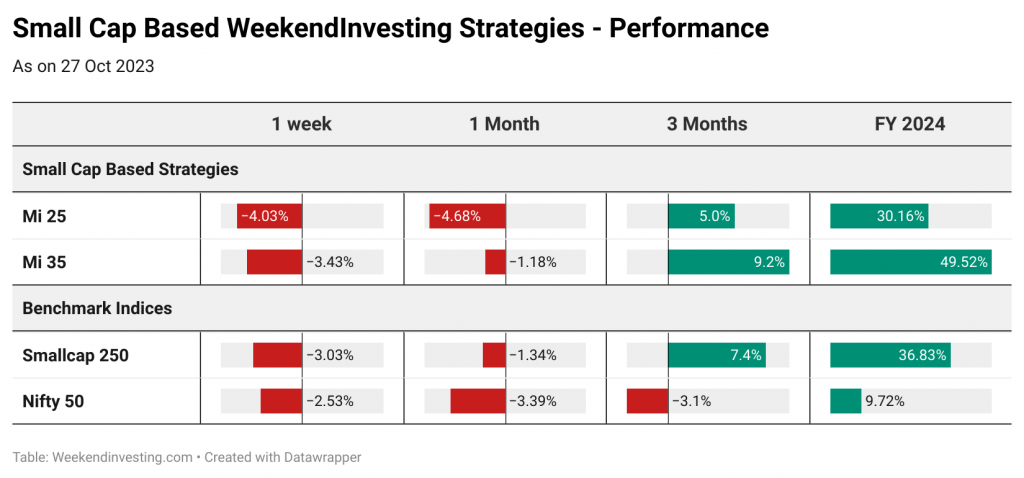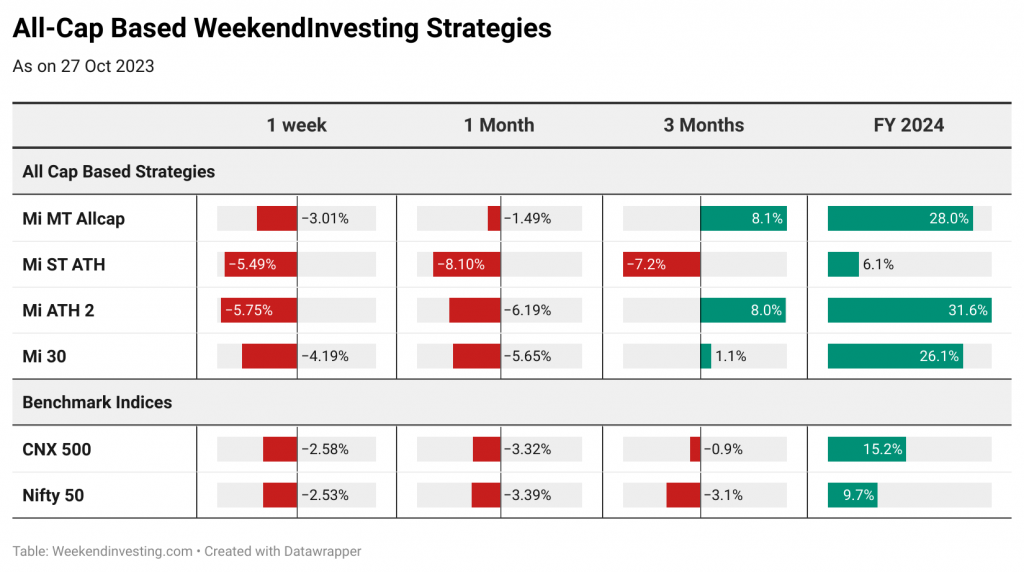 Many of you had asked us to make the index series of all WeekendInvesting Products available so that you could perform your own analysis and studies. You can find a link to the LIVE sheet here and also on the HUB under the support column in the content tab.
WeekendInvesting Telegram and YouTube Channel
We post daily content related to investing on our Weekendinvesting Telegram Channel and YouTube channel to help our community take stock of the performance of markets, sectors & our products and touch base upon a new topic every day. We look forward to having you all there! Several videos in this blog are from this series.
STAIRS is a LONG / SHORT derivative strategy that is designed to offer an uncorrelated diversification option to your equity portfolio. STAIRS will do well when there are up trends & also when there are down trends while giving up some of the gains when markets remain rangebound/volatile.
You may go through our latest weekly report for more details.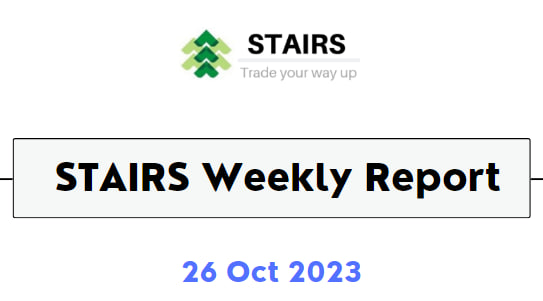 All STAIRS models go in line with our fundamental philosophy of making the most and compounding aggressively when markets give us trends and go very defensive as trends fizzle out and enter a rangebound territory, thus providing robust capital & profit protection.
Effectively – STAIRS is a complete trading system (Futures & Options) that covers each of the following decisions required for a successful trading outcome:
• Markets – What to buy or sell?
• Position Sizing – How much to buy or sell?
• Entries – When to buy or sell?
• Stops – When to get out of a losing position?
• Exits – When to get out of a winning position?
That's it for this week. See you in the next week's edition !